Chipola Complex fires grow to nearly 30,000 acres in Florida Panhandle
Wildland firefighters working to contain Bertha Swamp Fire and protect Bear Creek community
BAY COUNTY, Fla. – After a week-long firefight, the Chipola Complex fires in the Florida Panhandle have now consumed nearly 30,000 acres with minimal containment as firefighters continue to battle high winds.
Rain is forecast for the Panhandle and cannot come soon enough for Florida Forest Service teams and firefighters across Gulf, Bay and Calhoun counties.
Unfortunately, the area most in need of rain may have to wait another day, according to FOX Weather Meteorologist Dylan DeBruyn. On Tuesday, Bay County will remain primarily dry as a line of showers and storms is forecast to move into the area late Wednesday morning.
Through Thursday, about 1 to 2 inches of rainfall with higher amounts are possible.
Panama City last received measurable rainfall on Feb. 18 and has a deficit of 4.21 inches this year.
SOUTHEAST BRACES FOR MORE HEAVY RAIN; COULD HELP FIREFIGHTING EFFORTS IN FLORIDA
As of Tuesday morning, the Bertha Swamp Road Fire has grown to more than 28,000 acres with 10% containment. Officials said the fire is mostly in Calhoun County. 
The Adkins Road Fire is 875 acres and 50% contained. The Star Road Fire, which started over the weekend prompting the evacuation of a senior living facility, is up to 250 acres and 60% contained.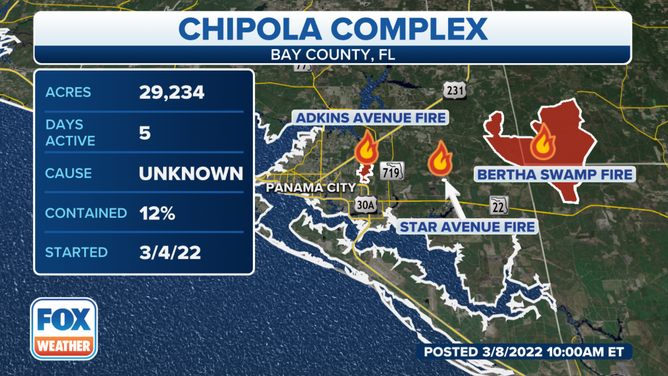 Evacuation orders remain in effect for Bear Creek and Waller Elementary School will remain closed on Wednesday. Here is a map of the evacuation zone and the fire.
"The Bertha Swamp Road Fire is showing increased fire activity this afternoon," Bay County Emergency Management on Tuesday. "Crews are working in the Bear Creek community to widen already established fire lines and protect homes."
According to Bay County Emergency Services officials, the firefight has been ongoing for seven days since the Dogwood Way fire began.
Florida Department of Agriculture Commissioner Nikki Fried and the Florida Forest Service provided an update Tuesday on the firefight.
Fried said even with the forecast showing rain and a drop in wind speeds, the wildfire threat in Florida will continue in areas with debris from Hurricane Michael, which tore through 2.8 million acres near the Panhandle.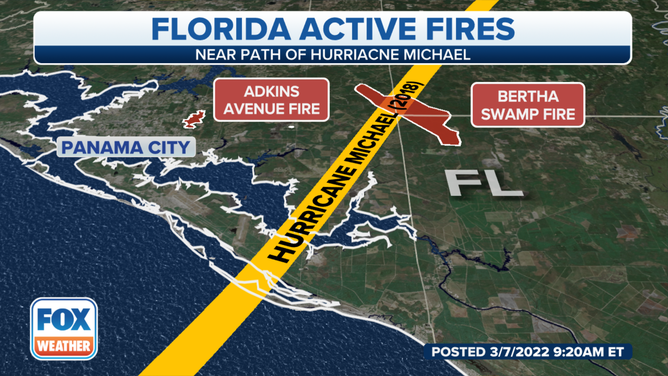 "All of the material on the ground is just sparks for these wildfires," Fried said.
FFS Commander Anthony Petellat said Adkins Road and Star Road fires are at the stage where fire crews can begin "mopping up." Evacuees were able to return home Monday.
However, the Bertha fire made a significant run overnight, growing twice its size. Petellat said Tuesday's efforts would be focused on containing the 28,000-acre blaze.
The Chipola Complex Fires are significant but nowhere near Florida's largest or longest-lasting wildfires. 
That record was set in 2007 with the Bugaboo Scrub Fire, which burned over 564,450 acres in Georgia and Florida.
The fire later was called the Georgia Bay Complex fires when several large fires were burning at the same time across North Florida and southern Georgia. The image below captured by a NASA satellite shows the smoke which wafted down over much of Florida.