Heat alerts in effect as triple digit temperatures scorch the South
Temperatures across Texas have already shattered records
Summer's fiery grip on the southern United States will continue this week as temperatures will again soar higher than 100 degrees across the region.
Temperatures across Texas have already shattered records, including in Huntsville, where it saw its all-time high temperature of 111 degrees on July 10.
HOW TO WATCH FOX WEATHER ON TV
The Houston area also saw records fall as temperatures rose on Monday.
According to the National Weather Service in Houston, William P. Hobby Airport broke its old record of 100 degrees set in 1998 when the temperature reached a high of 103 degrees.
Houston's George Bush Intercontinental Airport also reached 103 degrees, which tied the record for that day set in 1980. 
The extreme heat is also putting a strain on the power grid. In fact, the Electric Reliability Council of Texas (ERCOT) told FOX Weather that power records had been broken and had asked customers to conserve electricity during the day to prevent brownouts and blackouts if electric demand got too high.
The good news is - people listened.
ERCOT had asked residents to reduce their electricity consumption between the hours of 2 p.m. and 8 p.m., which is when demand would have been highest.
A representative from ERCOT told FOX Weather that in the four minutes leading up to the 2 p.m. request, Texans reduced their power usage by 500 MW. That's enough energy to power about 100,000 homes.
ELECTRICAL GRID-LOCK: HOW TO SAVE ENERGY DURING A HEAT WAVE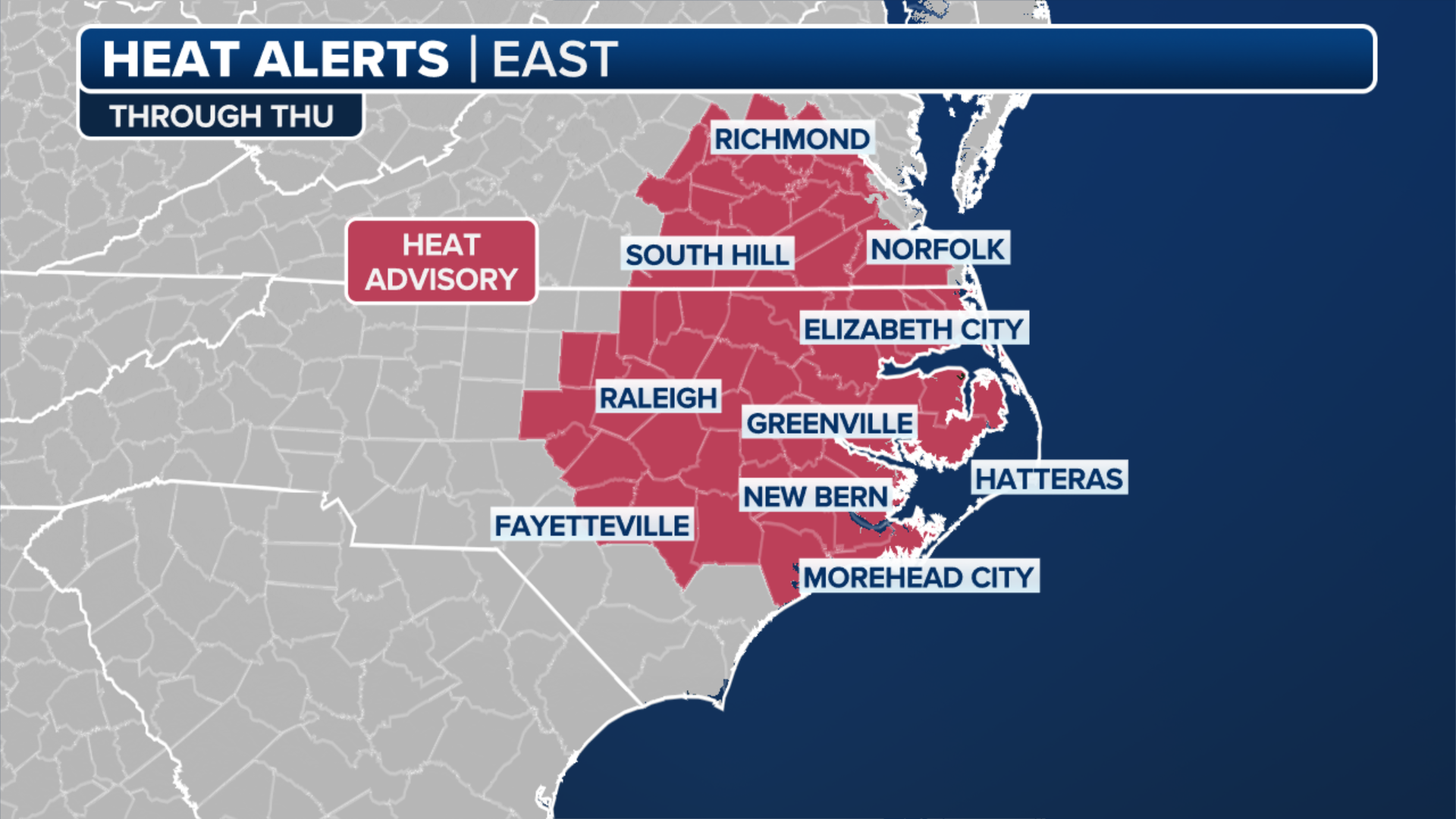 Heat Alerts are in effect as temperatures soar across the South.
(FOX Weather)
---
With temperatures reaching above 100 degrees in many areas, the NWS has issued widespread Excessive Heat Warnings and Heat Advisories from Texas to the lower Mississippi Valley through Tuesday evening. Although with hot temperatures expected again on Wednesday, those could be extended.
The Excessive Heat Warnings are in effect for major cities in Texas, including Abilene, Killeen and San Antonio.
Heat Advisories are in effect across a wider area that stretches from Sonora and West Texas eastward through Dallas and Houston. Northwestern Louisiana, including Shreveport and Alexandria, as Little Rock and most of Arkansas, is also under the alert.
People living and working in those areas should stay indoors if possible to remain cool, but if anyone does need to venture outside, it's best to do it in the early morning or later in the evening.
If you need to go outdoors during the heat of the day, experts advise you to wear loose, light-colored clothing and drink plenty of fluids.
"Once again, the big safety message is to remember your children and pets while in vehicles," said Thomas Munoz from Houston's Office of Emergency Management on FOX Weather. "Because obviously, the vehicles do get extremely hot in these types of conditions, so it's very mindful to be aware of that and be aware of your surroundings as well."
Munoz said with all the records that have been broken, the city of Houston is making plans to ensure people stay safe.
"It's a cooperative effort with all of our city stakeholders – the Houston Fire Department, Houston Public Works, our libraries that have cooling centers and the homeless collation," he said. "So there's a lot of effort taking place and being proactive to ensure the safety of everyone."
HOW TO TELL THE DIFFERENCE BETWEEN HEAT EXHAUSTION AND HEATSTROKE
High temperatures on Tuesday, July 12.
(FOX Weather)
---
Temperatures on Tuesday will be higher than 100 degrees in most areas of Texas, except for the immediate coastline.
Houston will be just under the century mark at 98 degrees, but further inland, those temperatures will soar.
Waco and Del Rio are expected to see a high temperature of about 107 degrees on Tuesday. To the south in Zapata, a high temperature of 109 degrees is likely.
Some 100-degree readings could also be seen in parts of Louisiana, like Monroe, which will get very close to 100.
The Heat Index will make it feel even hotter across the South on Tuesday.
(FOX Weather)
---
The humidity will make it feel even hotter during the day, with many areas seeing a heat index well above 100 degrees.
WHAT IS THE 'FEELS-LIKE' TEMPERATURE?
Corpus Christi will feel like it's 109 degrees, and to the north in Austin, it will feel like it's 108 degrees.
Triple-digit heat index values will also spread across Texas into the lower Mississippi Valley, where Alexandria, Louisiana, will feel like it's 106 degrees and Memphis, Tennessee, will feel the same.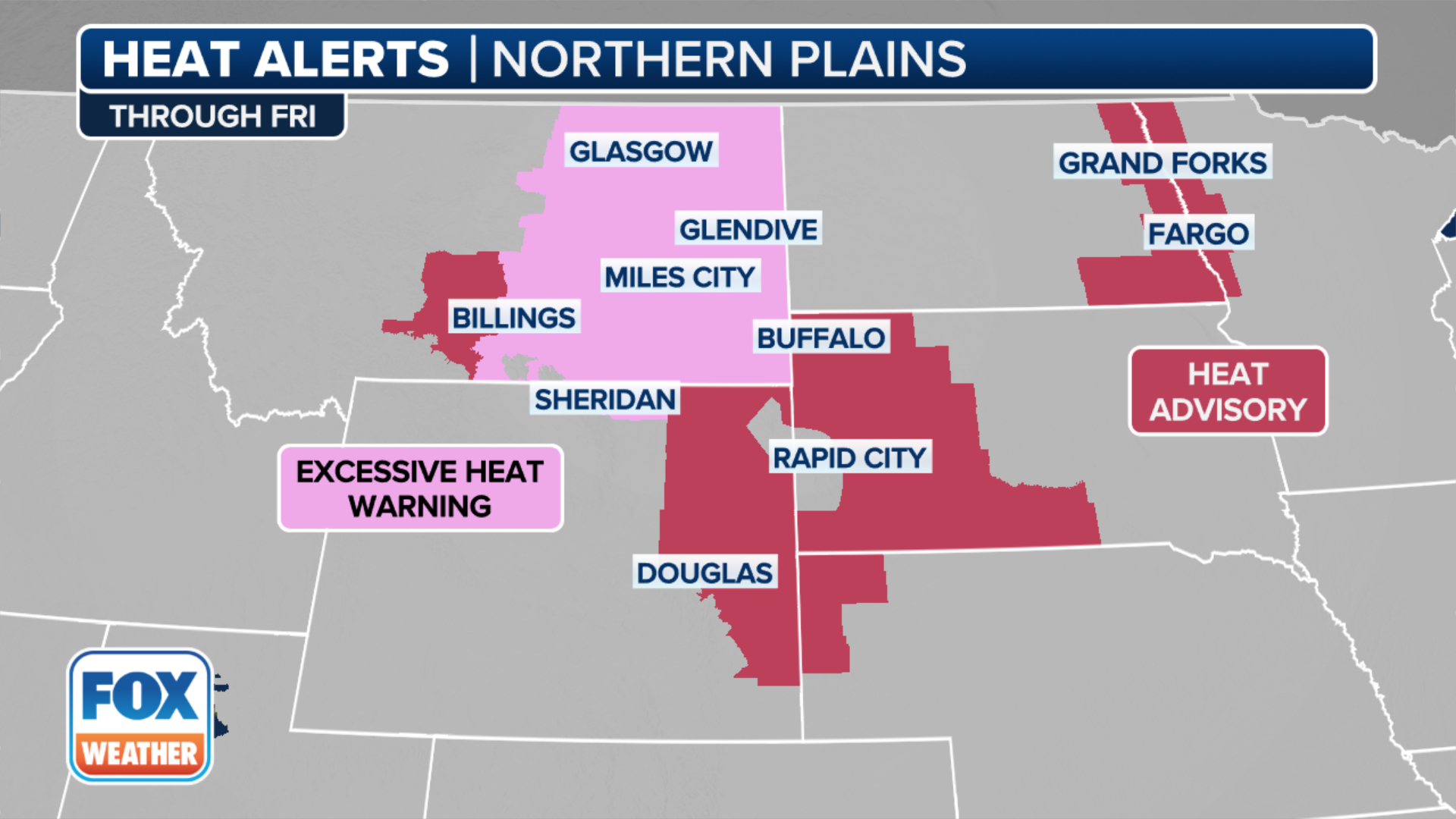 Heat Alerts are in effect in the western United States.
(FOX Weather)
---
Dangerous temperatures are also expected across parts of the western United States on Tuesday.
Heat Advisories and Excessive Heat Warnings are in effect across parts of the Pacific Northwest, as well as parts of eastern Montana.
Those alerts also stretch into Utah, with Salt Lake City under an Excessive Heat Warning.
FIRESTARTER: LEAVING YOUR WATER BOTTLE IN SUNLIGHT CAN HAVE DISASTROUS RESULTS
High temperatures in the western United States on Tuesday, July 12.
(FOX Weather)
---
Those Heat Alerts are in effect for a good reason.
Temperatures across the western United States will be excessively hot, with many areas also seeing high temperatures on Tuesday higher than 100 degrees.
Boise, Idaho, and Salt Lake City are expected to reach at least 102 degrees on Tuesday afternoon.
Elsewhere, 100-degree readings are also expected in Reno, Nevada, where it could hit 101. Redding, California, also will feel the heat with a high temperature of 105 degrees.
The heat will extend north into Oregon, where Medford could hit 100 degrees. Although not as hot, Portland will still feel the burn with a high temperature of 90 degrees.
CLICK HERE TO GET THE FOX WEATHER UPDATE PODCAST
Be sure to download the FOX Weather app to track the temperatures in your area. The free FOX Weather livestream is also available 24/7 on the website and app and on your favorite streaming platform. The FOX Weather Update podcast also provides weather information for the entire country.