Snowflakes falling across Texas as temperatures plunge
South-Central Texas under Winter Weather Advisories
AMARILLO, Texas – Snowflakes began falling Thursday morning across parts of the Texas Panhandle as much of the state is forecast to experience some of the coldest winter weather of the season.
Up to 1 inch of snow was forecast for parts of northwestern Texas, but snowfall began ending later Thursday morning. Wind chills were in the single digits Thursday morning in the Panhandle and temperatures struggled to get above freezing by noon. Just two days ago high temperatures were in the mid-60s.
Diana Penn shared the video above of snow-covered sidewalks and neighborhood streets in Amarillo.
The National Weather Service office in Amarillo shared a video of large flakes falling outside the office in slow motion. About 1.5 inches was reported at the airport, according to the NWS.
Light snow continued Thursday afternoon in West Texas with several inches reported in the Davis Mountains. The University of Texas McDonald Observatory in Fort Davis received nearly 5 inches of snow. 
KIDY FOX West Texas recorded the video below on Interstate 10 near Sonora. Local authorities in Sonora encouraged residents to prepare for severe weather, including packing extra supplies if they plan on driving. 
Light snow was also reported in West Texas by the state Department of Transportation as crews worked to pre-treat roads for ice and snow.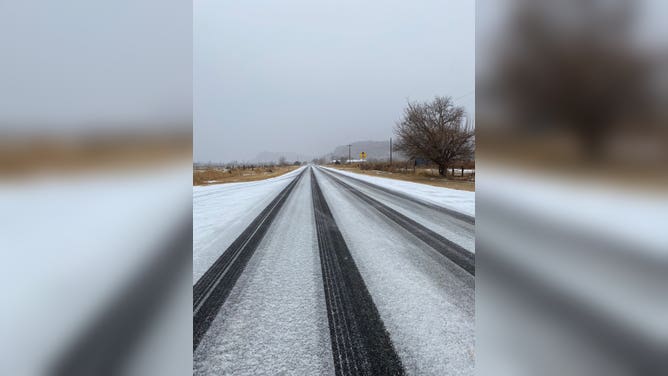 Meanwhile, south-central Texas was under Winter Weather Advisories with potential snow and ice in the forecast. The system moved southeast late Thursday morning with the potential for a wintry mix in San Antonio and Austin. 
Dark clouds covered the sky above Kerrville, Texas, ahead of the incoming winter storm.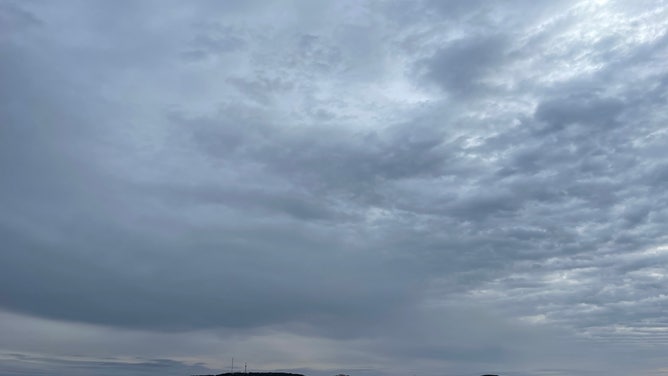 DOT crews were out in south-central Texas, treating the roads ahead of the winter weather that could make roads hazardous for drivers in San Antonio and Corpus Christi. 
With the wind chill, it will feel like 20 degrees in parts of South Texas by Friday, which will experience a 60-degree temperature drop between Wednesday and Friday.
WINTER WEATHER ALERTS ISSUED IN TEXAS FOR POTENTIAL ICE, SNOW THURSDAY
A Winter Storm Warning has been issued for much of South Texas, including Corpus Christi and Laredo. A Winter Weather Advisory has been issued for most Central Texas, including San Antonio and Austin.
Frozen precipitation has been reported on the northern side of the Winter Weather Advisory area.
Texas power regulators said the state's power grid would be ready this year to handle any freezing weather after a blast of cold last year left thousands without power for days.