Weekend storm threatens central US with snow, ice, severe storms and flash flooding
Snow and ice are likely in the Northern and Central Plains and upper Midwest, with severe thunderstorms and heavy rain possible across the South and the Mississippi and Ohio valleys
A new storm system will develop over the central U.S. during the first weekend of climatological spring, posing threats of snow and ice on its northern side and severe storms and flash flooding on its southern end.
An area of low pressure is expected to move onshore along the West Coast on Friday, then slide eastward across the Rockies on Friday night before emerging in the Plains by Saturday.
This system will pull in colder air from Canada while warmer, more humid air surges northward from the Gulf of Mexico out ahead of the storm, resulting in a sharp temperature gradient between the cold air to the north and the warm air to the south across the nation's midsection.
When that type of setup happens in March, you can expect a round of active weather. In this case, snow and ice are likely in parts of the Northern and Central Plains and upper Midwest, with severe thunderstorms and heavy rain possible across portions of the South and the Mississippi and Ohio valleys.
HERE'S WHERE TORNADOES ARE MOST LIKELY TO OCCUR IN EACH MONTH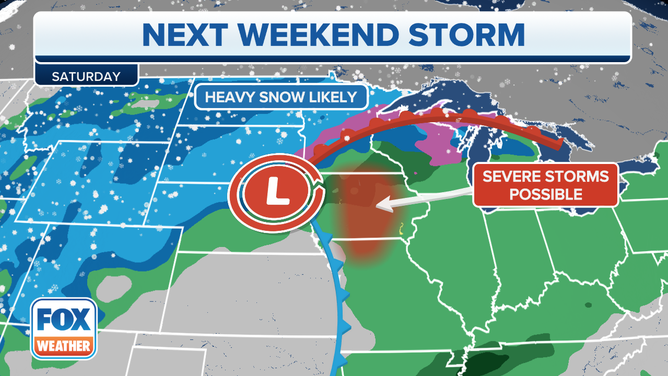 Here's our current outlook for the weekend storm's snow, ice, severe weather and flash flooding threats. Be sure to download the FOX Weather app for the latest forecast and weather alerts for your exact location, plus our channel's 24/7 livestream.
Snow and ice threat
Friday night
Snow will develop across the Rockies by Friday night, including in cities such as Billings, Montana, and Cheyenne, Wyoming. Denver should see mainly rain, but some snow could mix in toward daybreak Saturday morning.
Light snow will also dust portions of northern North Dakota, far northern Minnesota, extreme northern Wisconsin and the Upper Peninsula of Michigan overnight.
Sleet or freezing rain could turn roads icy in parts of northern and central Minnesota and northern Wisconsin, potentially including Minneapolis/St. Paul and Green Bay, Wisconsin.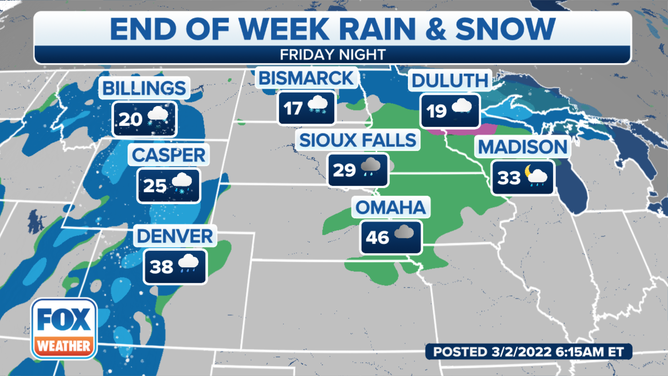 Saturday
An area of moderate to heavy snow will slide into the Northern and Central Plains on Saturday while some lighter snow lingers over parts of the Rockies.
Snow, sleet or freezing rain is also expected over portions of northern Minnesota, northern Wisconsin, the Upper Peninsula of Michigan and northern Lower Michigan.
Dangerous driving conditions are likely in all of these areas seeing snow or ice on Saturday.
SNOW, SLEET, FREEZING RAIN AND HAIL: WHAT'S THE DIFFERENCE?
South of the wintry precipitation, rain and thunderstorms are possible in parts of the upper and mid-Mississippi Valley, which will be discussed in more detail below.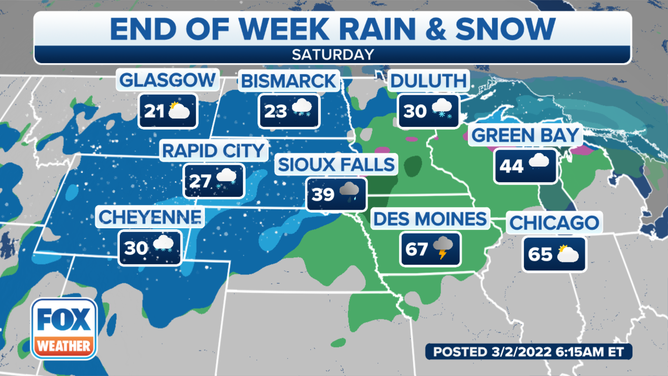 Saturday night
The area of moderate to heavy snow is forecast to move into parts of Minnesota, mainly north and west of Minneapolis/St. Paul, though rain is still expected to change over to a period of snow or ice there. Icy roads are likely around the Twin Cities metro area.
Snow may also linger for a time Saturday night in portions of the Northern and Central Plains.
Temperatures are expected to be warm enough for all rain across the Great Lakes and Ohio Valley, except for far northern Wisconsin and the Upper Peninsula of Michigan, where the precipitation is predicted to fall as freezing rain.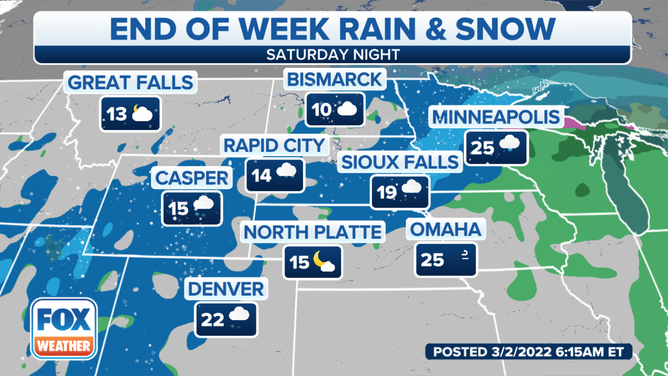 Sunday
Lingering snow is possible Sunday morning in parts of Minnesota, and the rain or freezing rain could change to a brief period of snow in portions of central and northern Wisconsin and northern Michigan before ending later in the day.
This system will also spread rain across much of the Northeast and Ohio Valley on Sunday. Parts of northern New England could see some brief snow or ice before changing to rain.
In addition, snow could redevelop over the Rockies as a secondary area of low pressure forms over Colorado.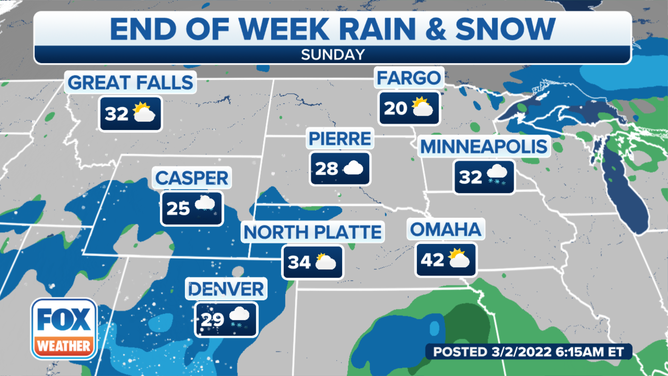 How much snow?
At least 6 inches of snow will likely blanket a large portion of the northern and central Rockies through this weekend. The highest terrain could see more than a foot of snow.
A half-foot or more could also pile up over an area extending from parts of the Northern Plains into northern Minnesota, far northern Wisconsin and the western Upper Peninsula of Michigan.
Light to moderate accumulations of less than 6 inches are expected elsewhere in the Rockies, Northern and Central Plains and upper Midwest.
THESE ARE THE 7 SNOWIEST CITIES IN THE U.S.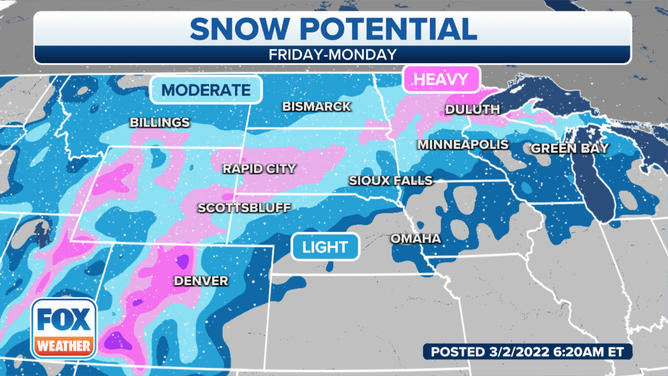 Severe weather threat
Saturday
On the warmer side of the storm system, severe thunderstorms are forecast to develop on Saturday across portions of Iowa, northeastern Kansas, northern Missouri, western Illinois and southwestern Wisconsin.
This includes the Kansas City area and Des Moines and Cedar Rapids in Iowa.
Damaging wind gusts are the main threat from any severe storms on Saturday. A tornado threat is also possible somewhere in this region, but the extent of that tornado risk remains a bit uncertain.
Sunday
The severe weather threat will shift southward on Sunday into portions of southeastern Oklahoma, northeastern Texas, Arkansas and western Tennessee.
Little Rock, Arkansas, and Memphis, Tennessee, are among the cities included in the risk of severe storms.
The thunderstorms will pose threats of damaging wind gusts and tornadoes, but similar to Saturday, the magnitude of these risks is still a bit uncertain.
SEVERE WEATHER WAS HARD TO FIND IN FEBRUARY, CONTINUING THE LULL THAT BEGAN IN JANUARY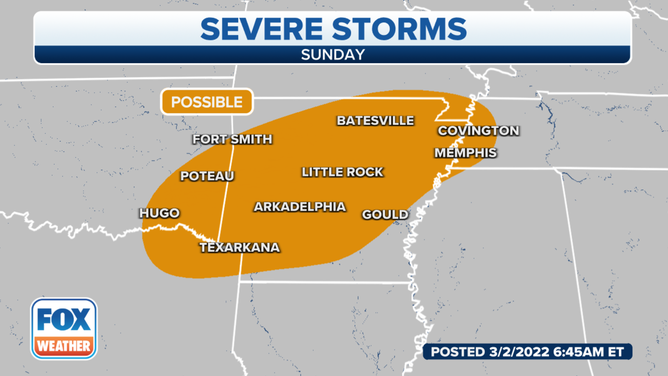 Flash flooding threat
As moisture from the Gulf of Mexico infiltrates portions of the South and the Mississippi and Ohio valleys, heavy rain is likely to develop in those regions this weekend into early next week.
The heaviest rain is expected to fall Sunday and Monday across an area extending from the Southern Plains to the lower and mid-Mississippi, Ohio and Tennessee valleys.
Widespread rainfall totals between 1 and 3 inches are predicted, with locally higher amounts possible in any heavier downpours that may develop.
Flash flooding will become an increasing concern, especially in parts of the Ohio and Tennessee valleys, where soils are already saturated from recent heavy rains.