Snow, ice expected in Northern Plains, Great Lakes on cold side of severe threat
The initial wave will break out Tuesday night, with a few inches of snow in the Dakotas and northern Minnesota
The same system that's bringing a severe risk to the South is also bringing a long-duration winter weather event in portions of the Northern Plains, upper Mississippi Valley and Great Lakes.
The National Weather Service in Duluth, Minnesota, said a prolonged period of snow, freezing rain, rain and some sleet is expected starting Tuesday night and lasting through Thursday. Hazardous travel conditions are expected, especially for the Wednesday morning commute. 
DESTRUCTIVE WINDS, TORNADOES POSSIBLE AS SEVERE WEATHER THREATENS STORM-RAVAGED SOUTH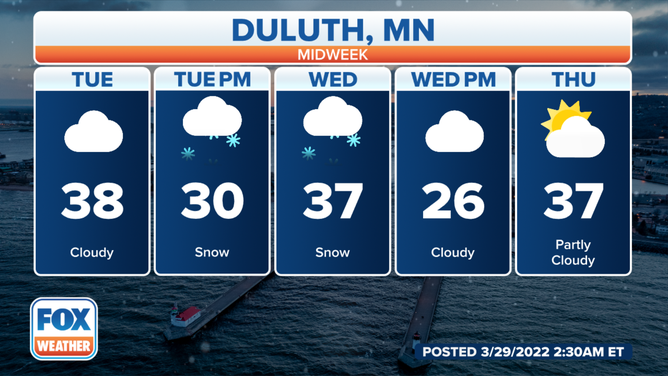 A few inches of snow is expected in the Dakotas and northern Minnesota. Overall, snow totals should remain below 6 inches – except in the Upper Peninsula of Michigan, where over a foot of snow is possible.
The most impactful weather will be from the ice expected from northern Wisconsin and much of Michigan down to the Allegheny Plateau of Pennsylvania. Most areas will see around one-tenth of an inch or less, which will lead to dangerous road conditions. Up to three-tenths of an inch – enough for power outages – will be possible in northern Michigan and Wisconsin.
WHEN CAN YOU EXPECT THE LAST SNOW OF THE SEASON?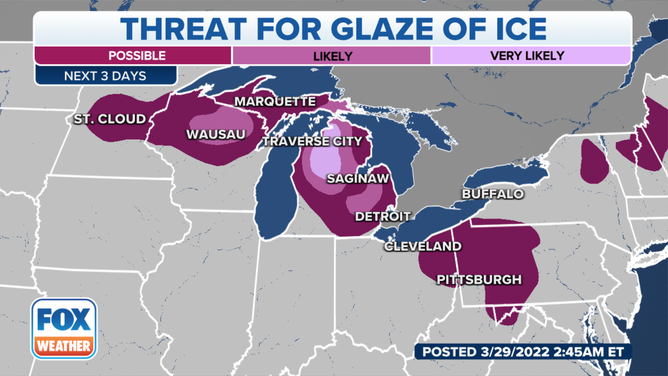 Winter Weather Advisories have been issued for the Arrowhead of Minnesota and most of northwestern Wisconsin starting Tuesday night.
7 THINGS YOU NEED TO KNOW ABOUT WINTER DRIVING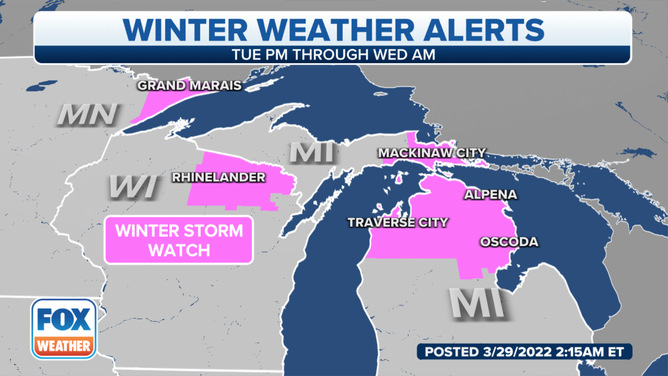 The NWS in Green Bay, Wisconsin, said it will remain dry through mid-afternoon Tuesday, then light rain and/or a wintry mix will spread into the area near or after sunset. Slippery, icy roads are possible after dark.
A renewed round of mostly snow will break out Wednesday into Thursday, dropping another few inches of snowfall across the region.
The NWS in Gaylord, Michigan, said lingering freezing rain midday on Wednesday is expected to transition to all rain Wednesday afternoon through Wednesday night. Rainfall totals in excess of 1 inch are possible, which may lead to localized flooding in low-lying areas and a rise in area rivers.
HOW TO WATCH FOX WEATHER ON TV
Be sure to download the FOX Weather app for the latest forecast and weather alerts for your exact location, plus our channel's 24/7 livestream – now featuring a new, all-star lineup with live programming weekdays from 6 a.m. to 10 p.m. Eastern time.