Snow, ice and rain sweep through Midwest, Northeast during Christmas weekend
While most places will only see rain, snow and ice could lead to slippery roads in some areas
Storm systems will sweep across the Midwest and Northeast into Christmas weekend, bringing accumulating snow and ice to some areas while rain soaks others.
The first system arrived on Thursday, bringing snow to the Midwest and causing slippery roads. The icy conditions caused a 100-vehicle pileup on Interstate 94 in Wisconsin on Thursday morning.
CHRISTMAS TRAVEL FORECAST: WHERE HOLIDAY TRAVELERS CAN EXPECT RAIN, SNOW TO TRIGGER FLIGHT DELAYS
A second system is following closely on that one's heels, arriving in the upper Midwest and Great Lakes on Christmas Eve.
With warmer-than-average temperatures in place, most areas will be dealing with rain showers rather than snow or ice. However, there's a chance some snow, sleet or freezing rain could mix in near the U.S.-Canada border.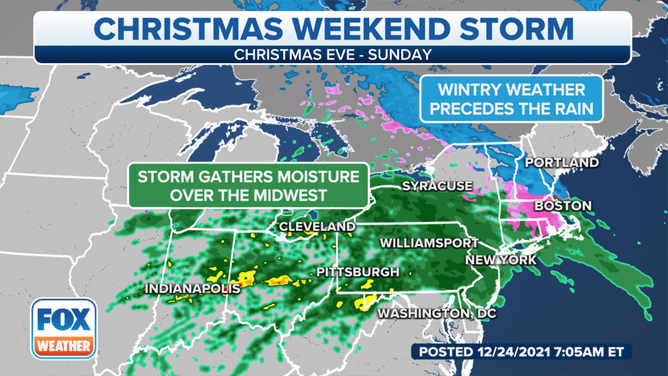 By Christmas Eve night, this system will also spread into portions of the Northeast. Most areas will just see rain, but snow, sleet or freezing rain could mix in from parts of northern and eastern New York into western New England.
The system will continue to track through the Midwest and Northeast on Christmas Day, with areas of rain likely in the southern Great Lakes, Ohio Valley and Northeast. Accumulating snow is possible in the Northern Plains and the Upper Midwest on Christmas Day. Snow or a wintry mix of sleet and freezing rain is possible from northern New York into northern New England, with only minor accumulations expected during the day.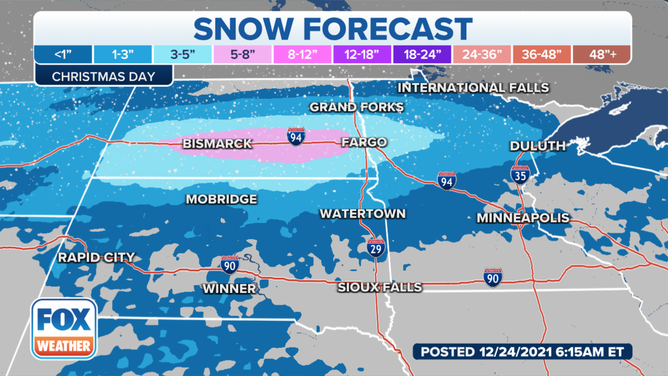 Colder air on Christmas night will allow for more widespread snow to develop across northern New England and northern New York, continuing into Boxing Day on Sunday.
WHITE CHRISTMAS CHANCES TO REMAIN A DREAM FOR MOST OF THE US
Several inches of snow could pile up in those areas through Sunday, with the highest amounts from the Green Mountains of Vermont and the White Mountains of New Hampshire into western Maine.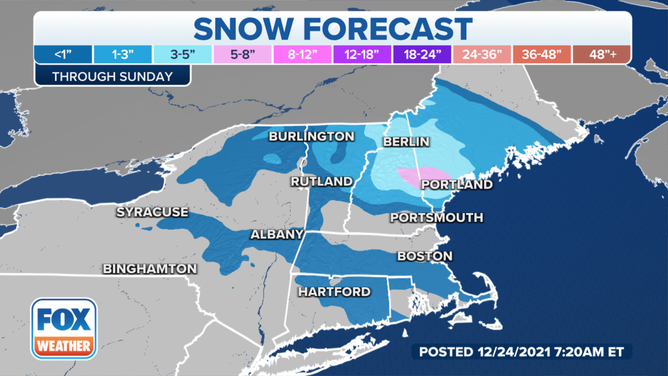 The heaviest rain through the weekend will fall in parts of northern and central Ohio and western Pennsylvania, where an inch or more of rainfall is possible by Christmas night. The rain will be much lighter elsewhere across the Midwest and Northeast.
Any snow or ice will be confined to northern New England and the higher elevations of upstate New York, so keep that in mind if your holiday travels bring you to that region, where roads could become slick this weekend.
Significant icing is most likely in parts of the Adirondacks and Mohawk Valley of New York, but the threat for a glaze of ice also exists in the Catskills and portions of northern Connecticut, southern New Hampshire and central and southern Vermont.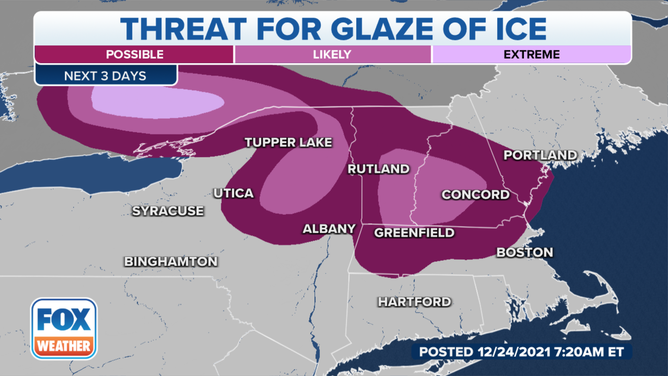 Be sure to download the FOX Weather app so you can track the rain, snow and ice through the holiday weekend.