Christmas travel forecast: Where holiday travelers can expect rain, snow to trigger flight delays
According to AAA, more than 109 million people will travel at least 50 miles to get to their holiday destination
As millions of Americans flock to the roads and the skies during the Christmas weekend, FOX Weather is tracking a few storm systems that could create holiday travel disruptions across the West, Midwest and Northeast.
According to AAA, more than 109 million people will travel at least 50 miles to get to their holiday destination, nearly a 34% increase from 2020. If predictions hold true, airlines will see a 184% increase in travelers over last year.
Let's take a closer look at the forecast for each day through the weekend.
7 THINGS TO TALK ABOUT DURING YOUR CHRISTMAS VACATION
Sunday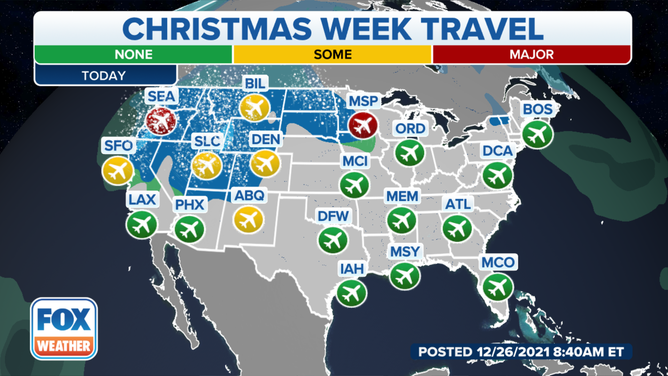 A Western storm system will continue to bring snow and rain from parts of the West Coast to the Rockies on Sunday. Additional flight delays are likely at hubs such as Seattle, Portland, Oregon, San Francisco and Salt Lake City.
Another low-pressure system will arrive in the Northern Plains and Midwest on Sunday, with snow possible in portions of the Dakotas and upper Midwest while rain falls farther south into mid-Mississippi and Ohio valleys. A few weather-related delays are possible in those areas, including Minneapolis/St. Paul and Fargo, North Dakota.
DOWNLOAD THE FOX WEATHER APP FOR IOS AND ANDROID
Dry conditions are predicted for most of the East Coast, the Central and Southern Plains and the South. However, lingering snow showers and gusty winds might trigger a couple of flight delays in portions of northern New England and upstate New York.
Through mid-week
Storm systems continue moving through the U.S. as 2021 comes to a close. Here's a look at the possible travel delays expected as the new year approaches.