Snow, dangerous cold to linger in Midwest, Plains
Snow will remain light, but meteorologists warn the cold nights could be dangerous
The combination of a few chances of snow and an invasion of frigid air will remind residents in the Plains and the Midwest that winter is far from over.
Quick-moving Alberta Clipper systems will produce several inches of snow through Monday, which will be followed by wind chill values that could reach 40 degrees below zero during the workweek.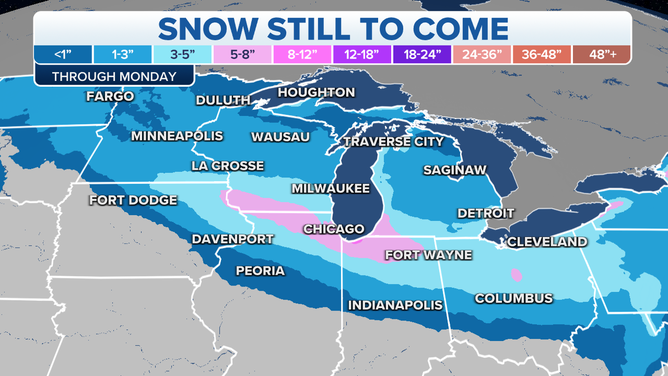 Heavy snow is not anticipated from any of the systems, but when totals are added up, some parts of the Midwest could see more than a half-foot of new snowfall.
The snow shifts to areas of the Upper Midwest and Great Lakes region by Sunday night, and on Monday the flake will fly across northern Illinois, Indiana, Ohio and into Pennsylvania and New York.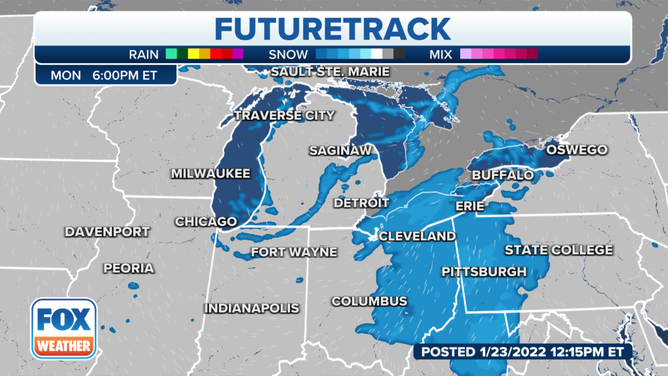 Forecast models show locations around the Great Lakes could see the most snow through Monday, with most areas from North Dakota through Ohio seeing less than half a foot of frozen precipitation.
HALFWAY THROUGH WINTER: WHO HAS SEEN THE SNOW AND WHO HASN'T
Behind the flakes, arctic air from Canada will push southward into the region with some of the coldest temperatures of the year.
Many cities in the Upper Midwest will see morning lows below zero on Tuesday and Wednesday.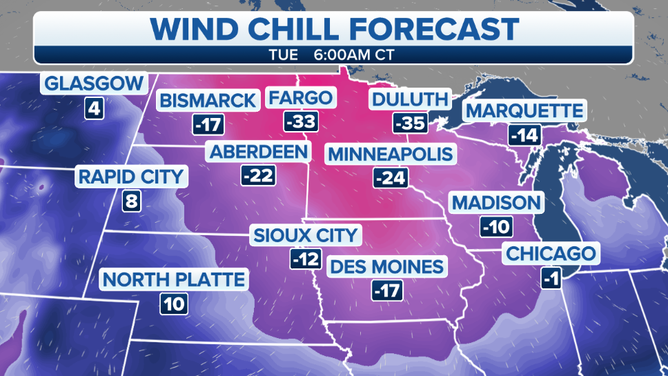 But what shows on the thermometer will be only half the story.
When the air temperature is combined with the wind chill, feel like temperatures could reach upwards of 40 degrees below zero for large areas of the Midwest.
Fargo is expected to see a wind chill of around -33 degrees on both Tuesday and Wednesday mornings.

And the cold air is expected to work its way southward through Chicago, where residents could wake up on Wednesday morning with temperatures feeling like it's 10 degrees below zero.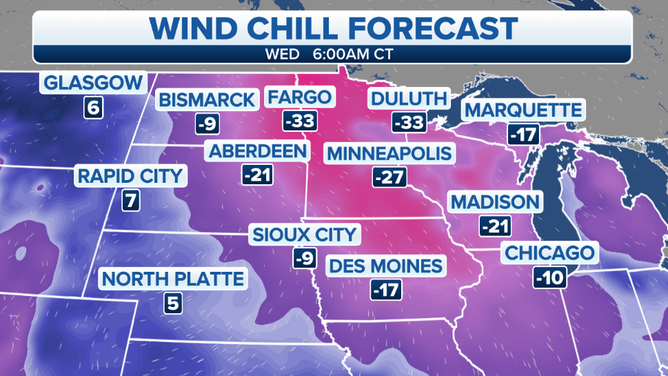 With the frigid air, meteorologists warn that frostbite could start in less than 5 minutes.
If you have to venture out in the cold, the National Weather Service reminds you to make sure to protect the body's extremities such as fingers, toes, ears and nose.
Experts suggest wearing loose-fitting layers, mittens, a hat and limiting exposure to the elements.