Winter storm could become North America's first 'bomb cyclone' of 2022 as it nears Canadian Maritimes
In order for a system to be considered a 'bomb cyclone,' the central atmospheric pressure has to drop 24 millibars within 24 hours.
A winter storm has dumped several inches of snow across the Northeast on Friday after producing more than a half-foot of snow for areas of Kentucky and Tennessee on Thursday. This snowstorm is now headed toward the Canadian Maritimes and could become North America's first "bomb cyclone" of 2022.
Localized bands of heavier snow during the Friday morning commute were producing snowfall rates between 1 and 2 inches per hour from the New York City tri-state area to southeastern New England. Most accumulations along the Interstate 95 corridor ranged from 3 to 8 inches, but parts of New England picked up a foot or more.
LIVE UPDATES: SNOWY FRIDAY MORNING COMMUTE AS WINTER STORM IMPACTS NORTHEAST
The highest snow totals as of Friday morning were in parts of Connecticut, northern Rhode Island and eastern Massachusetts, where 9 to 13 inches piled up since late Thursday night.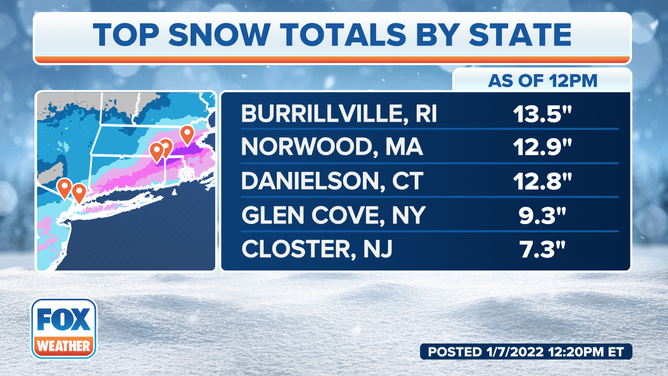 New York's Central Park had picked up 5.5 inches of snow as of 7 a.m. Eastern time Friday morning, while La Guardia Airport in Queens reported 8.4 inches of snow.
NEW YORK CITY ARGUABLY HAS THE MOST UNIQUE WEATHER OBSERVATIONS IN AMERICA
Philadelphia measured 2.9 inches of snow, with a slightly lower total of 2.6 inches recorded in Washington. Baltimore reported 3 inches of snow.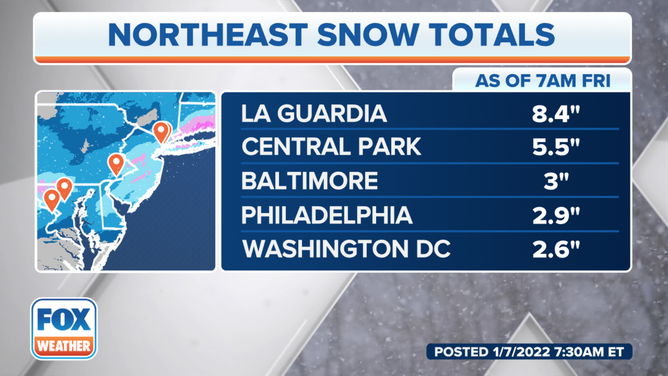 Snow has ended for the mid-Atlantic region, but parts of eastern and northern New England will continue to snowfall into Friday afternoon.
Gusty winds are also possible near the New England coast as this low-pressure system strengthens offshore.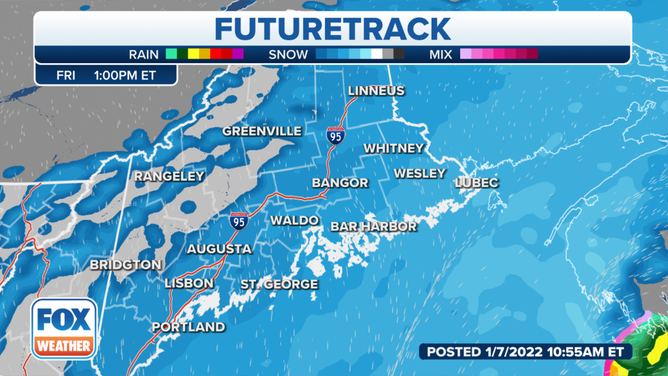 Snowfall totals might be the heaviest for Downeast Maine because of its proximity to the strengthening low offshore.
A Blizzard Warning is even in effect for coastal Washington County in Downeast Maine because of the combination of gusty winds and heavy snowfall, which could add up to 8 to 12 inches or more by Friday night.
WHAT MAKES A BLIZZARD DIFFERENT FROM AN ORDINARY SNOWSTORM?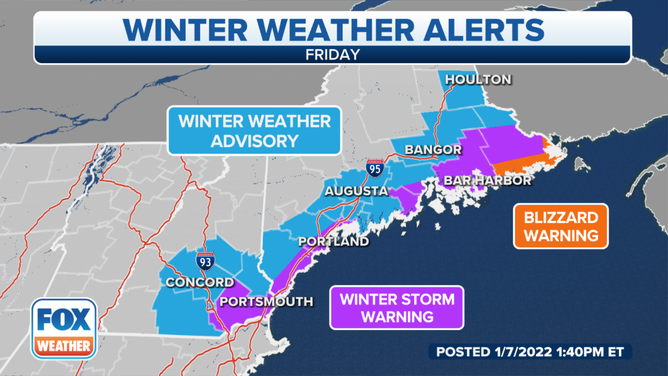 The winter storm will pull away from the northeastern U.S. Friday evening, bringing an end to the snow across coastal and eastern Maine by midnight or so.
However, this system could become the first "bomb cyclone" of 2022 for North America as it approaches the Canadian Maritimes Friday night into Saturday morning. In order for a system to be considered a bomb cyclone, the central atmospheric pressure has to drop 24 millibars within 24 hours.
WHEN STORMS 'BOMB OUT': EXPLAINING HOW A BOMB CYCLONE FORMS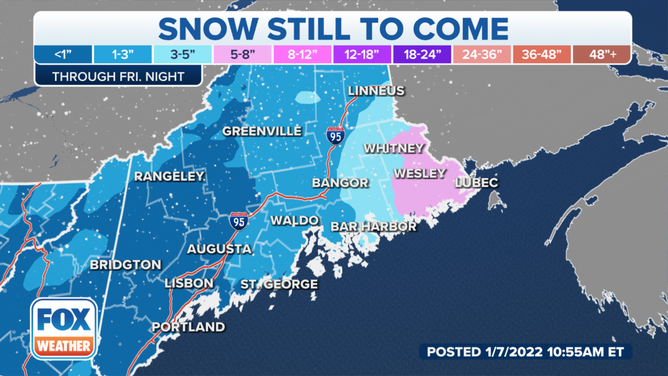 Major travel delays reported
Travelers using interstates, airports and trains were greeted by delays on Thursday, and the travel headaches will likely continue into the start of the weekend.
FlightAware reported more than 2,200 flights were canceled on Thursday, and a similar amount had already been canceled as of Friday morning.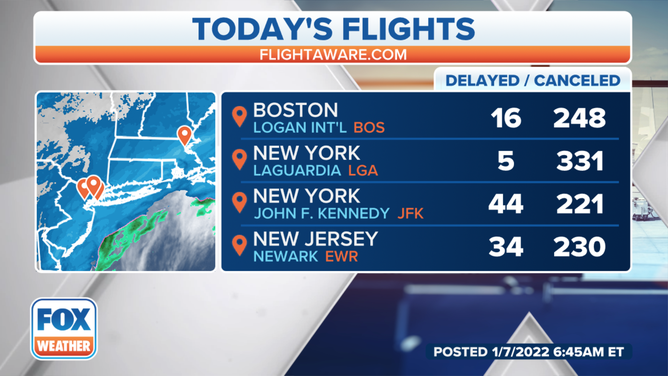 Snow was causing rush-hour headaches up and down the Interstate 95 corridor of the Northeast on Friday morning.
Traffic trouble spots on Friday include the I-95 corridor, I-87 in eastern New York and I-90 from Albany, New York, to Boston.
THOUSANDS OF FLIGHTS CANCELED AS WINTER STORM HITS NORTHEAST
Massachusetts transportation officials said they'll have around 2,500 snow removal and treatment vehicles working during the storm.
In addition to the roadways, delays are expected along rail lines from the mid-Atlantic into New England.
Amtrak announced modified schedules for lines along the Eastern Seaboard from Boston to Norfolk, Virginia.