Thousands of flights canceled as winter storm hits Northeast
Travelers should check with their airlines before leaving for the airport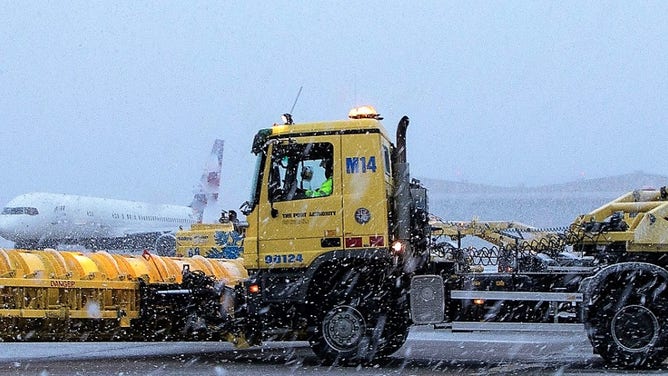 The first winter storm of 2022 is disrupting flight activity across the U.S. Friday and impacting commuters along the I-95 corridor.
Most of the delays impacting the rest of the country stem from the New York metro area airports, including LaGuardia, New York and JFK, according to FlightAware's MiseryMap.
As of 10 a.m., more than 237 flights at Newark Liberty Airport, 340 flights at LaGuardia and 227 flights at JFK have been canceled due to weather conditions, according to the airports.
LIVE: Snow falling at 1-2 inches per hour as winter storm impacts Northeast
More than 2,280 flights connecting in the U.S. were canceled by mid-morning, and at least 680 flights were delayed.
Delta has issued weather waivers for Boston, New York and three Washington, D.C.-area airports.
Some travel impacts are also due to staffing shortages caused by the coronavirus omicron variant, which has plagued airlines throughout the busiest holiday travel season.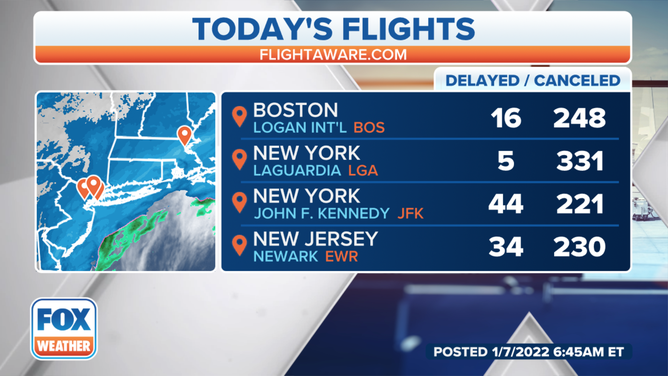 "The challenges this winter weather will bring to these major markets, plus the continued impact from the omicron variant, are expected to drive approximately 200 daily cancellations Thursday and Friday between Delta and Delta Connection out of more than 4,000 daily departures across our system," Delta said in a news release. 
FORECAST: Snow creating a travel nightmare along the I-95 corridor in Northeast
Travelers should check with their airline before heading to the airport.
Snow will end by mid-morning Friday in New York City, but New England will continue to snowfall into Friday afternoon, and it may be heavy at times.
The storm will continue north, dumping snow throughout the day before pulling away from the U.S., ending in Maine late Friday. After the system moves along the Canadian Maritime, it has the potential to become a bomb cyclone.