Snow impacting travel along I-95 corridor in Northeast on Thursday
Many areas will pick up a quick 1 to 2 inches of snow on Thursday
A burst of snow will impact travel from the mid-Atlantic into the Northeast on Thursday, creating snow-covered and slippery roads along the Interstate 95 corridor.
The system producing the snow moved through the Ohio Valley overnight, dropping 1 to 4 inches of snow and helping to usher in much colder air.
Rain is now changing to snow across the Northeast, including parts of the New York City tri-state area and the Philadelphia metro area.
The National Weather Service has issued Winter Weather Advisories from the Connecticut coast and Long Island southward into eastern Virginia. This includes New York City, Philadelphia and Richmond, Virginia.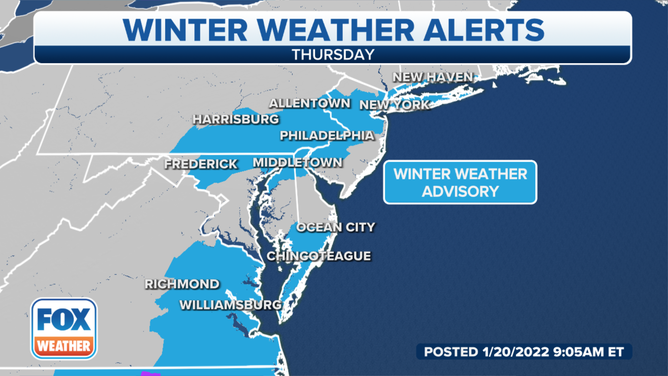 The snow is expected to remain light and move through the region quickly. However, driving could become hazardous as roads become snow-covered and slippery.
HALFWAY THROUGH WINTER: WHO'S SEEN THE SNOW AND WHO HASN'T
By Thursday evening, forecast models show that most of the precipitation will be offshore, which should help the evening commute for the Interstate 95 corridor between Boston and Washington. Temperatures will drop below freezing, however, so watch out for areas of black ice, especially on untreated roadways.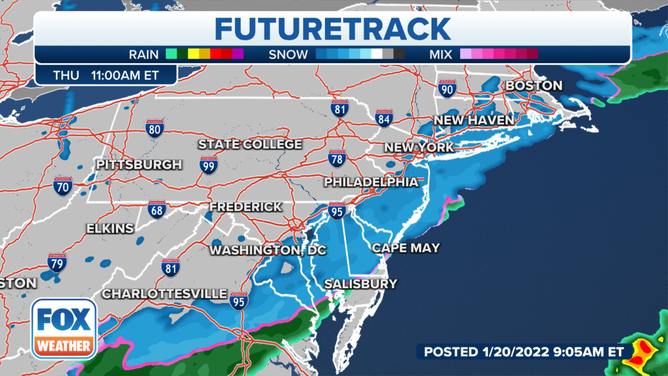 How much snow?
The Interstate 95 corridor in the Northeast will pick up a general 1 to 2 inches of snow on Thursday. Locally higher amounts up to 3 inches are possible in a few areas.
Following closely on this system's heels, FOX Weather is monitoring the potential for another East Coast winter storm late this week. Check back frequently for updates.