Winter storm moves through Southeast, Mid-Atlantic bringing ice, snow
The last Ice Storm Warning for the Wilmington, North Carolina, area was nearly 7 years ago
A winter storm overspreading the Southeast and southern Mid-Atlantic with snow and ice created travel headaches from Georgia to southeastern Virginia to start the weekend.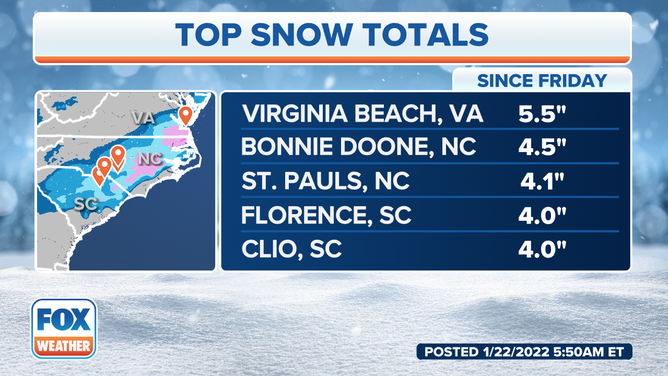 The coastal Carolinas are facing a significant ice threat, including power outages and tree damage, as freezing rain spreads across the region on Saturday. The National Weather Service says the expected ice amounts would be "unprecedented in recent history" for some areas.
The NWS issued Ice Storm Warnings, Winter Storm Warnings and Winter Weather Advisories from the central and eastern Carolinas to southeastern Virginia and the southern Delmarva Peninsula ahead of the winter weather.

SLOW, SLEET, FREEZING RAIN AND HAIL: WHAT'S THE DIFFERENCE?

According to the NWS office in Wilmington, North Carolina, this is the first Ice Storm Warning issued for its area of responsibility since Feb. 24, 2015, nearly seven years ago.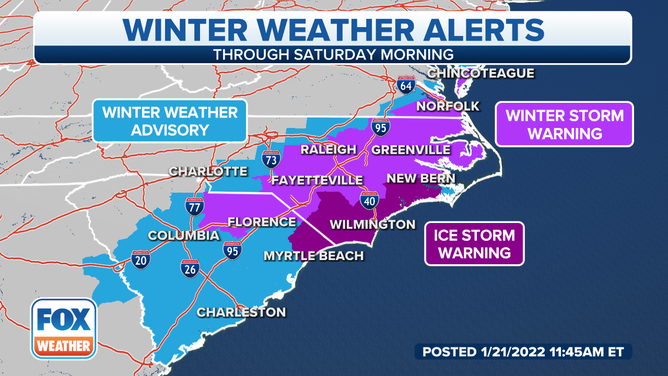 The Ice Storm Warning included Morehead City, Jacksonville, New Bern and Wilmington in North Carolina, as well as Conway and Myrtle Beach in South Carolina. This is where significant ice accumulations are most likely to knock out power and cause tree damage.
Snow was falling in Raleigh, North Carolina when a Delta Air Lines flight slid off a taxiway.
Snow and ice are predicted to taper off in the Southeast by mid- to late morning on Saturday as the low-pressure system slides off the East Coast.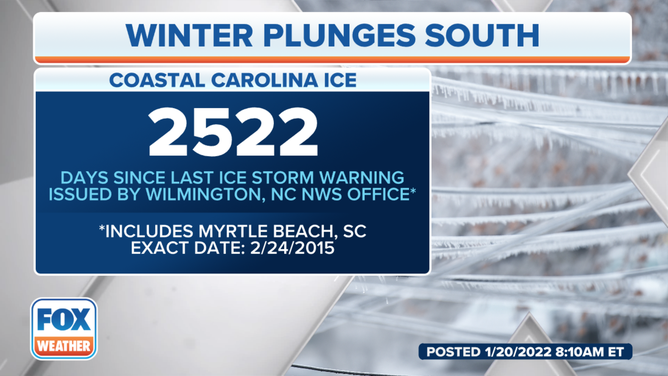 The storm will then track out to sea rather than up the Eastern Seaboard, so areas near the Northeast coast should have a dry, but cold, start to the weekend.
WHAT MAKES A STORM A NOR'EASTER?
Temperatures might not rise above freezing in parts of northeastern North Carolina and southeastern Virginia until Saturday afternoon, if at all, so icy spots could linger even after the precipitation ends. Any residual water from daytime melting would then refreeze Saturday night as temperatures fall back below freezing into Sunday morning.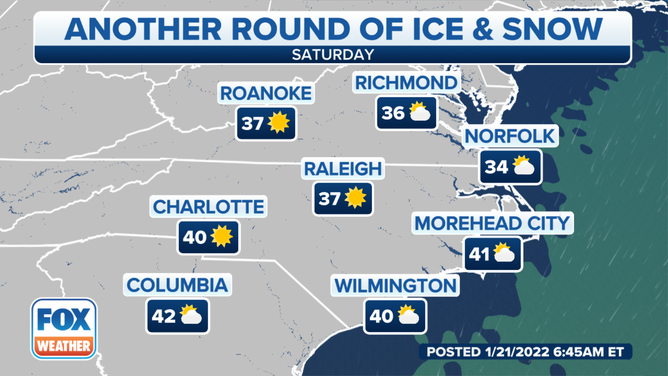 Expected snow and ice amounts
The best chance to see a few inches of snow with this system will be from northern South Carolina into central and eastern North Carolina and southeastern Virginia. Locally higher totals up to 6 inches are not ruled out in isolated spots of northeastern North Carolina and southeastern Virginia.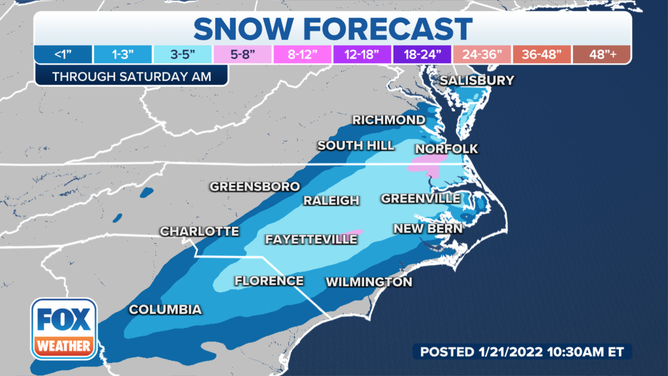 Freezing rain is likely to cause significant issues in the eastern and coastal Carolinas, especially in the lightest purple-shaded area on the map below.
A glaze of ice is also possible in other parts of the Southeast from eastern Georgia into the central Carolinas.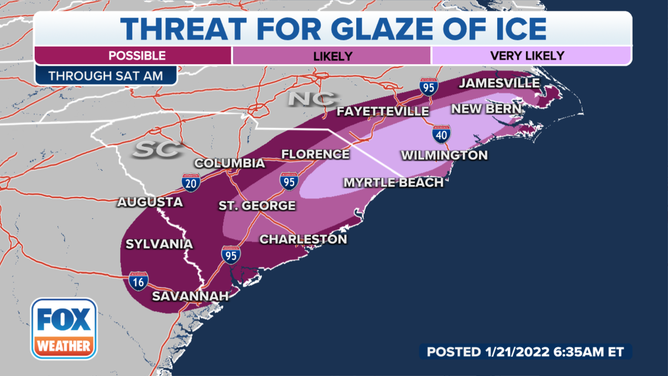 One-quarter to one-half inch of ice is forecast for parts of the coastal Carolinas through Saturday morning. Locally higher amounts of ice are not ruled out along the eastern North Carolina coastline.
Check back with FOX Weather for updates into the weekend. Be sure to download the FOX Weather app to get the latest weather alerts and forecasts for your location.