No injuries reported after Delta plane slides off taxiway in Raleigh
13 passengers were aboard Delta Connection flight 5501
RALEIGH, N.C. – A Delta flight at Raleigh-Durham International Airport slid off the taxiway during snowy weather on Friday evening.
The airport said Delta Connection flight 5501 slid off the runway while taxing around 9 p.m.
A spokesperson for Delta Air Lines said the flight originated in Washington, D.C., and all 13 passengers safely deplaned.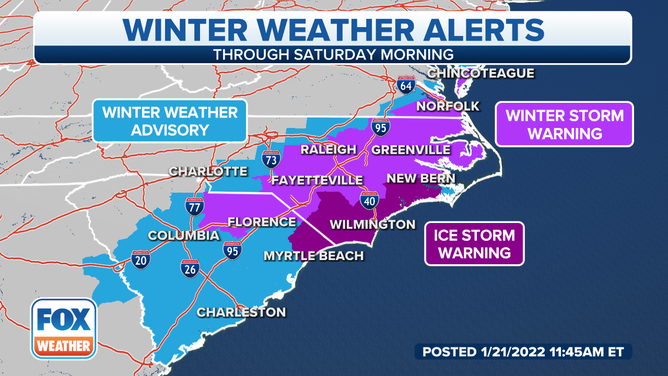 WINTER STORM TO PRODUCE WORST ICING IN 20 YEARS FOR COASTAL CAROLINAS
The airport was reporting light snow and a visibility of around two miles at the time of the incident.
Officials closed a nearby runway to allow crews to safely tow the plane out of the mud.
Parts of central and eastern Carolina were under a Winter Storm Warning, with as much as 5 inches of snow expected in the Raleigh metro region.
FlightAware reported that more than 70 flights into and out of Raleigh's airport were canceled on Friday.
Snow was forecast to move out of the region on Saturday morning.