Small rain break for Washington before the next atmospheric river returns
Flood Watches are in effect until Monday Morning. Another atmospheric river rain event is forecast for midweek.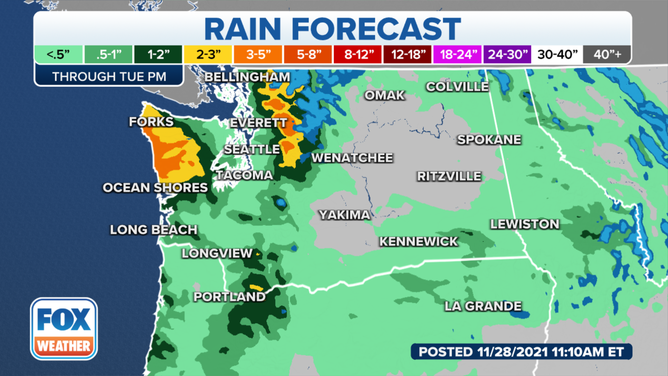 Washington is ready for a small break in the rains Monday before another atmospheric river rain event is forecast to hit the already saturated coast.  
Forecasters say the central and southern Cascades could pick up another inch before Monday morning.  This rain on top of the 4-6 inches that fell in the mountains and 1-2 inches in the lowlands this weekend.
Flood Watches expire overnight but, the National Weather Service says to expect continued river flooding.  Landslides are also likely as soils are saturated and unstable.
The Nooksack and Skagit Rivers are among rivers that will likely go over the flood stage again, though not expected to reach the levels seen in the damaging floods earlier this month. Still, the Nooksack could reach moderate flood stage while major flooding stage is forecast for the Skagit River.
The latest forecast trends are aiming the brunt of that heavy rainfall into southern British Columbia, which continues to recover from devastating floods earlier this month. But some rain is still expected to fall in northern Washington, keeping the threat of river flooding.