Significant ice accumulations, power outages expected in Southeast from winter storm
Strong winds on Sunday will only add to the power outage concerns
The winter storm dumping heavy snow across the Midwest on Saturday will soon reach the Southeast, where it will produce significant ice accumulations capable of downing trees and power lines in many areas.
FOX Weather expects major travel disruptions due to snow, sleet and freezing rain along the path of this storm, but the ice in the Southeast has the potential to be more impactful than the snow.
MAJOR WINTER STORM WITH SNOW, ICE AND WIND TO SNARL TRAVEL IN MIDWEST, SOUTH AND EAST THROUGH MLK WEEKEND
Freezing rain is predicted to develop Sunday morning and continue much of the day from northern Georgia into South Carolina, North Carolina and parts of Virginia. Ice accumulations might be quite significant in portions of this region.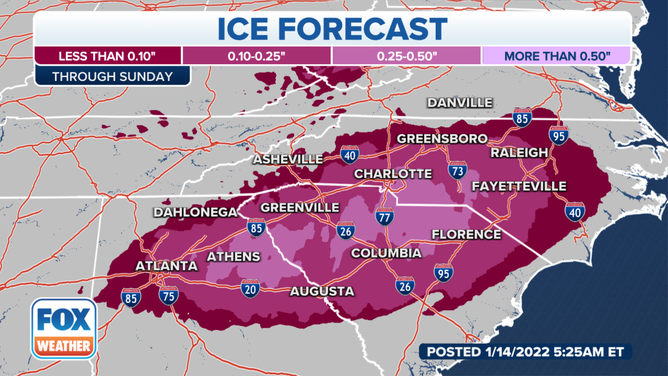 Specifically, the region between the Interstate 95, Interstate 85 and Interstate 20 corridors in the Carolinas and northeastern Georgia could potentially see one-quarter to one-half inch of ice through Sunday.
This amount of ice will cause most roads and sidewalks to become very slick, especially bridges and overpasses. In addition, the ice will likely be heavy enough to take down numerous trees and power lines.

Because of the threat of heavy ice accumulations, an ice storm warning has been issued for parts of northeastern Georgia and South Carolina.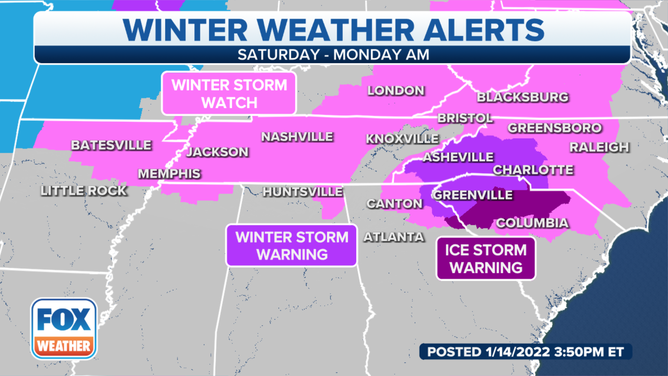 7 THINGS TO KNOW ABOUT ICE STORMS
In general, it only takes about one-quarter inch of ice accretion to place tree limbs and power lines at an increased risk of snapping due to the added weight. Some parts of the Carolinas could see double that amount of ice, which would likely turn out to be very damaging.
You're advised to begin preparations for power outages that could last several hours, if not longer.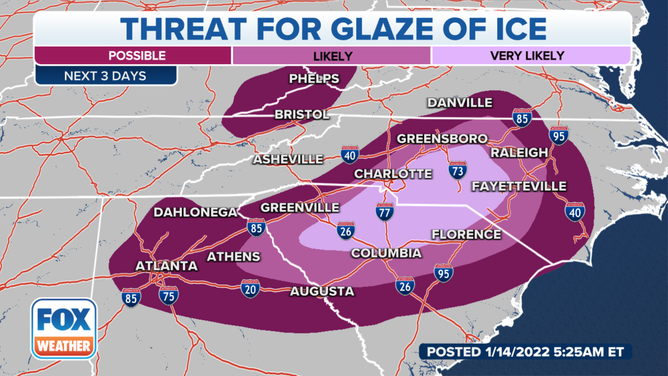 Strong winds are also possible Sunday in the Southeast as the area of low pressure gains strength. This will only contribute to the power outage concerns, adding more stress to ice-coated trees and power lines.
The strongest winds will likely affect the region Sunday morning into the early afternoon, but winds could remain gusty overnight into Monday morning as the storm tracks into the Northeast.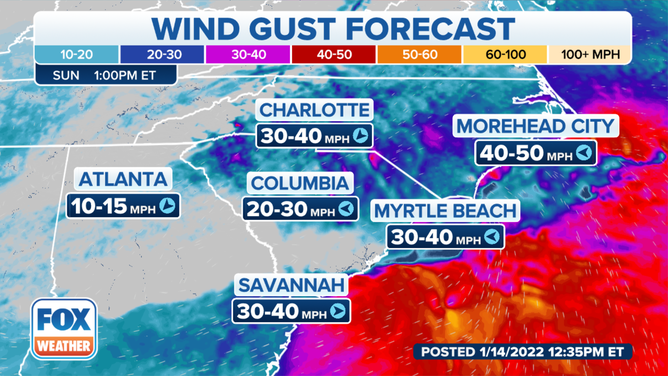 7 WAYS TO STAY SAFE WHILE USING A GENERATOR
Temperatures should rise above freezing in most areas by Monday afternoon to provide an opportunity for the ice to melt, but any residual water from daytime melting has the potential to refreeze as temperatures drop below 32 degrees again Monday night into Tuesday morning.