Watch: Surreal shelf cloud glides ominously over Naval Oceanography HQ in Mississippi
"We captured the greatest 'shelf cloud' ever captured today from our HQ building at Naval Oceanography," LCDR Bobby Dixon told FOX Weather
HANCOCK COUNTY, Miss. – A thunderstorm brewing along the Gulf Coast shores put on quite a cloud show as it approached NASA's John C. Stennis Space Center in Mississippi Tuesday morning.
"We captured the greatest 'shelf cloud' ever captured today from our HQ building at Naval Oceanography," LCDR Bobby Dixon told FOX Weather.
HOW TO WATCH FOX WEATHER ON TV
Shelf clouds most often form along the leading edge of an intense line of thunderstorms. They are low-hanging clouds that have a well-defined wedge-shaped appearance.
A shelf cloud is often accompanied by gusts of wind, with the precipitation (rain, hail or both) then following on its heels.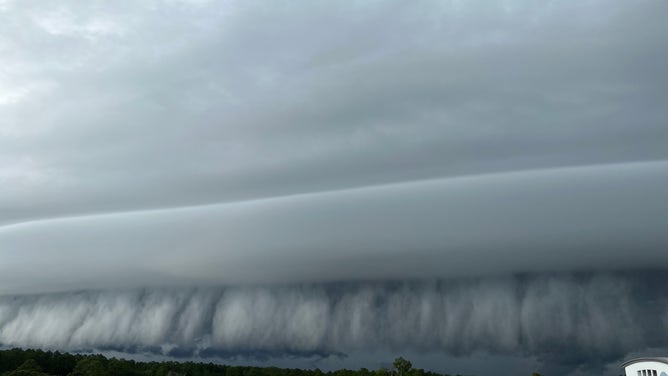 LEARN THE SCIENCE BEHIND THESE JAW-DROPPING SHELF CLOUDS
As rain-cooled air rushes downward out of the thunderstorms – known as a downdraft – warm air is lifted upward out ahead of the storms to replace that cooler air. When that warm air rises, it condenses and forms the shelf cloud that can quickly become the star of social media feeds in the region.
CLICK HERE TO GET THE FOX WEATHER UPDATE PODCAST
Stronger shelf clouds can bring damaging wind gusts, but there were no reports of any damage from this one.
Be sure to download the FOX Weather app to track any storms in your area and receive potentially life-saving weather alerts issued by the National Weather Service. The free FOX Weather livestream is also available 24/7 on the website and app and on your favorite streaming platform. The FOX Weather Update podcast also provides weather information for the entire country.