Thousands of power outages reported in Missouri as storms tear across Plains, Midwest
A powerful cluster of storms that began in the Plains has caused damage as it moved into the Midwest on Saturday.
SUTTON, Neb. – A long-lived cluster of storms caused plenty of problems Saturday as it moved from the Plains into the Midwest.
Earlier in the day, dozens of storm reports showed wind gusts well over 60 mph in eastern Nebraska, including an 81-mph gust in Dorchester and a 78-mph gust in Plymouth. 
The town of Sutton, Nebraska, declared a state of emergency Saturday morning, asking residents to stay off the roads, according to a Facebook post by city managers.
"Only emergency personnel and responders are allowed on the roadways at this time," the post read.
In Missouri, storm reports from across told of downed trees and power lines. More than 100,000 power outages were reported across the Show Me State on Saturday evening. 
Because of the storms, the Kansas City Chiefs moved their practice indoors on Saturday. The video below shows the torrential rainfall that ended up striking the training camp.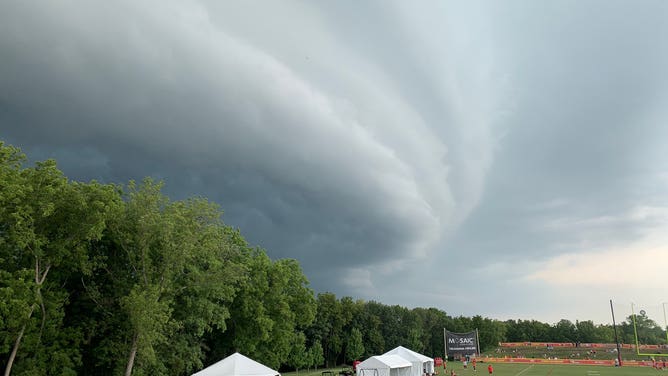 A wind gust of 79 mph was reported at St. Louis International Airport. There were also several reports of tree and power line damage across the St. Louis metro.
The cluster of storms was continuing to move east as of Saturday evening. The Storms Prediction Center has been issuing Severe Thunderstorm Watches to match the course of the system.
Models show the cluster weakening after sunset, but residual storms could linger through Sunday morning across the South.