Flash flooding reported around metro Atlanta as severe storms impact several regions of country on Friday
Due to the slow-moving storms large parts of North Georgia were placed under a Flash Flood Warning and considerable street flooding was reported.
Severe thunderstorms caused problems in parts of the Northeast and Southeast on Friday, with millions placed under severe weather alerts and flash flooding in metro Atlanta.
Due to the slow-moving storms large parts of North Georgia were placed under a Flash Flood Warning and considerable street flooding was reported.
HOW TO WATCH FOX WEATHER ON TV
Several cars were reported to be stranded in the high the floodwaters.
The local National Weather Service office described the rainfall event as a potentially dangerous and life-threatening situation and urged drivers to avoid traveling north of downtown, if possible.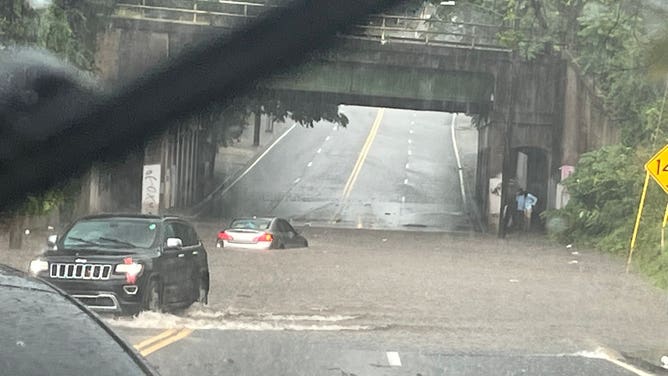 Thursday's severe storms leave 1 dead, thousands without power
Severe storms blasted some of the same regions Thursday with large hail and damaging winds, leaving at least one person dead and thousands without power. 
NOAA's Storm Prediction Center highlighted over 500 reports of high winds and large hail damage on Thursday after a series of frontal boundaries turned severe.

In Van Wert County, Ohio, severe storms resulted in one death and damage to crops, trees and several buildings. Van Wert County Emergency Management Director Rick McCoy said that the elderly woman died after a large tree fell on her house and garage. The roof of the attached patio trapped her and her husband about 6:45 p.m. as the tree came crashing down. The wind gauge at the nearby airport in Van Wert showed gusts around 40 mph as a strong thunderstorm blew through. 
OHIO WOMAN KILLED AFTER TREE FALLS ON HOME, TRAPPING HER AND HUSBAND DURING FEROCIOUS WINDSTORM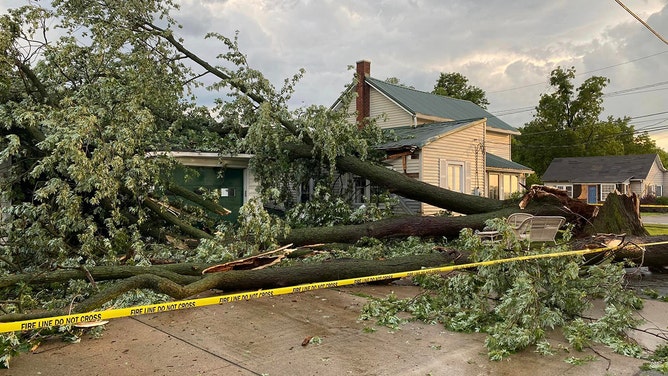 Hundreds of thousands of power outages were reported across the U.S. after Thursday's storms. Many of them were still being reported as of Friday afternoon, with the highest number of outages in Michigan and Georgia.
SEVERE STORMS KNOCK OUT POWER TO OVER HALF A MILLION CUSTOMERS ON THURSDAY
Current power outages across the U.S. on Friday, July 21, 2023.
(FOX Weather)
---
Michigan is where storms dumped large hail, with some residents of Genesee County saying they were the largest hailstones they can recall seeing. Stones were estimated to be the size of tennis balls or even baseballs during the severe storm. The ice chunks were large enough to damage homes, vehicles and any outdoor object that was not protected from the elements.
"Our next-door neighbor had windows busted. Both neighbors across the street had their car windshields busted out completely," said Ted Forrest, a resident of Davison. "I knocked on their door to tell them. Both vehicles in my driveway suffered damage but are still drivable, thankfully."
Despite the damage, initial reports indicate the hailstones were smaller than the all-time state records.
MICHIGAN RESIDENTS STUNNED BY LARGEST HAILSTORM THEY'VE EVER WITNESSED IN TOWN OF DAVISON
Earlier in the week, the strongest tornado ever observed in North Carolina in July was on the ground for more than 16 miles and had winds estimated to be 150 mph when the EF-3 tornado rolled through communities north of Rocky Mount.