Storms with hurricane-force winds topple trees in mid-Atlantic, Northeast
More than 300,000 power outages across a dozen states reported after Tuesday's storms
Residents from the mid-Atlantic to the Northeast will likely be cleaning up for days after severe storms knocked over trees, damaged homes and left thousands without power on Tuesday.
A cold front moving through the region helped trigger the storms which caused wind gusts greater than 80 mph.
The winds were responsible for damage from West Virginia to Maine, with areas around the nation's capital appearing to be the hardest hit.
Firefighters in Montgomery County, Maryland said dozens of residents were likely going to be temporarily displaced because of damage in the Olney area.

Photos and videos from the area outside of Washington showed dozens of homes that were significantly damaged.
"The weather service was spot on. They did call for some severe thunderstorm warnings. We were under a flood watch also. I'd say around between five and seven o'clock, around Montgomery County, which is just northwest of Washington, D.C., we had some pretty significant storms," Montgomery County Fire and Rescue Service spokesman Pete Piringer said.
Crews were in damage assessment mode into the evening and residents were spotted cleaning debris with chainsaws after the storms moved out of the region.
"I tell you, neighbors are helping neighbors. I've seen a lot of people out with their chainsaws and others coming from the surrounding area, just helping folks get the roads open, clear their driveways, even get some debris off roofs, things of that nature," Piringer said.
Maryland's winds were not from a tornado
A storm survey team with the local National Weather Service office – essentially tornado detectives – were sent to examine the extensive wind damage near College Park to determine if the widespread damage may have been caused by a twister. 
But meteorologists found the wind debris and damage generally fell to the east, suggesting straight-line winds from thunderstorms' downbursts. 
Doppler Radar images from the time did not indicate rotation. Instead, radar detected a line of damaging winds emanating from the severe thunderstorm. But with gusts measured between 80-90 mph, the estimated winds were on par with a low-end EF-1 tornado, the NWS said.
There were no initial reports of significant injuries from the severe weather in Maryland.
The scenes were much the same in New York and Massachusetts with downed trees blocking roadways.

More than 300,000 customers from around a dozen states saw an interruption of power during the severe weather. By late Wednesday morning, power outages had dropped to about 107,000 customers, with most of the outages being reported in Maryland. 
Downed power lines impacted the District of Columbia where two vehicles came in contact with a live wire.
Firefighters say they were unable to put out the resulting car fires until the energy company turned off power to the lines.
Video taken by DC Fire and EMS caught the dramatic moments two vehicles were destroyed by flames.
Firefighters said no one was injured, and they prevented the fires from spreading to nearby residences.
HOW TO WATCH FOX WEATHER ON TV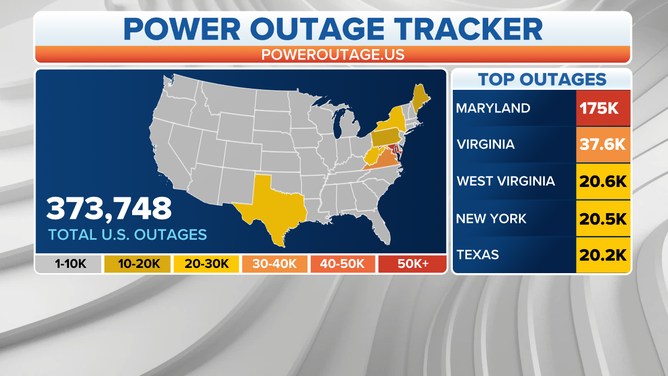 The Storm Prediction Center received more than 300 preliminary reports of damaging wind gusts and more than 6 dozens hail reports.
Many of the severe weather reports were from Virginia, Maryland and Delaware.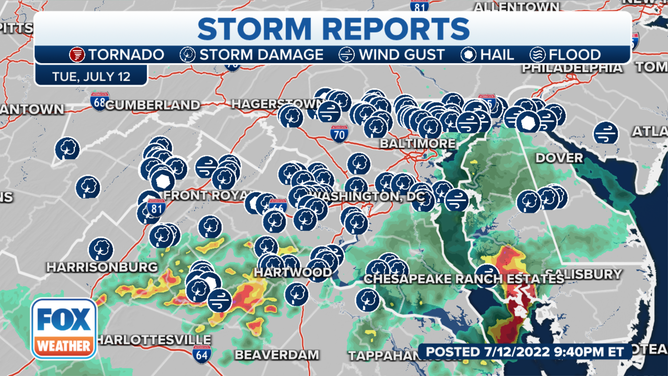 The storms also led to a mess in the skies for travelers, with many airports reporting delays and ground stops.
FlightAware reported nearly 19,000 flights were delayed and almost 2,500 cancellations across the country on Tuesday.
The bulk of the problems were in major hubs in the Northeast and mid-Atlantic.
Dulles International Airport reported a wind gust of more than 60 mph during the severe storms.
Forecast models show the Northeast will remain thunderstorm free through the week, which will assist residents with clean up. 
THIS IS AMERICA'S MOST ACTIVE TIME FOR DAMAGING WINDS FROM SEVERE THUNDERSTORMS
Be sure to download the FOX Weather app to track any storms in your area and receive potentially life-saving weather alerts issued by the National Weather Service. The free FOX Weather livestream is also available 24/7 on the website and app and on your favorite streaming platform. The FOX Weather Update podcast also provides weather information for the entire country.