Severe storms, strong tornadoes possible across Southern Plains Sunday
Some storms could become long-track supercells and produce strong tornadoes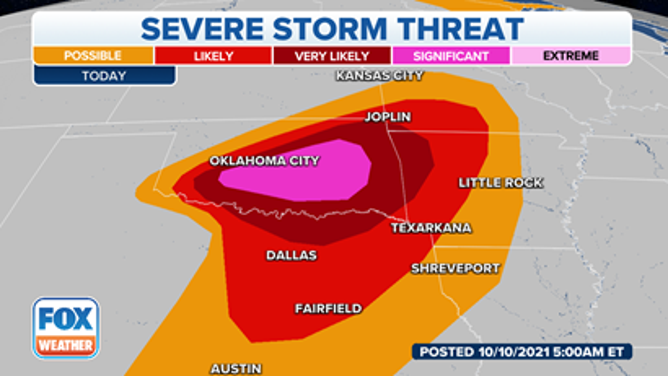 Severe weather is expected across a portion of Oklahoma and north Texas Sunday afternoon into the evening hours.
FOX Weather meteorologists are keeping a close eye on the potential for significant storms that could produce large hail, damaging winds and even strong tornadoes. 

Moisture moving out of the Gulf of Mexico over Texas will combine with strong winds aloft, and that could set the stage for the development of some supercell thunderstorms.
Strong storms are expected to develop over central Oklahoma Sunday afternoon and continue to track across the state.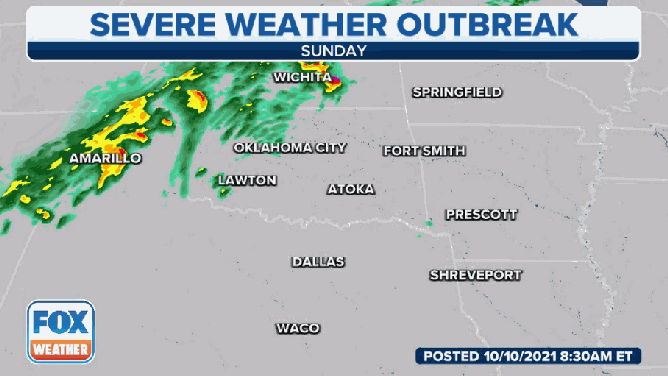 Given the favorable conditions, there is the potential for long-track supercells. 
More storms are possible further northeast along the front as well as further south into Texas. Those storms are also expected to become rotating thunderstorms. 
Eventually, the storms could evolve into lines of storms and clusters into the evening hours and overnight into Monday.
Anyone in the area of concern Sunday should review severe weather safety protocols and listen for any severe weather watches or warnings that may be issued.
Stay with FOX Weather as this severe weather develops.