Severe Thunderstorm Watch issued for parts of 4 states as storms develop
By Friday, portions of Central and South Florida might have the chance of a few severe storms
Severe thunderstorms will threaten parts of the Gulf Coast later on Wednesday as an arctic cold front tracks toward the South.
Moisture from the Gulf of Mexico will be drawn northward out ahead of the front, triggering the development of showers and storms across the South.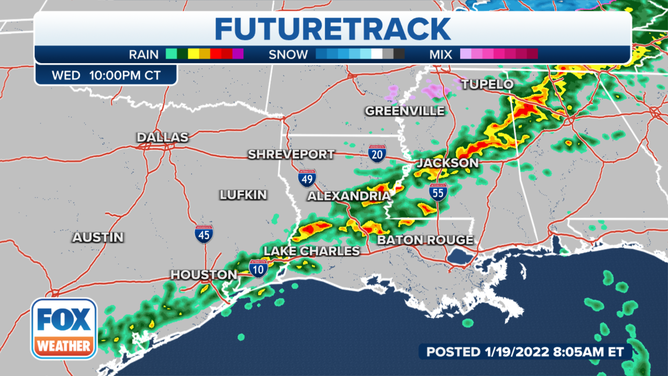 Severe thunderstorms are possible late Wednesday afternoon through the evening from parts of East Texas into the lower Mississippi Valley, where the greatest amount of instability will be in place. This includes the cities of Houston and Shreveport, Louisiana.
Because of that storm threat, a Severe Thunderstorm Watch has been issued for parts of Texas, Louisiana, Arkansas and Mississippi until 9 p.m. Central.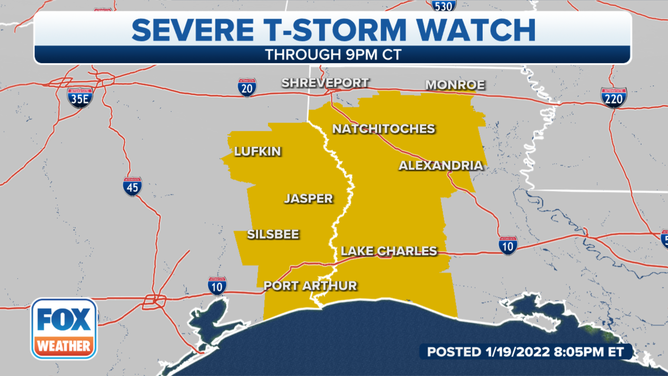 Cities included in the watch area are Huntsville, Houston, Galveston and Port Arthur in Texas. In Louisiana, Shreveport, Alexandria and Lake Charles are included in the watch.
Damaging wind gusts and large hail are the main threats, though an isolated tornado cannot be ruled out.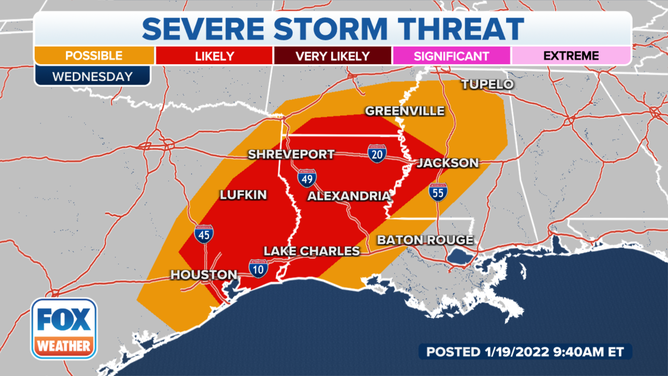 The risk of severe weather will gradually diminish overnight as the storms move across southern Louisiana and Mississippi into Alabama.
TEMPERATURES TO REACH BELOW ZERO IN SOME SPOTS OF PLAINS
Showers and thunderstorms will continue into Thursday and Friday, though the threat of severe weather on Thursday is low.
By Friday, portions of Central and South Florida might have the chance of a few severe storms. Damaging wind gusts, large hail and an isolated tornado are all possible.