Storms snarl air travel as severe weather threat stretches from Texas to Great Lakes on Monday
Flooding and storm threats loom over parts of the Southern Plains, Mississippi Valley, Ohio Valley and Great Lakes through Monday.
Severe storms rocked the Southern Plains to the Great Lakes Sunday afternoon and through the night.
Michigan and Oklahoma reported trees and power lines downed by straight line winds. Sheffield Texas reported half-dollar to ping pong ball-sized hail.
Dallas-Fort Worth International Airport suffered through three ground stops Sunday as strong thunderstorms skirted north of the field. As flights were not allowed any inbound or outbound aircraft to takeoff, Flightaware.com reported 147 canceled and 594 delayd flights on Sunday.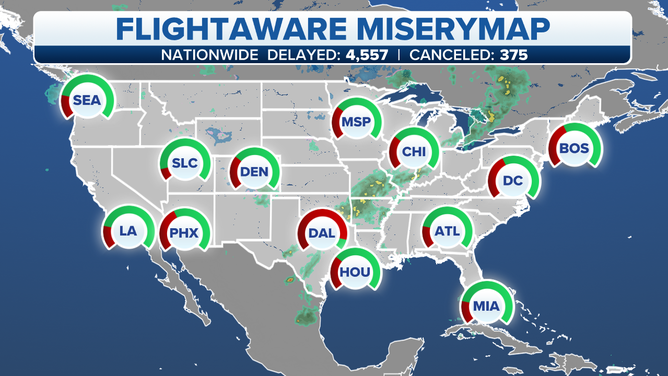 Already DFW canceled 36 flights for Monday.
Current Southern Plains delays and cancellations.
(Flightaware.com)
---
Thunderstorms dropped heavy weekend rain across Texas and Oklahoma.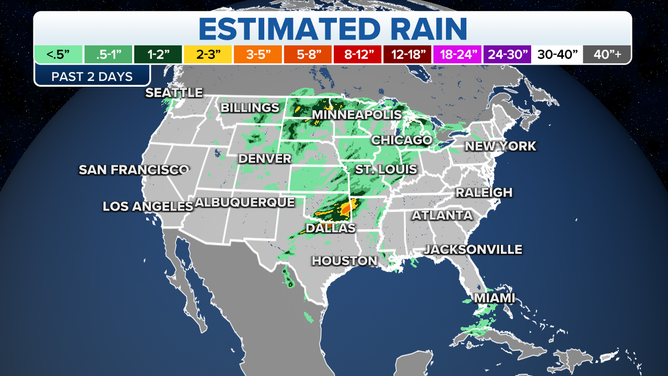 The same areas will see rain Monday. Some areas could see up to 3 inches more.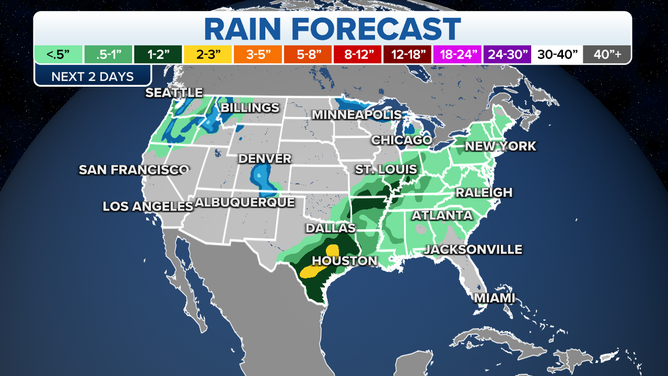 While areas in the system's warm sector see storms, other areas are being reminded that the book hasn't yet closed on winter.
Upwards of 2 feet of snow fell across the Northern Plains causing travel problems, especially along the I-90 corridor.
Monday
Strong thunderstorms are possible Monday from Texas across the Tennessee Valley to Lake Erie.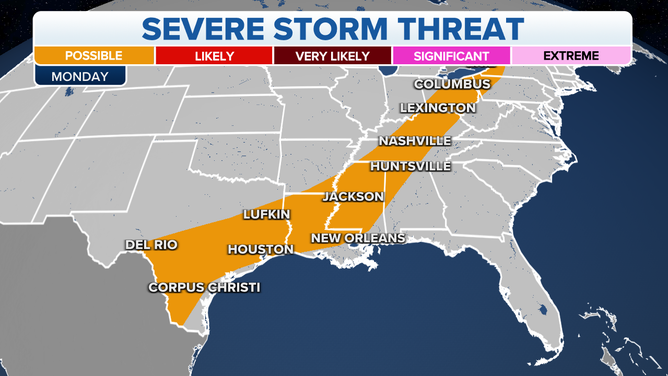 While severe weather might become less of a concern Monday, the threat of heavy rain will increase the potential for flooding from North Texas and eastern Oklahoma to the Ozarks and the mid-Mississippi and lower Ohio valleys.
Currently, the National Weather Service has flood advisories (in green) and Severe Thunderstorm Watches (yellow) in place.
Current Advisories
(FOX Weather)
---
Be sure to download the FOX Weather app for the latest forecast and weather alerts for your exact location, plus the 24/7 livestream of America's Weather Team – now featuring a new, all-star lineup with live programming weekdays from 6 a.m. to 10 p.m. Eastern time.