Severe storms, flooding rainfall hammered South for 5th straight day Monday
Early Sunday, an EF-3 tornado struck near LaGrange in western Georgia with winds up to 150 mph, according to the National Weather Service.
Severe thunderstorms and flooding rainfall hammered parts of the South for the fifth straight day Monday following a destructive EF-3 tornado that struck western Georgia on Sunday.
EF-3 tornado strikes near LaGrange, Georgia, on Sunday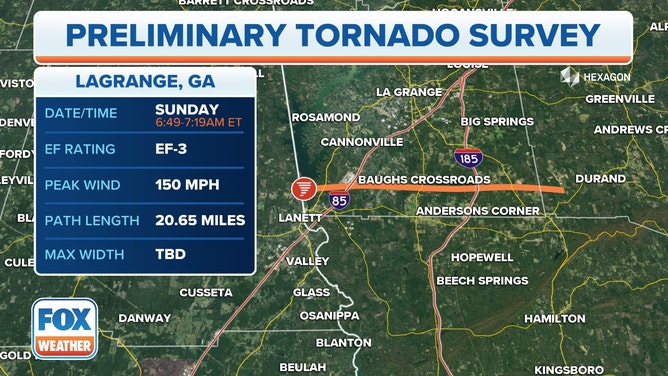 Early Sunday, an EF-3 tornado struck near LaGrange in western Georgia with winds up to 150 mph, according to the National Weather Service.
Tornado damage was reported in at least two different areas Sunday morning, with areas near and south of the city of LaGrange in Troup County appearing to be the hardest hit. According to a Facebook post by the Georgia Mutual Aid Group (GMAG), many buildings were damaged and people were trapped on the south side of LaGrange.
DRONE VIDEO SHOWS GEORGIA HOMES DEMOLISHED AS TORNADO REPORTEDLY TRAPS PEOPLE INSIDE
On the border of Troup and Harris counties, some 16 miles southwest of LaGrange, photos from West Point showed homes severely damaged by the tornado, at least one of which had its entire roof ripped off. The twister in the area also took down numerous trees, many of which were toppled onto homes, as the photos below show.
According to FOX 5 Atlanta, Troup County Emergency Management Director Zachary Steele said it is believed that five people suffered non-threatening injuries, and 30 to 40 homes were completely destroyed in Sunday morning's severe storms.
Some 13 miles southeast of LaGrange, the Troup County Sheriff's Office reported that two tigers were unaccounted for inside the Wild Animal Safari in Pine Mountain after a possible tornado ripped through the region early Sunday morning. Both tigers were found a short time later.
TIGERS FOUND AFTER REPORTED MISSING AT GEORGIA ANIMAL SAFARI AFTER POSSIBLE TORNADO RIPS THROUGH REGION
Following Sunday's tornadoes, Georgia Gov. Brian Kemp issued a state of emergency for the affected counties.

Flash flooding reported across South Sunday night and Monday
Flash flooding was reported on some roads in the Atlanta metro area Sunday night. According to reports from the National Weather Service, at least three vehicles were stalled on Interstate 75/85 near 10th Street in Midtown Atlanta, while at least four other vehicles were stalled near Turner Field on the south side of Atlanta.
Additional flash flooding was reported Sunday night and Monday in central portions of Georgia, Alabama and Mississippi, including on some roads in the Jackson, Mississippi, metro area.
South faced severe weather threat again Monday
Early Monday, a possible tornado was reported near Milstead, Alabama, where there was damage to a commercial structure and downed trees, according to the NWS.
Showers and storms moved across the Southeast on Monday, prompting occasional Severe Thunderstorm Warnings. Several Flash Flood Warnings were also issued as the thunderstorms tracked over areas with already-saturated soils following rounds of storms over the weekend.
Scattered severe thunderstorms developed from southeastern Alabama into Middle and South Georgia and southern South Carolina.
HERE'S WHERE TORNADOES ARE MOST LIKELY TO OCCUR IN EACH MONTH
Flash Flood Emergency issued in west-central Georgia on Monday
The threat of a dam failure in west-central Georgia prompted a Flash Flood Emergency on Monday.
The Flash Flood Emergency was in effect until 8 a.m. EDT Tuesday for areas downstream from Head's Creek Reservoir in west-central Spalding County. The NWS said the dam had not yet failed but was vulnerable to failure, so people living downstream were urged to prepare for a dam break.
According to the NWS, flooding was expected on West McIntosh Road, Vaughan Road, West Ellis Road, Moon Road and potentially Georgia Highway 16 after the creek drains into the Flint River.
The Spalding County Sheriff's Office asked all residents in this area to evacuate and said Spalding County Public Works was beginning to close roads because of the threat of flooding.