Severe thunderstorms in Dakotas on Saturday spread south into Nebraska, Kansas
Thunderstorms associated with locally damaging winds and isolated large hail are possible across parts of the northern Plains on Saturday
Scattered storms are expected from the Dakotas to the Great Lakes on Saturday with a few strong wind gusts up to 60 mph.
HOW TO WATCH FOX WEATHER ON TV
Any active Severe Thunderstorm Warnings are indicated in yellow, while any active Tornado Warnings are indicated in red. Additionally, any lightning strikes are depicted by the white lightning bolt icons.
(FOX Weather)
---
Storms rolling across the Dakotas on Saturday morning will produce heavy rain and lightning, but the severe threat will be low. Storms will slightly strengthen Saturday afternoon as they spread south into Nebraska and northern Kansas.
Here's a look at the severe storm threat for Saturday, July 16, 2022.
(FOX Weather)
---
"It's Kansas City, after a triple-digit day yesterday, with another round of storms coming through," said FOX Weather meteorologist Amy Freeze. "They are in the zone for the possibility of severe storm threats. It extends back to North Platte all the way down to Dodge City. So that entire region looking for the possibility of some thunderstorms that develop and could potentially turn severe."
The primary threat remains a few damaging wind gusts up to 60 mph or bouts of large hail. Tornado threats are minimal. 
THIS IS AMERICA'S MOST ACTIVE TIME FOR DAMAGING WINDS FROM SEVERE THUNDERSTORMS
There will be a slight break in the action Sunday as an area of low pressure is forecast to develop along the front and move northeast from the mid-Mississippi Valley toward the Great Lakes, the National Weather Service said.
This will support an increasing threat of heavy rain and the potential for localized flash flooding across the Ohio Valley into early Monday.
Forecast models are coming into agreement that a more widespread severe weather episode could occur early next week.
Monday will feature severe storms again in Montana as well as the Dakotas.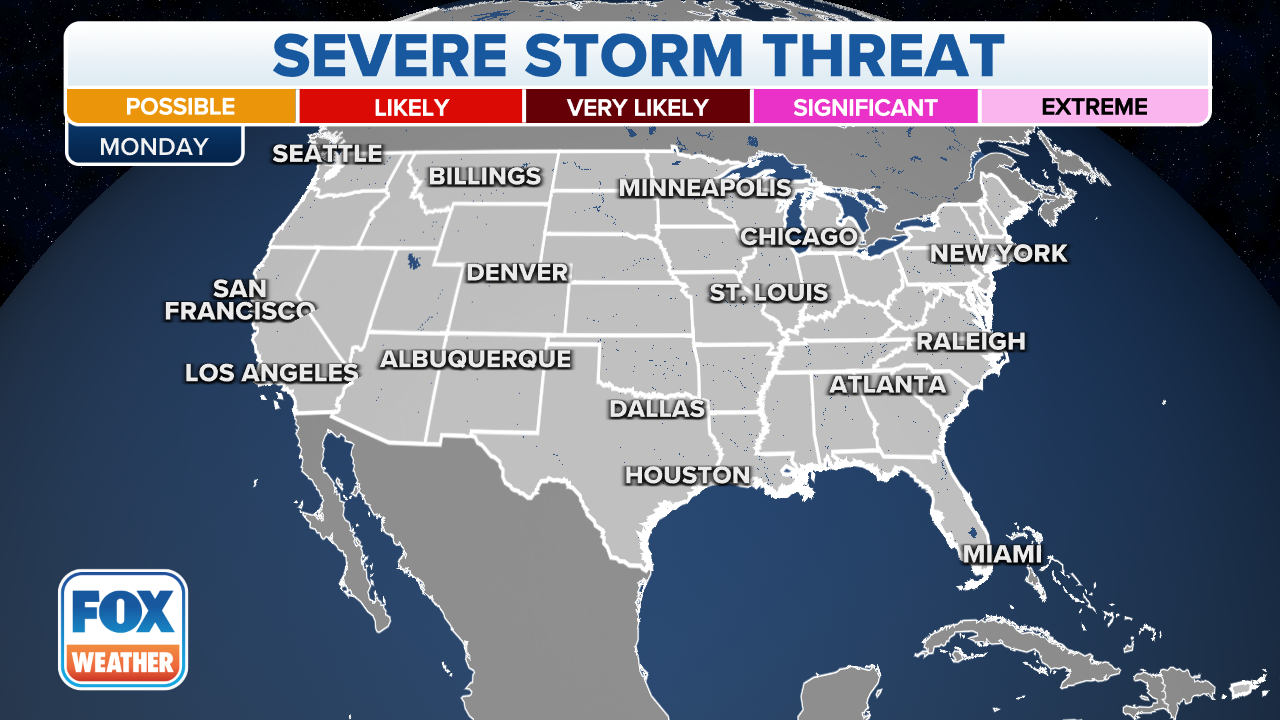 Here's a look at the severe storm threat for Monday, July 18, 2022.
(FOX Weather)
---
By Tuesday, the threat shifts to the Upper Midwest, and details will become more clear this weekend. 
Here's a look at the severe storm threat for Tuesday, July 19, 2022.
(FOX Weather)
---
Be sure to download the FOX Weather app to track any storms in your area and receive potentially life-saving weather alerts issued by the National Weather Service. The free FOX Weather livestream is also available 24/7 on the website and app and on your favorite streaming platform. The FOX Weather Update podcast also provides weather information for the entire country.