Thank Mother Nature: Lucky driver doesn't get a ticket because of rare Florida snow
Snow recorded in Okaloosa and Walton counties
WALTON COUNTY, Fla. – A Florida Panhandle sheriff's office says a driver can thank the rare Sunshine State snow for getting off with a warning instead of a ticket. 
The Walton County Sheriff's Office wrote on Facebook that a driver was pulled over before 5 a.m. Monday when Deputy Cokonougher noticed flurries falling around him.
"Needless to say, the driver got a warning, and Cokonougher grabbed his phone," the sheriff's office wrote.
Video recorded by the deputy shows snowflakes falling around the deputy's red and blue cruiser lights. 
The snow didn't stick around as the temperatures quickly warmed. Either way, the driver got off with a warning instead of a ticket.
"Wherever the driver is -- you have Mother Nature to thank," the sheriff's office wrote.
FOX 35 Orlando reports that snow accumulation happens in the Sunshine State, although rare. FOX 35 Chief Meteorologist Jayme King said that in 1977 flurries were reported as far south as Miami and accumulated in Orlando and Tampa.
Walton County wasn't the only Florida county with snowfall Monday.
SAY IT AIN'T SNOW: FLAKES FALL IN FLORIDA AFTER 40-DEGREE TEMPERATURE DROP
A bit further east in the Florida Panhandle, an Okaloosa County sheriff's deputy recorded snow falling at the Lowe's on Beal Parkway in Fort Walton Beach early Monday morning.
"Well, how's this for a temperature change?" the sheriff's office wrote on Facebook. From 75 degrees at 3 in the afternoon to snow at 3 a.m."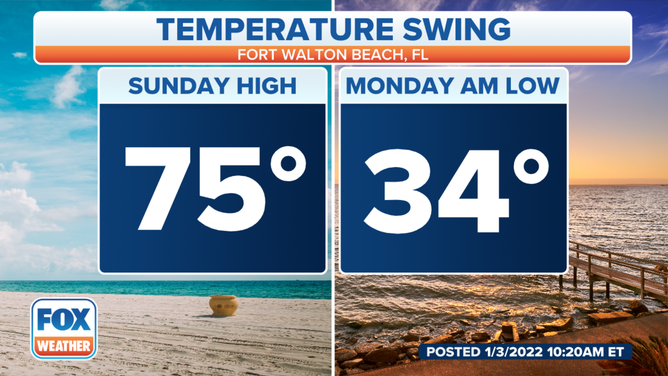 The Florida Panhandle is experiencing near-freezing conditions as a cold front dropped temperatures overnight, allowing for the brief wintry mix. 
Snowflakes were also recorded in Walton County, Florida, on a Ring doorbell camera in DeFuniak Springs Monday morning. The high on Sunday in Fort Walton Beach was 75 degrees. Less than 24 hours later, the low on Monday was 34.
Severe weather ripped through parts of the South on Saturday, followed by a cold front producing several inches of snow across Alabama and Tennessee and sending flakes as far southeast as the Florida Panhandle.