Texas relentless triple-digit heat not hot enough to drive tourists away
This week marked more than 40 days in San Antonio, the triple digits this year, and it's only July
SAN ANTONIO, Tex. – This week marked more than 40 days that San Antonio has experienced triple-digit heat, and it's only July.
Along the famous San Antonio River Walk, boats float along as tourists take in the sights and endure the relentless heat and humidity.
Fans blow mist and cool air, which give temporary relief to restaurant and bar patrons but for many of these places, the relentless heat is hurting their bottom line.
HOW TO WATCH FOX WEATHER ON YOUR TV
"It has slowed down a lot. We are affected by it, especially since we work outside," restaurant server Stephanie Avila said. "Yeah, we are feeling it."
Dianna Atkins has been working on the San Antonio River Walk for 20 years. She sees the foot traffic story a bit differently.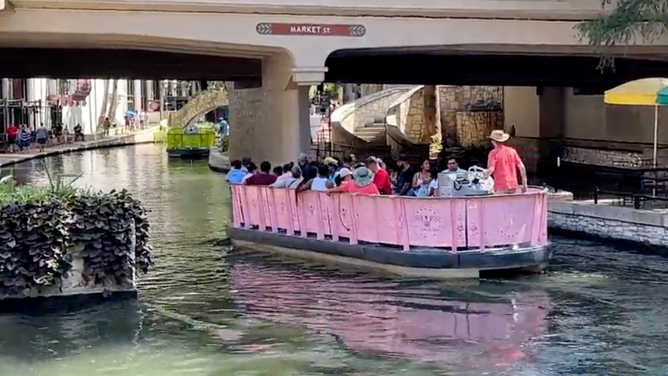 "I mean, it's just consecutively. That's the bad part, but guests come no matter what. If it's heat, cold, cool, whatever. No effects," Atkins said.
A family from Fairbanks, Alaska, was vacationing in Texas, and they wouldn't have predicted this kind of sweltering heat and drought when they planned their trip earlier this year.
"It's just really hot, and I'm sweating, and usually when we are in Alaska, it's like the perfect weather," Jillian Ross said. "I mean, yeah, it gets hot, but there is still a breeze, and it's not as humid."
TEXAS BREAKS ANOTHER POWER RECORD OVER THE WEEKEND
Eric Brown just graduated from basic training in the Air Force and has a hardened perspective on this heat wave.
"A lot of the people who I went through training with, people pass out every day, like dozens of them. Like they said and what we were told all summer is hydrate, drink water," Brown said.
Over 100 million Americans have been suffering through this unforgiving summer and for some there is no relief in sight.
In addition to recent heat waves, the Lone Star State needs at least a foot of rain to help with them intensifying drought.
Be sure to download the FOX Weather app to keep an eye on temperatures in your area and receive potentially life-saving weather alerts issued by the National Weather Service. The free FOX Weather livestream is also available 24/7 on the website and app and on your favorite streaming platform. The FOX Weather Update podcast also provides weather information for the entire country.