Ranchers scramble to protect livestock during potentially historic April blizzard
Calving season is a period of between 60 and 90 days when calves are born
Ranchers across the Plains have been working tirelessly over the past few days to protect their livestock from the crippling effects of a potentially historic blizzard sweeping across the region.
Spring calving is currently underway, which the United States Department of Agriculture says is a window of between 60 and 90 days when calves are born. And while animals are at the mercy of the elements, it can be hazardous for those that have just been born.
HOW TO WATCH FOX WEATHER ON TV
This late-season winter storm is pounding the Northern Plains with heavy snow and high winds, which could lead to the system becoming historic for parts of North Dakota and eastern Montana.
Snowfall rates in Billings, Montana, reached 2 to 3 inches per hour on Tuesday, and the city saw more than a foot of snow.
Blizzard conditions were also observed in many parts of North Dakota, including Bismarck and Grand Forks.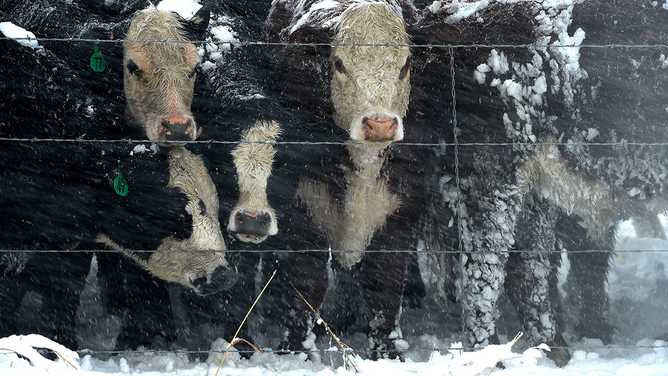 "A storm like this is a concern for all livestock producers, especially those with youngstock like calves and lambs," said Amber Boeshans, the executive director of the North Dakota Livestock Alliance.
Boeshans said farmers take several steps to ensure the safety of their animals during inclement weather.
"The most important step farmers take is to bring animals in from open pastures in order to provide shelter from the winds, whether that be via windbreaks, tree rows or buildings," Boeshans said.
Bedding is also essential for the animals.
"Providing ample bedding is vital to allow the animals to nestle down and keep warm," she said. "Bedding is especially important for the young animals."
"The timing of this storm couldn't be any worse," North Dakota Stockmen's Association President Jeff Schafer said.
Schafer said that while the timing isn't ideal, the moisture is welcome.
"The moisture is absolutely a blessing when you talk to producers in western North Dakota about the drought concerns," he said. "One individual had actually taken five-and-a-half inches of snow and melted it and got a half-inch of moisture. So, you know, it's welcome moisture, but the timing of this storm couldn't be any worse as the average North Dakota producer is well into calving season."
Schafer also thanked FOX Weather meteorologists for warning him and others about the potentially historic storm.
"To you guys' credit, I don't know how you guys do it," he said. "When they were first talking about record-breaking and an epic snowstorm, I was looking, and you couldn't see it. The system hadn't even developed. So, thank you guys for the fair warning on this. You know, as livestock producers, we rely on good forecasts."
When he saw the forecast, he said he began to pull the cattle closer and put up portable windbreakers and calf shelters to keep the animals out of harm's way.
"The snow is one thing, but this wind is just relentless," Schafer said. "To keep these cattle out of the wind is the ongoing challenge."