Rain, snow and ice could cause slippery travel in Northeast on Sunday
Any roadways and sidewalks left untreated are likely to turn icy where freezing rain and sleet are falling
Another storm system is impacting the Northeast and thanks to some colder air a wintry mix of snow, sleet and freezing rain is possible.

FOX Weather forecast models show the highest threat for icing appears to be around the Catskill Mountains in New York, western Massachusets and southwestern Vermont where upwards of .50" inches of ice could accumulate.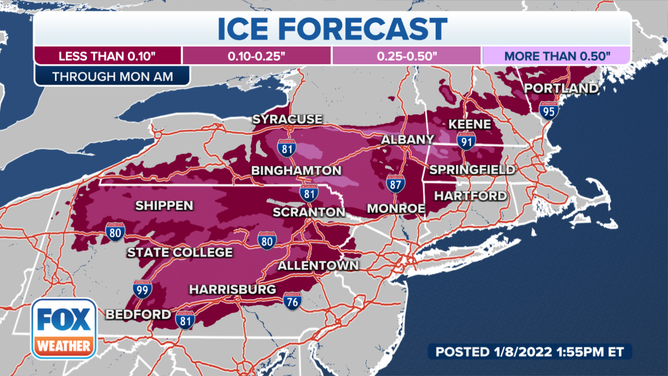 A glaze of ice, generally less than 0.10 inches, is possible over a broader area from the central Appalachians northeastward through New England.
Any roadways and sidewalks that are untreated will likely to turn icy where freezing rain and sleet are falling. Meteorologists advice residents especially in the interior region of the Northeast to use extra caution if you must travel because of the hazardous driving conditions.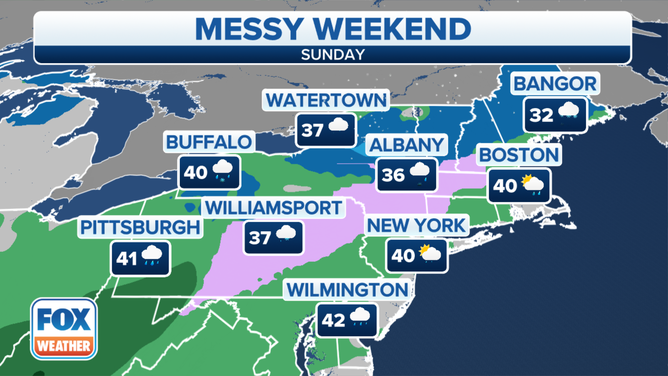 The storm system is expected to move offshore on Monday; however, areas of black ice could continue to cause problems for travelers in the Northeast through the early part of the work week.
NEXT BLAST OF ARCTIC AIR INVADES MIDWEST, NORTHEAST EARLY NEXT WEEK
Lake-effect snow will develop behind this system Sunday night into Monday over the Great Lakes snowbelts in northeastern Ohio, northwestern Pennsylvania and upstate New York.