Rain is welcome in California, but it's not nearly enough to help drought situation
A state of emergency was declared in California because of the drought situation
A series of storms is set to bring much-needed rain to parts of California starting Thursday, but the drought situation is so severe that experts say the expected rainfall won't really do much to help.
Flash flood watches were issued for parts of northern California including areas like Redding, Westwood and Portola. The watches also include the Dixie and North Complex wildfire burn-scar areas, where the locally heavy rain could lead to flash flooding, rapid runoff and debris flows.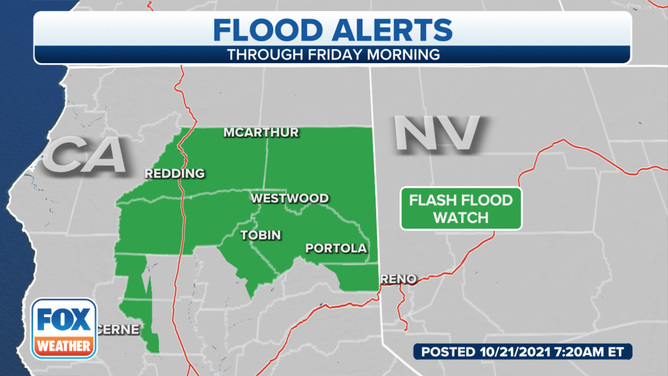 But the drought situation is so dire in California that Gov. Gavin Newsome declared a state of emergency as the state suffers from its second-driest water year on record, with only 1924 having less rain and snow, according to NOAA's Western Regional Climate Center.
"The depths of the challenge we face with this drought right now, our reservoirs, where a lot of our water supply is held, many areas are at their lowest levels in 40 years," California's Natural Resources Secretary Wade Crowfoot told FOX40 in Sacramento.
Californians have been asked to conserve as much water as possible, but FOX40 reports only about 5 percent was conserved in August as opposed to the 15 percent that was requested.
Residents are also asked to prepare for a flash flooding risk because so much rain will be falling in a short period of time.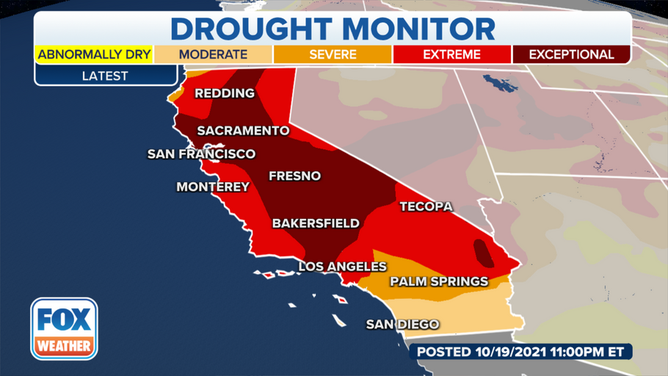 The severe drought in California is affecting farmers and has led to water restrictions, but it's also affecting the state's most crucial water resources.
"It impacts agriculture, it impacts our recreation, it affects the facilities that are located on the delta," California Rep. Jerry McNerney told FOX40.
Reduced water flows due to the drought allows more saltwater from the Pacific Ocean to flow into the delta, and that affects the ecosystems
According to the Water Education Foundation, the Delta provides a portion of drinking water for an estimated 29 million Californians. It's also a source of irrigation water for a large portion of the state's $50 billion agriculture industry. 
How much is the rain helping reservoirs in the San Francisco area?
The San Francisco area could see several inches of rain by the end of the weekend, but it's not going to be enough to help.
The National Weather Service Bay Area reported Wednesday night that Santa Rosa was running at 176 percent of normal for the water year as of Oct. 1 Between the period of Oct. 1-20, the area sees 0.8 inches of rain on average. The area picked up 1.41 inches of rain during that same time period in 2021.
"In reality, it's not going to do much to help ease the drought," Ed Stevenson, General Manager of the Alameda County Water District told FOX2 in the Bay Area. "This drought has been over two dry years in the making. Two of the driest years in recorded history."
Those dry years have been depleting the region's reservoirs.
"We're going to need about four good storms this season to fill up our reservoirs. Enough to average about 48 inches of rain," an official with East Bay Municipal Utility District told FOX2.
Many areas are calling for conservation and reducing water usage by about 15 percent. Districts are desperate to figure out long-term solutions to capture the rainwater and boot reservoir capacity.
"We're in a critical situation," Gary Kremen, Vice Chair of the Santa Clara Valley Water District Board told FOX2. "We're under 11 percent capacity. So that means 89 percent is empty. And that's really scary."