'Unacceptable': Puerto Rico struggles to restore power, water after Hurricane Fiona
More than 1 million customers are still without electricity and about 600,000 are without water in Puerto Rico days after Hurricane Fiona ripped through the island.
TOA BAJA, Puerto Rico – Days after Hurricane Fiona tore through Puerto Rico, a majority of the island is still without power Wednesday, and residents of the U.S. territory are frustrated.
Fiona made its first landfall Sunday afternoon along the extreme southwestern coast of Puerto Rico as a Category 1 hurricane, with winds gusting above 100 mph. Fiona is being blamed for at least three deaths across the Caribbean.
The hurricane's powerful winds and torrential rains brought down power lines and washed away roads across Puerto Rico. A blackout covered the entire island in the immediate aftermath of the storm.
WATCH: HURRICANE FIONA'S 'LIFE-THREATENING' FLOODWATERS DESTROY A BRIDGE IN PUERTO RICO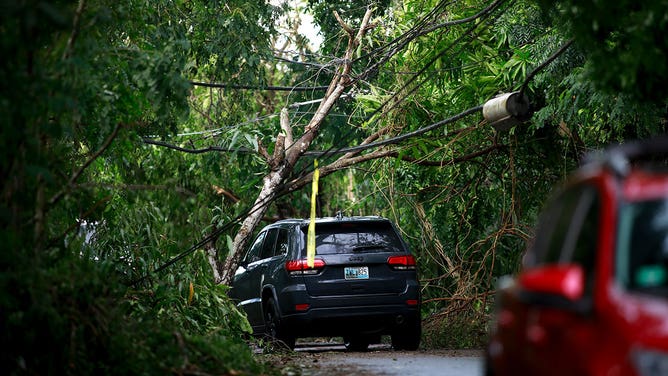 FOX Weather correspondent Nicole Valdes, who has been in Puerto Rico since Tuesday, said about 80% of the island – more than 1 million customers – is still without power as of Wednesday as heat bakes the region.
The lack of electricity is making it difficult for residents to find working gas pumps to purchase fuel for their generators, according to Valdes.
HURRICANE FIONA LEAVES TRAIL OF DESTRUCTION ACROSS PUERTO RICO, DOMINICAN REPUBLIC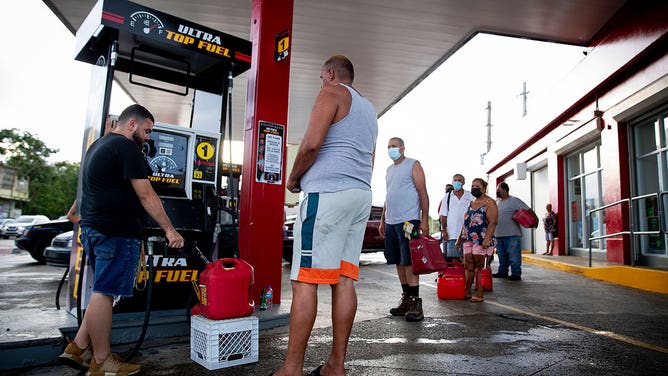 On top of the power outages, Valdes reported, about 600,000 customers are without running water as of Wednesday.
"Resources are slowly going to start to wear thin," Valdes said. "People that have saved up water or maybe have water tanks, that's only set to last them for about the next few days."
Recovery on top of recovery
All of this adversity comes as Puerto Rico was still trying to recover from the devastation of Hurricane Maria in September 2017. Residents are frustrated, Valdes reported.
"I still can't believe we're talking about generators not working in hospitals," said Julie Santiago, of San Juan. "For me, it's unbelievable. I have no words."
"It's unacceptable," Santiago added.
REPORTING WITH HEART: FOX'S GERALDO RIVERA AND NICOLE VALDES ON COVERING THE AFTERMATH OF HURRICANE MARIA

Federal Emergency Management Agency Administrator Deanne Criswell said she understands the setbacks Fiona has created to Maria recovery efforts, but the federal government is committed to helping the U.S. territory.
"You are not alone in this recovery," Criswell said at a news conference Wednesday. "FEMA is going to be here with you as we embark on this road to recovery together. We will be here tomorrow. We will be here next week, and we will be here in the months to come."
Puerto Rico's governor said he has formally requested federal assistance, and that more power and water services are being restored each day.
Valdes reported that it could be days or weeks before power is fully restored.