Showers, thunderstorms possible in 4 states holding primaries on Tuesday
Over the past few weeks, voters in various parts of the country have been met with all kinds of weather at the polls
The midterm elections are here, and voters in four more states are heading to the polls to cast their vote on Tuesday for whom they'd like to see in local, congressional and state leadership positions.
Over the past few weeks, voters in various parts of the country have been met with all kinds of weather at the polls – extreme heat, sunshine and even severe weather.
HOW TO WATCH FOX WEATHER ON TV
This week, more clouds, showers and thunderstorms are possible in Texas, Arkansas, Alabama and Georgia.
Here's a closer look at the forecast in each of the four states holding primaries on Tuesday.
Alabama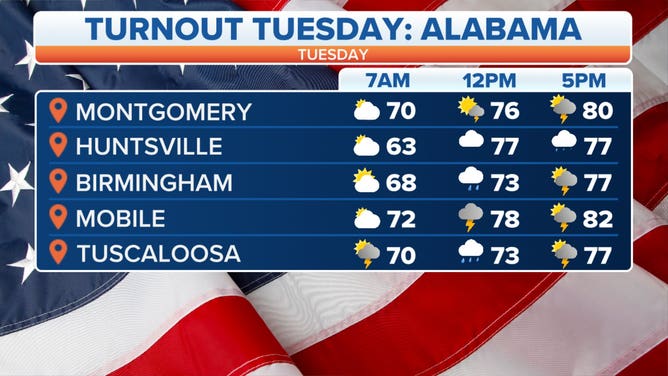 Our first stop is Alabama, where temperatures in the morning will vary from around 63 degrees in Huntsville to about 72 in Mobile. Most areas will see some clouds, with thunderstorms possible in the Tuscaloosa area.
As we get into the afternoon, most areas will remain in the 70s, with showers and storms possible in places like Montgomery, Birmingham, Mobile and Tuscaloosa.
Temperatures will continue to rise during the day, getting into the upper 70s to lower 80s by around 5 p.m.
Voters heading to the polls around that time need to keep an eye on the sky, as more showers and storms are possible across the state.
Arkansas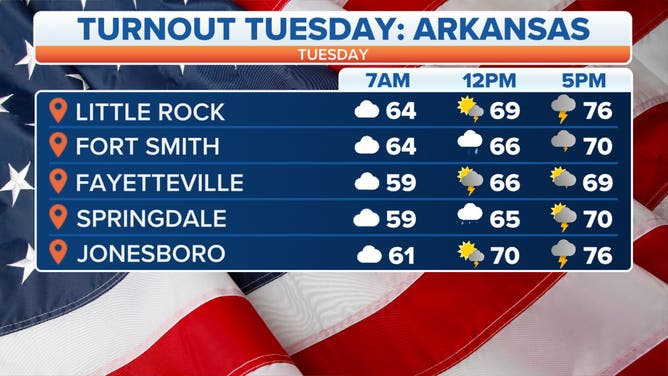 Our next stop is in Arkansas, where it's expected to be cloudy in most areas during the morning hours. Temperatures should be in the upper 50s to lower 60s but will gradually increase as the day continues.
By noon, temperatures will be in the mid-60s from Fort Smith to Fayetteville and Springdale. Little Rock and Jonesboro will be around 70 degrees.
Showers and thunderstorms are possible across the state on Tuesday, and the threat will continue as we get closer to 5 p.m.
At that time, temperatures will be in the 70s.
Georgia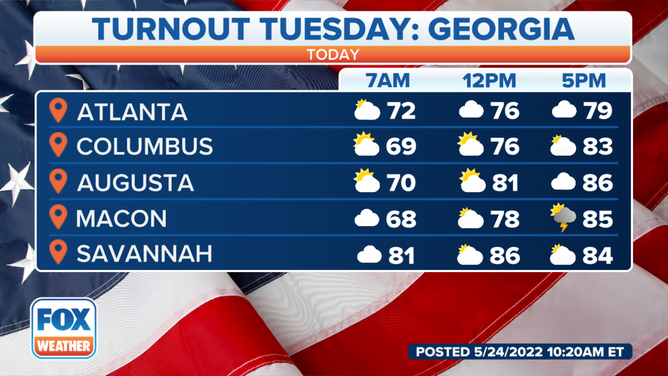 It's expected to be another cloudy day in Georgia on Tuesday, and temperatures will range from the 60s in the morning to around 80 degrees later in the afternoon.
But in the morning, the "cool" spot will be in Augusta and Columbus, where temperatures will be around 70 degrees with mostly cloudy conditions.
Atlanta and Columbus will be in the mid-70s, with cloudy skies by noon. More clouds are expected in Macon and Augusta, with thunderstorms possible in the Savannah area.
By 5 p.m., mostly cloudy skies are forecast in Atlanta, Columbus, Augusta and Savannah, with Macon seeing the chance for thunderstorms.
Texas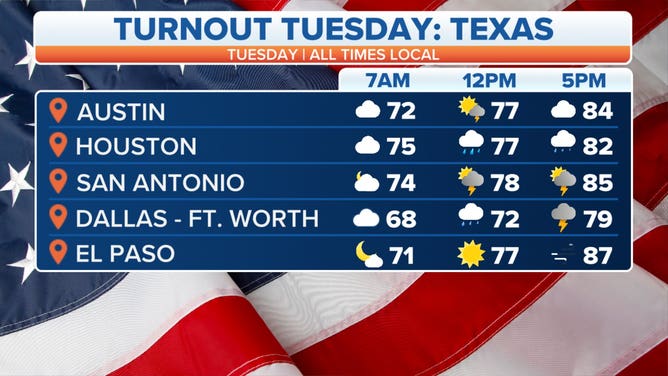 Our final stop is in Texas, where morning temperatures will range from the upper 60s in places like Dallas-Fort Worth to the mid-70s in the Houston metro.
Depending on where you are around noon, voting could be a sunny experience or a wet experience.
Temperatures will be around 77 degrees in El Paso, with plenty of sunshine at the polls. But in the Dallas area and Houston, showers are expected. Temperatures will be in the lower 70s in Dallas and upper 70s in Houston.
CLICK HERE TO GET THE FOX WEATHER UPDATE PODCAST
As we get closer to the end of the day, temperatures will mostly be in the 80s across most parts of the state.
It will be windy in El Paso, with a high temperature of around 87 degrees.
Showers and storms are possible in San Antonio and Dallas-Fort Worth, with temperatures between 80 and 85 degrees. Houston could also see some showers, and temperatures there should be around 82 degrees.
Austin should be cloudy and will have a temperature of around 84 degrees.