PHOTOS: Northeast becomes snow-covered landscape after first winter storm
Fresh snow turned Central Park into a winder wonderland overnight
If you don't have to drive in it, shovel it or walk long distances, we can all agree snow can be a magical weather event, right?
The first winter storm of 2022 has blanketed the mid-South to the Northeast. While the winter weather has snarled traffic and canceled flights, those in warmer climates might be a little jealous of some images and video from the north with winter wonderland-like displays in full swing thanks to a few inches to over a foot of snow in some places.
For the snow envious (like myself in Florida), here are some beautiful sights of the snow to the north.
Snow fell over New York City, turning it into a winter wonderland overnight. 
Nearly 6 inches fell in Central Park, which was letting us have it with beautiful snowy images like this one of Belvedere Castle. What's more magical than 1872 architecture covered in a blanket of fresh snow?
Central Park Conservancy workers were out early Friday morning, clearing walkways and stairs to allow people to safely enjoy the wonder of the park during the most beautiful time of the year.
In Long Island, New York residents woke to snow covering backyards, trees and covering their patios. 
Snow in slow-motion, anyone?
The National Weather Service Office in Long Island shared this video of big flakes falling. The office reported 5.7 inches as of 9 a.m. Friday.
Northern Virginia became a winter wonderland for some, even after the debacle on Interstate 95 earlier this week, leaving some in traffic for over 20 hours.
Areas in Reston, Virginia, have received 4.5 inches of snow this week. Laura Larson of Reston, captured the peaceful snow-covered landscape below.
The snow fell in Frostburg, Maryland, Thursday night on the Christmas wreaths still hung up after the holiday.
Erick Kirchner shared this video of the magical scene.
On Friday morning, nearly 1-2 inches of snow per hour was falling in Pawtucket, Rhode Island, coating the roads and covering cars. 
FOX Weather digital producer Steven Yablonski captured the snowy scene below.
In Plymouth, Massachusetts, the snow was wet and sticky before it began to build into this beautiful scene later Friday morning.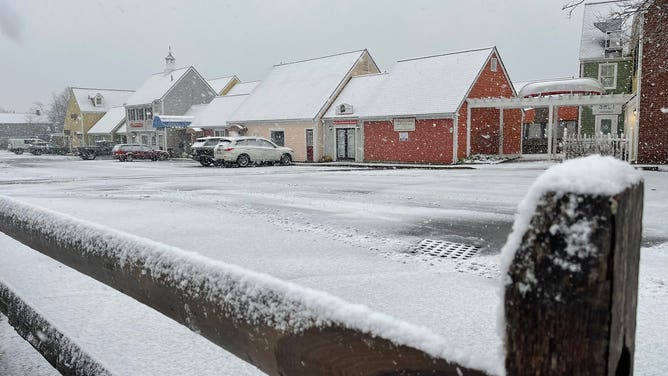 And almost no one enjoys a lovely romp in freshly fallen powder more than our four-legged friends. Yes, I'm looking at you, Fido.
Pups across the region zoomed through the snow Friday morning, enjoying the soft powder before it turns into slush.

FOX Weather's Nicole Valdes enjoyed seeing her dog, Roscoe, experience snow on Thursday for the first time in Nashville. It looks like he's a fan.
Pumpkin in Norwich, Connecticut had plenty of fresh snow to frolic about in. New London County has received 7 inches of snow by noon Friday.
While all dogs go to heaven, not all pups enjoy the cold snow. 
Odell Barkham Jr., a French Bulldog Pug mix, watched the winter scene inside his home in Buffalo, New York. Odell stayed extra warm with his sweater.
Share your winter photos with FOX Weather by using #FOXWeather on social media or by emailing weather@fox.com.