Pair of clipper systems to spread light snow across northern tier through midweek
Most areas from the upper Midwest to northern New England are expected to pick up a few inches of snow from the combination of the two systems
A pair of fast-moving clipper systems will spread light snow across parts of the upper Midwest, Great Lakes and interior Northeast through midweek.
After dusting parts of the upper Midwest with snow on Monday, the first system will now spread light snow across the interior Northeast on Tuesday and Tuesday night, mainly from upstate New York into northern New England. Rain could mix in over areas that rise above freezing during the day.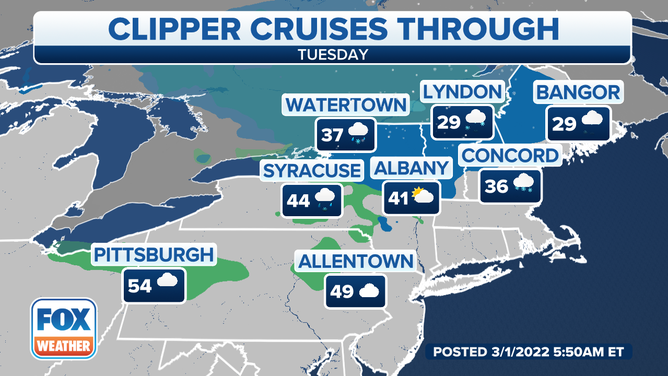 The second clipper system will then deliver additional light snow Tuesday night into Wednesday across the Northern Plains, upper Midwest and Great Lakes.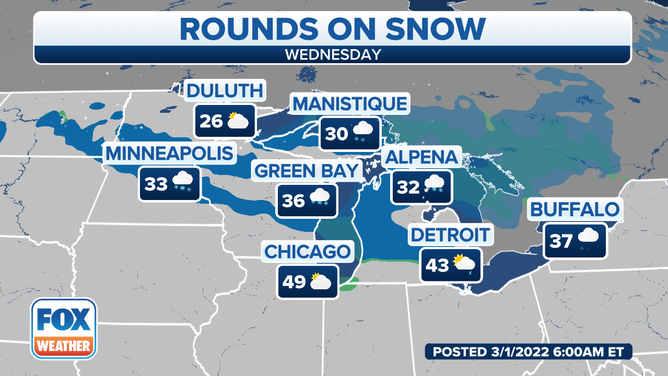 Portions of upstate New York and central and northern New England could then see a round of light snow from the second clipper Wednesday night into Thursday before it exits the New England coast Thursday night. The precipitation should fall in the form of rain across southern New England and the northern mid-Atlantic region.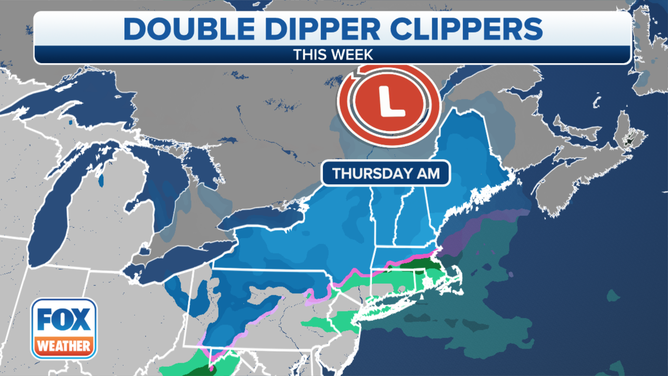 Most areas from the upper Midwest to northern New England are expected to pick up only a few inches of snow from the combination of the two systems. However, up to a half-foot or so could fall in localized spots near Lake Superior in the Upper Peninsula of Michigan, east of Lake Ontario in upstate New York and in the higher terrain of northern New England.
South of the pair of clipper systems, temperatures are forecast to warm up considerably, with above-average temperatures expanding across the Plains and Midwest through midweek.