230 million Americans to enjoy above-average temperatures on Tuesday
Temperatures are expected to be 10 to 30 degrees above average across most of the country through Wednesday
Tuesday marks the first day of meteorological spring, and temperatures will be acting accordingly for more than 230 million Americans.
Temperatures are expected to be 10 to 30 degrees above average for most areas from the Central and Southern Plains to the mid-Atlantic and Southeast.
Above-average temperatures are also expected through midweek across Central and Southern California and the central and southern Rockies.
WHY SPRING SHOULD ACTUALLY BEGIN ON MARCH 1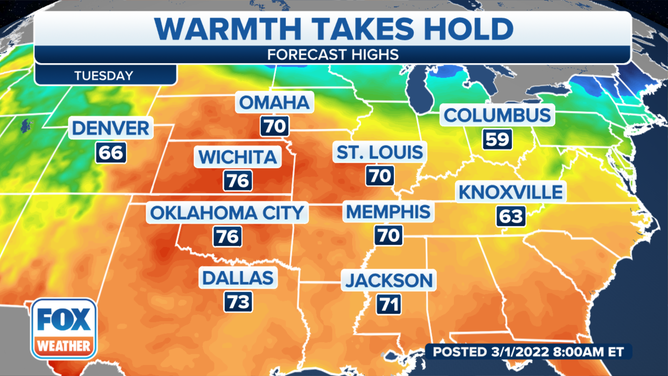 March 1 will see a lot of temperatures reaching into the 70s for afternoon highs.
The Central Plains will see the highest temperatures, with places like Wichita, Kansas, and Oklahoma City expected to reach around 76 degrees.
St. Louis and Memphis, Tennessee, are expected to get to around 70 degrees.
ELECTION DAY IN TEXAS: WEATHER WON'T INTERFERE WITH VOTERS HEADING TO THE POLLS IN FIRST PRIMARY OF 2022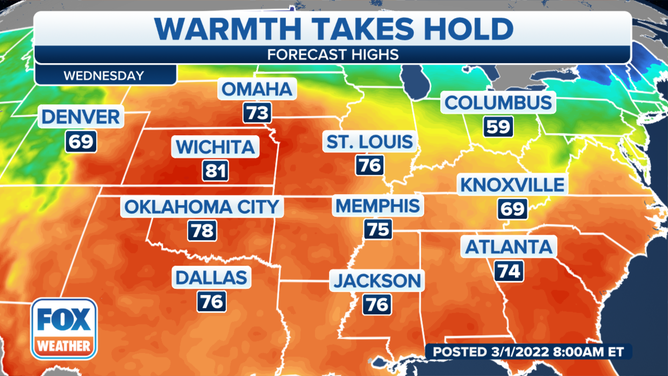 Wednesday will be even warmer, with some areas getting above 80 degrees during the afternoon.
Wichita could get to 81 degrees, while Oklahoma City will be a bit cooler at 78 degrees.
It's expected to get into the mid-70s for places from St. Louis southward into Memphis and Jackson, Mississippi.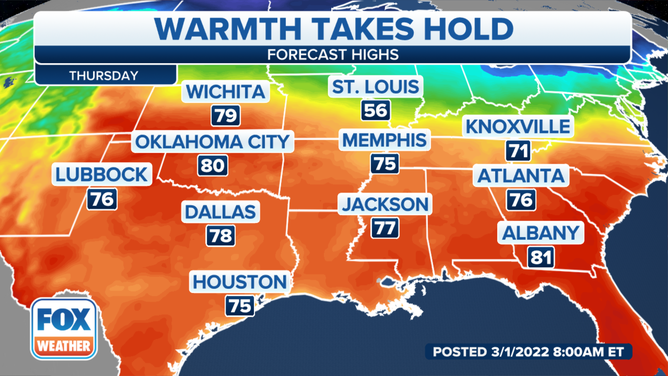 Cooler air will be moving in from the north by Thursday, pushing the warmer temperatures to the country's southern half.
St. Louis is only expected to reach around 56 degrees during the afternoon, but warmer temperatures will remain to the south.
Temperatures could again get to around 80 degrees from Wichita southward to Oklahoma City and Dallas, while Houston is only expected to get into the mid-70s.
The warmer temperatures will extend along the Gulf Coast into the Southeast.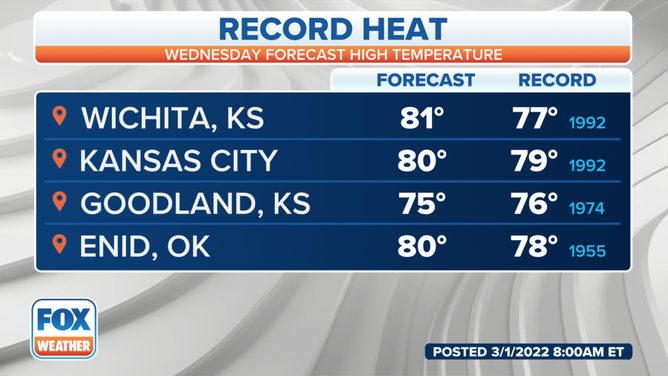 Several records could also be broken as the warmup continues.
Wichita and Kansas City are expected to break their records set back in 1992. Goodland, Kansas, will be warm but may not break the old record of 76 degrees set in 1974.
Enid, Oklahoma, is also expected to get into the lower 80s on Wednesday afternoon, which would break its old record of 78 degrees set back in 1955.