Election Day in Texas: Here's the forecast for the first primary of 2022
Much of the state will have high temperatures in the upper 60s and lower 70s on Tuesday, which is warmer than average for this time of year
AUSTIN, Texas – The first primary race of the 2022 election cycle will take place Tuesday in Texas, where voters will head to the polls to select their nominees for governor, attorney general and congressional seats, among other things.
Gov. Greg Abbott, running for his third term, is facing off against seven Republican nominees who hope to take over as the state's leader.
Polls in Texas will be open from 7 a.m. to 7 p.m. local time. The weather will be warm and dry with a good deal of sunshine across the Lone Star State, so Texans will have no issues traveling to and from their local polling place.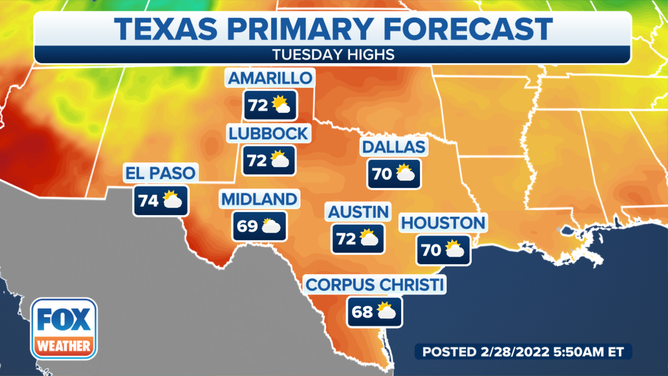 Much of the state will have high temperatures in the upper 60s and lower 70s on Tuesday, which is warmer than average for this time of year.
COAST-TO-COAST WARMTH TO RING IN CLIMATOLOGICAL SPRING
Austin is forecast to reach 72 degrees Tuesday afternoon, while highs near 70 degrees are predicted in Dallas and Houston.
The next state primaries are not until May when several states will head to the polls.