Powerful Pacific storm spreads rain, snow, thunderstorms and high winds across Northwest
Widespread wind gusts between 30 and 50 mph are likely on Monday, with some 50-plus-mph gusts possible
SEATTLE -- A powerful Pacific low-pressure system spread a variety of impactful weather across the Pacific Northwest Monday, bringing everything from hail to lightning to damaging wind.
Wind gusts reached 45-60 mph in the lowlands of Western Washington and Oregon, toppling trees and power lines.
In Forest Grove, Oregon, just outside Portland, a 50-foot pine tree fell into a home. Luckily no one was inside and there were no injuries.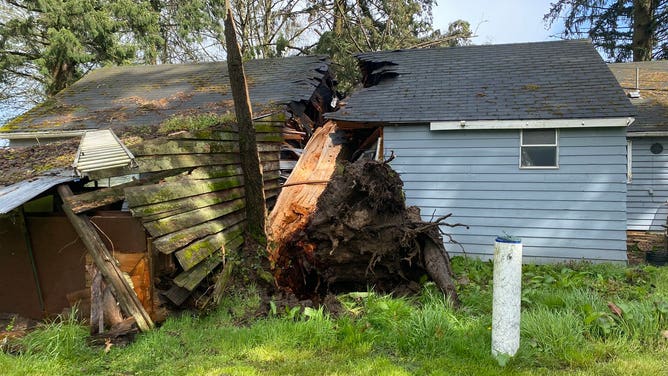 Tree falls were reported in the Portland suburbs of Hillsboro and Milwaukie as gusts neared 50 mph.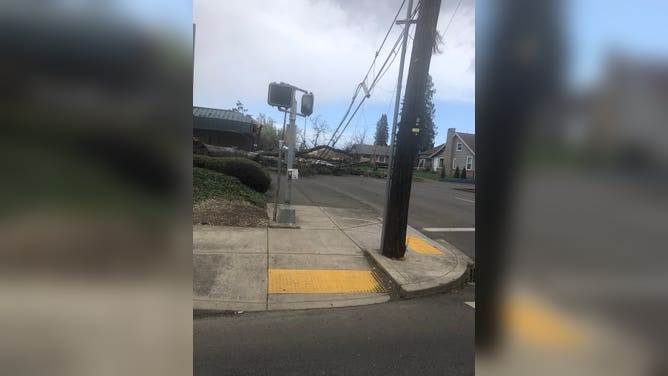 Gusts were even stronger in Western Washington. Seattle's Fourth Avenue Bridge was closed Monday afternoon after power lines were found leaning against the span. A tree fell across power lines in Federal Way and in Kingston, while Puget Sound Fire firefighters had to help clear a power line that fell across a semitruck in Kent.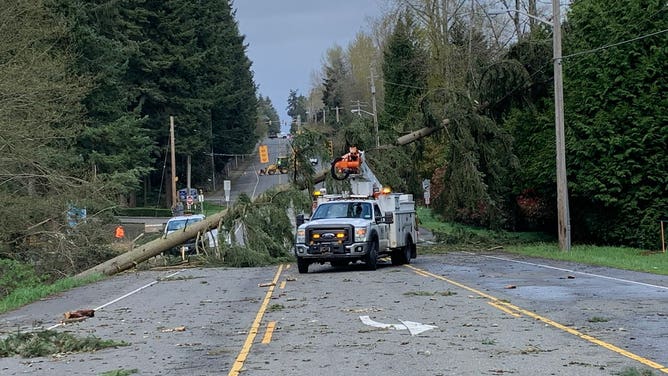 BATTEN DOWN THE HATCHES: WHAT YOU SHOULD KNOW ABOUT HIGH WINDS
Wind gusts hit 61 mph in Bellingham, Washington near the Canadian border, while a gust of 60 mph was measured on Lopez Island in the San Juan Islands.  Over on the coast, Forks hit a gust to 59 mph.
Closer to the Puget Sound region, Everett reached a 54 mph gust while Seattle hit a gust of 46 mph and Tacoma reached 55 mph.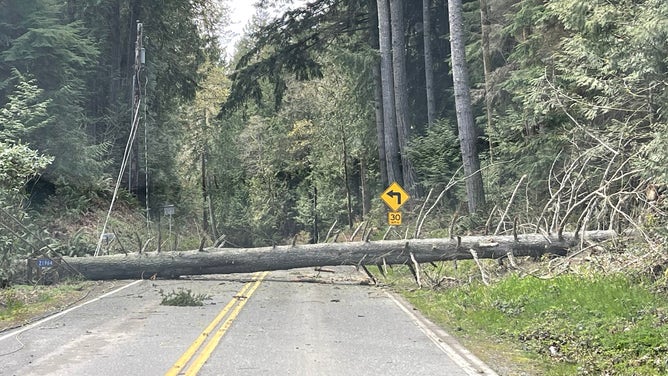 Nearly 67,000 customers were without power in Washington and Oregon Monday evening as the winds continued to blow. Wind Advisories remained in effect for the Washington coast and areas north of Seattle for continued gusts to 55 mph through the early night hours.
Wind gust forecast on Monday, April 4, 2022.
(FOX Weather)
---
Aside from the wind, lightning and small hail dotted the Pacific Northwest landscape.
Some hail reached up to the size of a penny and quickly coated roads.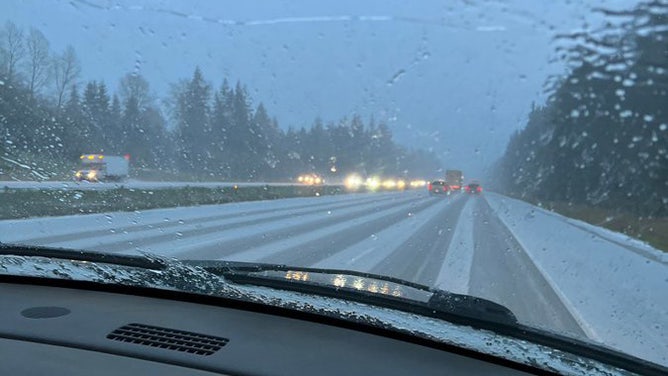 In northern Washington, a thunderstorm brought quite a startle to one photographer trying to document the rare lightning in the region.
Winter's Over? Not in the Cascades…
Meanwhile, heavy snow fell across the Washington and Oregon Cascades before expanding into the northern Rockies later Monday and Monday night, which will also be accompanied by high winds.
Heavy snow will be measured in feet over the northern Cascades before the snow tapers off Tuesday night.  Stevens Pass in Washington had already measured 12 inches of new snowfall as of Monday morning. Mount Baker Ski Area in Washington reported 2 feet of snow in just 22 hours.
Winter Storm Warnings remained in effect for the Washington and Oregon Cascades into Tuesday morning for an additional foot of snowfall.
HOW TO WATCH FOX WEATHER ON TV
As this system forces its way through the northern Rockies into the northern High Plains, widespread high winds are also expected to impact these areas, especially the foothills, later Monday and through Tuesday before gradually diminishing by Wednesday.
The high winds will be accompanied by periods of mixed rain and snow as the system reorganizes and expands over the Northern Plains. However, the gusty winds will contribute to increased fire weather concerns across the central and southern High Plains, where conditions will remain dry early this week.
CRITICAL FIRE WEATHER CONDITIONS CONTINUE ACROSS THE HIGH PLAINS, SOUTHWEST
Tranquil weather will return to the Pacific Northwest and the northern Rockies for Wednesday and Thursday before the next system arrives along the Northwest coast by Friday, bringing the next chance of rain and high-mountain snow for western Washington and western Oregon.