New Zealand declares national emergency in wake of historic Cyclone Gabrielle
At least one person was injured and a firefighter is missing after being struck by a mudslide as heavy rains of 6-12 inches fell and winds gusted to 100 mph in parts of northern New Zealand in the wake of Tropical Cyclone Gabrielle.
AUCKLAND, New Zealand – Cyclone Gabrielle continued to batter New Zealand on Tuesday, leaving widespread flooding and wind damage and prompting the prime minister to declare a national state of emergency.
"That means we'll be throwing everything at this to make sure that we provide as much support to the response as possible," Prime Minister Chris Hipkins said in a news conference Tuesday as the country worked to clean up from the powerful tropical system. It was just the third national emergency declared in the nation's history.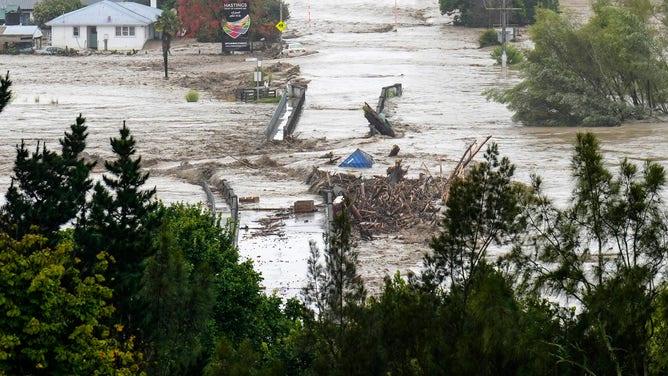 Heavy rains of 6-12 inches fell across the North Island as winds gusted to 55-80 mph along the mainlands and 80-100 mph on some of their more exposed islands. Channel Island recorded a gust of 101 mph, according to New Zealand's MetService.
5 DIFFERENT NAMES FOR HURRICANES AROUND THE WORLD
In Muriwai, two firefighters were struck by a mudslide that crashed into two homes where they were responding to a call for flooding help, according to Fire and Emergency New Zealand. One firefighter was trapped but eventually freed and taken to a local hospital, but the second firefighter remains missing after an hourslong search that was suspended due to continued instability on the hillside.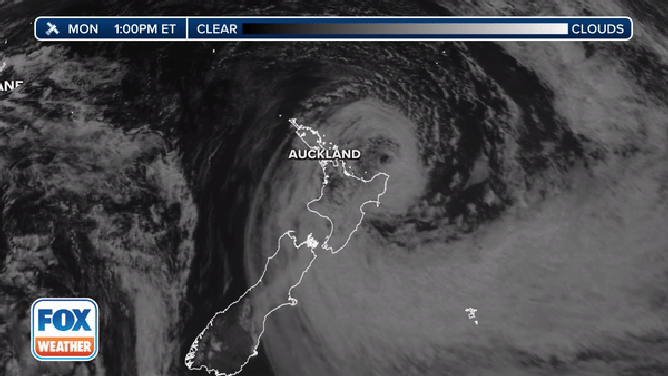 In the town of Hastings, rescuers spent 10 hours plucking flooding victims from roofs as waters rose inside buildings, according to the New Zealand Herald.  Hundreds of residents across multiple towns on the North Island were told to evacuate from rising waters.
WATCH: RAIN-SOAKED ED SHEERAN PERFORMS AS TROPICAL CYCLONE GABRIELLE BATTERS NEW ZEALAND
Travel was difficult as parts of the North Island were severed from the rest of the nation. All roads leading into the region were closed due to flooding or damage, and internet and cell phone service were down after the cyclone damaged a fiber-optic cable, according to Tairawhiti Civil defense.

"It's wild out there! Tairāwhiti is taking a pounding," the Tairawhiti Civil Defence Emergency agency said.  "It's extremely hazardous everywhere!"
Three main rivers in the Tairawhiti area have reached record levels, with the Te Arai river reaching about 15 feet — its highest level since records began in 1983 and breaking the previous record crest by about 4.5 feet.
Cyclone Gabrielle an 'unprecedented weather event'
Residents were also asked to conserve water and use it for only essential purposes as the storm damaged the main water supply from dams to their water treatment plant. Crews were heading out Tuesday for repairs.
About 225,000 people have lost power in New Zealand, while about 2,500 have been displaced from their homes, the New Zealand Herald said. 
"This is an unprecedented weather event that is having major impacts across much of the North Island," said Kieran McAnulty, New Zealand's Minister for Emergency Management.
For Auckland, it's the second bout of heavy rains less than a month after torrential rains caused flooding in the area.
MAJOR FLOODING SWAMPS NEW ZEALAND AFTER SUMMER'S WORTH OF RAIN FALLS IN 15 HOURS
The New Zealand MetService said Auckland has already received over 21 inches of rain so far this year, about half its expected annual rainfall. Cyclone Gabrielle, similar to tropical storms and hurricanes that strike in the U.S., has brought about 5-6 inches of rain to parts of Auckland in just 12 hours.  
All flights in and out of Auckland International Airport were suspended Tuesday due to unsafe conditions on the tarmac. 
Gabrielle was slowly moving away from New Zealand on Wednesday morning, but forecasters warned lingering heavy rain showers and blustery winds would still batter the region into Thursday.
HOW TO WATCH FOX WEATHER ON TV 
To top off the weekend, the area near Gisborne also experienced a 4.4 earthquake centered not far from town, but no damage or injuries were reported.