Hypothermic hiker dies hours after treacherous mountain rescue in New Hampshire
Officials say conditions atop the mountain were treacherous with freezing temperatures, rain, sleet, snow and winds gusting more than 80 mph
A severely hypothermic hiker rescued from a trail near Mt. Washington in New Hampshire died hours after his rescuers faced treacherous conditions to reach him, according to law enforcement officials with the New Hampshire Fish and Game Department.
HOW TO WATCH FOX WEATHER ON TV
Officials say 53-year-old Xi Chen, of Andover, Massachusetts, was overcome by the severe winter weather conditions while attempting a Presidential Traverse in the White Mountains.
The Presidential Traverse is a popular but strenuous and sometimes dangerous trek more than 20 miles long over the highest peaks of the Presidential Range.
NH Fish and Game Law Enforcement says they were alerted to the situation by Chen's wife on Saturday evening, who said he had sent her a text message indicating he was cold, wet and couldn't continue on. He also said he felt he would die without being rescued.
Fish and Game officers received multiple calls from hikers saying they were cold and wet and needed to be rescued. However, given the severity of this situation, a rescue operation was immediately launched.
Officials say conditions atop the mountain were treacherous with freezing temperatures, rain, sleet, snow and winds gusting more than 80 mph.
Rescuers were finally able to reach Chen just after 10:30 p.m.. They provided care by placing a temporary shelter over him and trying to warm him up until a second group of rescuers could arrive.
When the second group showed up on the scene, they carried Chen over a mile up to the summit of Mt. Washington, where he was placed into a truck and driven to the base of the mountain, where an ambulance was waiting.
Chen was taken to a local hospital in Berlin, New Hampshire, where he later died despite life-saving efforts that continued for hours.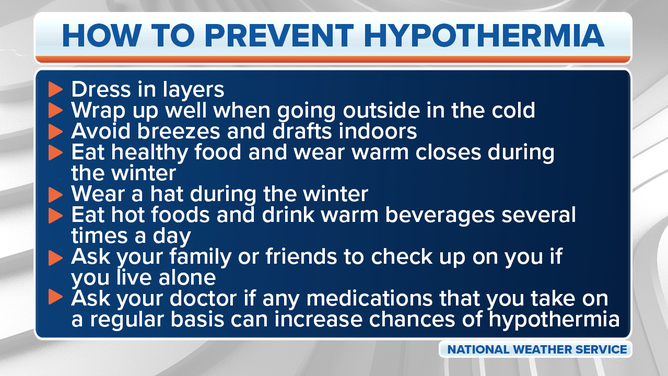 Hypothermia often occurs at cold temperatures, but you can still be susceptible at temperatures as warm as 60 degrees, particularly in water or if you're outside for an extended period of time and do not dress appropriately for the conditions, according to the National Weather Service.
CLICK HERE TO GET THE FOX WEATHER UPDATE PODCAST
There are several ways to prevent hypothermia, but the most important is staying warm and dry. Make sure to dress in layers when you're outside in cold weather, and if your clothes get wet, you need to change into something warmer. Wear a hat outdoors to protect your head and to prevent frostbite.