New satellite tech improves air quality forecasts from wildfires
NOAA research groups are combining new data from GOES geostationary weather satellites and polar-orbiting satellites to improve forecast models that predict air quality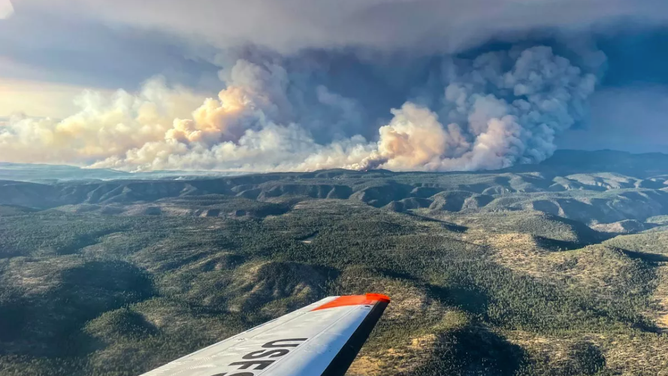 BROOKINGS, S.D. -- Predicting the health impacts of wildfire smoke is getting better thanks to new weather satellite technology and teams of researchers working to improve forecast models.
A group from NOAA's Satellite and Information Service joined with researchers at South Dakota State University to combine new data from GOES geostationary weather satellites and polar-orbiting satellites to feed more frequent wildfire data into computer forecast models that predict air quality.
HOW TO BEST PREPARE YOUR HOMES FOR WILDFIRES
Wildfires are a large source of harmful air pollutants, especially tiny smoke particulate matter -- 2.5 micrometers or less in diameter -- that can penetrate deep into human lungs and cause various upper respiratory diseases, including premature death, according to NOAA.
MAKING SENSE OF WILDFIRE JARGON
In the past, forecast models could only count on heat-sensing data from polar-orbiting satellites, which would only make a few passes over any given wildfire in a day. But sensors on the newer GOES satellites that hover in one place above North America can now detect heat signatures and provide consistent data on wildfires.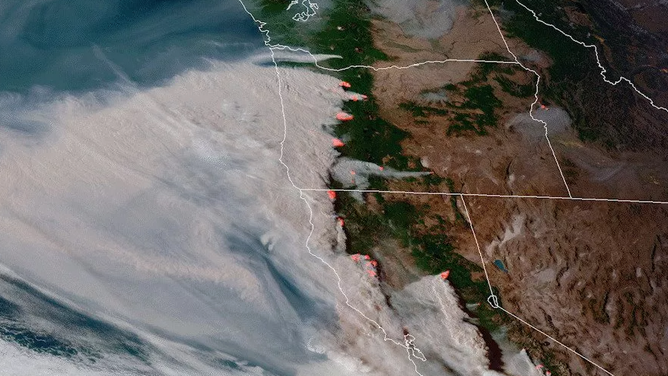 Initial Research Bodes Well
The satellite's ability to observe an area continuously enables its sensors to capture the diurnal cycle of emissions caused by active wildfires.
HOW WILDFIRE BURN SCARS COULD HAVE LASTING IMPACTS
"Weather conditions change during the day. The new hour-by-hour wildfire emissions from (the weather satellites) help us develop better computer models to predict how wildfires cause poor air quality near the fires and even across the country," said Dr. Ivanka Stajner, Deputy Director of the Environmental Modeling Center.
Researchers use that bounty of data to feed a forecast model that predicts how air quality will be affected by wildfires.
MEET THE METEOROLOGISTS WHO HEAD TOWARD THE HEART OF A FIRE
The initial results are encouraging. The model predictions of unsafe air quality from wildfires were much closer to the true measured values, according to NOAA. What's more, the model more accurately predicted when particulate matter would reach unhealthy levels.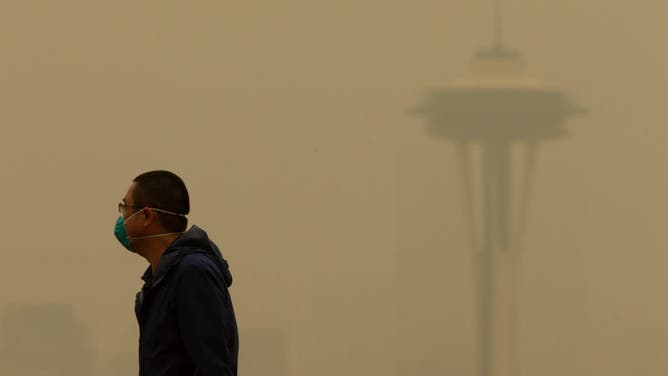 The improved model also reduced false alarms by a factor of 100 because of the more accurate detection of daytime emissions associated with highs and lows of fire activity.
1.4 million acres burned over last 10 years
Poor air quality is linked to hundreds of thousands of premature deaths in the U.S. each year, according to NOAA, and around 340,000 deaths across the globe. And wildfires have been becoming more frequent in recent years, adding urgency for better forecasts.
HOW THE LAY OF THE LAND AFFECTS WILDFIRE BEHAVIOR
"Through mid-May of 2022, there have been over 25,000 wildfires consuming 1.4 million acres, surpassing the 10-year annual average for the number of fires during this same timeframe by over 6,000 fires," according to officials with the National Interagency Fire Center. "Climate change will only exacerbate heat and drought, which along with severe storms make wildfire conditions worse."
The research teams will continue to test the model's performance on a wide range of fires, from large-scale multi-day wildfires to small-scale vegetation fires.
The added data will also be tested in a new high-resolution forecast model that will update hourly and include smoke forecasts.