Rain, rain, go away! Downpours soak the Southeast
While no tropical development is expected, the extra moisture will result in numerous showers and thunderstorms popping up daily across the area
PENSACOLA, Fla. – Out with the old front, in with the new in the Southeast as a renewed threat of thunderstorms is in turn maintaining the threat of flash flooding through at least the end of the week.
The same cold front that brought severe weather to the Northeast and mid-Atlantic on Tuesday has now shifted down toward the Southeast.
7 FACTS YOU SHOULD KNOW ABOUT FLASH FLOODS
The front is mixing with abundant moisture already in place, enhanced by the former tropical disturbance that had been drifting just off the Gulf Coast shores earlier this week. As much as 8 inches of rain has already fallen in parts of the Florida Panhandle.
While no tropical development is expected, the extra moisture will result in numerous showers and thunderstorms popping up daily across the area.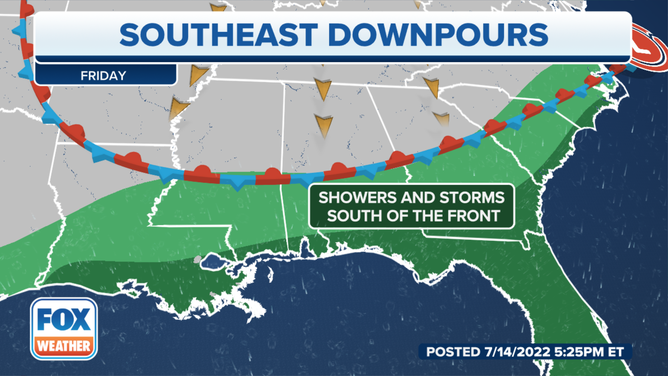 A few Flash Flood Warnings were issued Thursday due to intense and slow-moving thunderstorms in eastern Alabama. Doppler radar estimated 3 to 5 inches of rainfall fell near Auburn and over toward the Alabama-Georgia border near Columbus.
EXPLAINING FLOOD ALERTS ISSUED BY NATIONAL WEATHER SERVICE
The unstable air mass is expected to continue to produce downpours at least through Saturday, with an additional 1 to 3 inches of rainfall.
"We have a lot of thunderstorms developing along the I-10 corridor on Friday, so places like Tallahassee could be in for those downpours on Friday, and then on Saturday another round of moisture moving in for the afternoon and evening," Merwin said. "Over the next three days from Alabama into the Florida Panhandle – that looks to be the hot spot where we'll see the highest rain totals. We could see over 5 to 6 inches of rain in the next three days, so that's why flash flooding will continue to be top of mind in the Southeast."
WHAT DOES THE TERM '100-YEAR FLOOD' ACTUALLY MEAN?
3 Day Rainfall Forecast
(FOX Weather)
---
Some storms will be capable of producing damaging wind gusts more than 60 mph and plenty of lightning.
Be sure to download the FOX Weather app to track any storms in your area and receive potentially life-saving weather alerts issued by the National Weather Service. The free FOX Weather livestream is also available 24/7 on the website and app and on your favorite streaming platform. The FOX Weather Update podcast also provides weather information for the entire country.