Multiple rounds of severe storms pose threats of tornadoes, damaging winds and hail in central, eastern US
More than a dozen tornadoes were reported from Missouri to southern Illinois on Sunday
Severe thunderstorms will pose threats of tornadoes, damaging winds and large hail across the central and eastern United States through the middle of this week.
The severe weather threat began over the weekend when a storm system developed east of the Rockies and slid into the Plains and Midwest. More than a dozen tornadoes were reported from Missouri to southern Illinois Sunday afternoon into Sunday night.
According to the National Weather Service, four houses were destroyed by a suspected tornado near Farmington, Missouri, Sunday evening. Fire officials in Farmington found significant damage in the southern part of town, FOX 2 in St. Louis reported.
MULTIPLE REPORTED TORNADOES LEAVE TRAIL OF DESTRUCTION IN MISSOURI, ILLINOIS
This storm system will continue pushing eastward on Monday, triggering another round of severe thunderstorms from the central Appalachians into North Carolina, Virginia and southern Maryland.
Damaging wind gusts are the main threat with Monday's severe storms, but an isolated tornado or two can't be ruled out.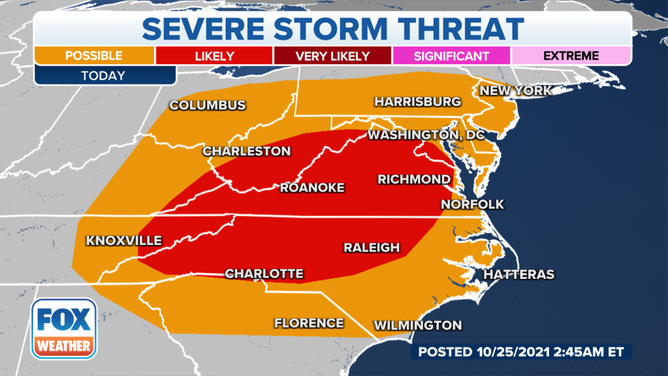 The next round of severe weather gets underway Tuesday in the Central and Southern Plains as an upper-level disturbance punches out of the Rockies and into the central U.S.
FALL IS THE SECOND SEVERE WEATHER SEASON
Scattered severe thunderstorms with large hail, damaging wind gusts and isolated tornadoes are likely from southern Nebraska into Kansas, Oklahoma and west-central Texas from late Tuesday afternoon through the evening and into the overnight hours.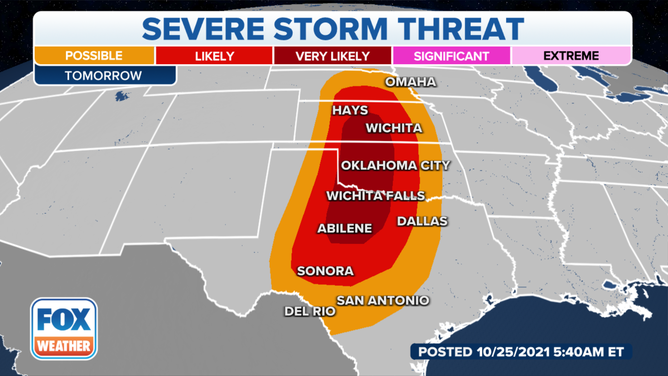 On Wednesday, the risk of severe storms shifts eastward along the western and central Gulf Coast from parts of eastern and southeastern Texas to Louisiana, southern Mississippi, southern Alabama and the western Florida Panhandle.
Damaging wind gusts and possibly a few tornadoes are the main threats in this region Wednesday into Wednesday night.