Cleanup begins after at least 10 tornadoes cause damage in Missouri, Illinois
Crews are still out surveying damage and may find additional damage.
ST. LOUIS – The National Weather Service confirms at least 10 tornadoes struck Missouri and Illinois on Sunday evening and additional damage surveys are in progress.
Survey crews said Monday that the strongest tornado was near Fredericktown, Missouri. Meteorologists believe that winds in the EF-3 tornado were at least 136 mph.
The damage associated with the EF-3 tornado was significant. The Fredericktown Fire Department said numerous roads were blocked due to downed trees, power lines and debris. 
Classes have been canceled for the Fredericktown R-1 School District due to community-wide power outages and damages.
"We wish our community the best as we unite and support each other during this difficult time that has impacted so many," the district said on Facebook.
The NWS Office in Kansas City reported several EF-0s in Missouri but said the most significant tornado occurred in the town of Purdin. That's where meteorologists said the long track EF-2 tornado had winds of around 120 mph.

Fortunately, no injuries were reported with the EF-2 tornado, but substantial damage was reported in the Purdin, Missouri area.
Emergency operations underway
An emergency operation is underway in St. Francois and Ste. Genevieve counties in Missouri due to storm damage. As of 7:30 a.m. Eastern, utility crews in Missouri and Illinois were working to restore power to more than 15,000 people.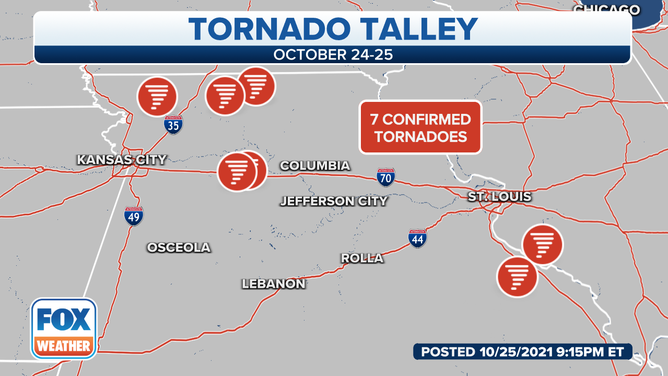 St. Francois County Sheriff's Department said within minutes after a large tornado touched down Sunday evening in the area, the department mobilized approximately 12 additional deputies to assist with emergency operations. Deputies responded to numerous calls for damaged or destroyed homes, power lines down and trees down in the area. 

"As of this time, we are not aware of any fatalities in St. Francois County. Our hearts and prayers go out to the many citizens without power and those who lost their homes or who had their homes damaged as a result of this horrific storm," the department said in a Facebook post.
'I'm just happy we're alive'
Tina Lowry was in bed and her sister was in the living room when they heard a "whooshing sound" Sunday night, the Associated Press reported. Lowry rushed to her closet as her sister took shelter in a bedroom as their home was torn apart.
"I'm just happy we're alive," she said.
No serious injures reported after storms
According to NWS, a reported tornado moved through Farmington, Missouri, about 8:25 p.m. Central and destroyed four homes. Volunteer firefighters in Farmington estimate that at least 25 homes were extremely damaged or destroyed. There were no serious injures reported.
Another home was leveled near Libertyville, numerous trees were uprooted and power poles snapped after a reported tornado swept through about 9 p.m. Central in Junction City, Missouri. Several metal roofs were also lifted off of houses.
FOX 2 in St. Louis reported the town of St. Mary, Missouri, was also hit hard about 8 p.m. Central by a tornado. The town is located about 80 miles south of St. Louis.

The NWS office in St Louis believes the St. Mary's tornado was and EF-2 with winds of at least 113 mph.
At the epicenter of the damage, debris could be seen scattered along the streets. An antique mall there also suffered extensive damage, and several homes were destroyed.
"There was not a whole lot of sounds and then everything just went still. I do remember everything going still," St. Mary resident Nick Grogg told FOX 2. "I was on the phone with dad. He said something bad is about to happen. That's when I went downstairs. I didn't think it was going to be anything like this."
Long-tracked supercell moves across Mississippi River into Illinois
Chester Fire Chief Marty Bert said the main damage in the Illinois community was confined to power lines and downed trees, the AP reported. A barn was also leveled by the tornado. The roof at Three Springs Lodge nursing home was also torn off. All the residents are safe.