Severe storms threaten large swath of Midwest, Plains
As a cold front continues pressing eastward out of the West, it will morph into a multiday severe weather threat into the nation's midsection – also right on time as the start of astronomical fall signals the beginning of the second severe weather season.
Days of severe weather continued Saturday with powerful thunderstorms threatening a large part of the Plains and Midwest.
Forecasters said the storms from Iowa to Oklahoma could produce large hail, damaging winds and tornadoes.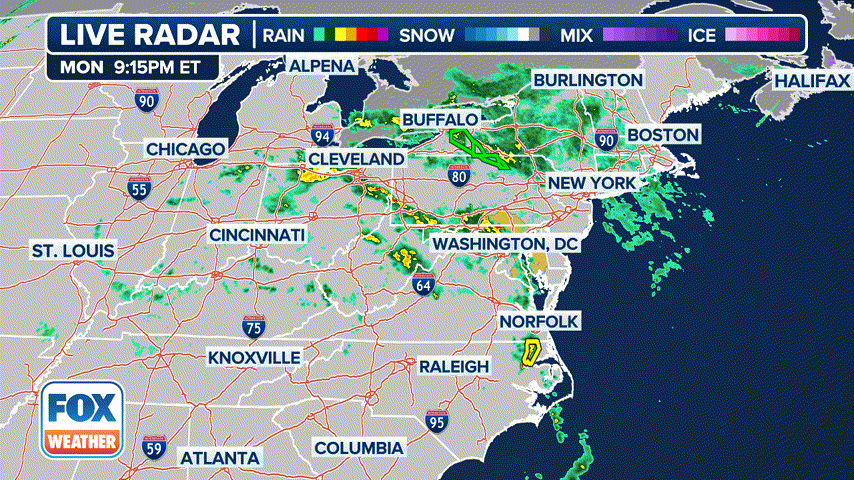 A three-hour radar loop showing where showers and thunderstorms are ongoing. Severe Thunderstorm Warnings are indicated in yellow. Tornado Warnings are indicated in red, while Tornado Warnings with a confirmed tornado are indicated in purple. Flash Flood Warnings are indicated in green, while Flash Flood Emergencies are indicated in pink.
(FOX Weather)
---
NOAA's Storm Prediction Center's Saturday severe weather forecast placed eight states within a Level 2 out of 5 risk, extending from southern Minnesota south into central Oklahoma. 
THE 5-POINT SEVERE THUNDERSTORM RISK CATEGORY SCALE EXPLAINED
Of those, three states are within a Level 3 out of 5 risk and shaded in maroon in the graphic below. Those areas include southeastern Kansas, southwestern Missouri and northeastern Oklahoma, including Kansas City and Tulsa, Oklahoma.
The severe storm threat for Saturday.
(FOX Weather)
---
Severe strikes Southern Plains on Sunday
Come Sunday, the severe weather threat shifts south, with parts of southeastern Oklahoma, northeastern Texas and southwestern Arkansas under a Level 2 out of 5 risk, including the Dallas-Fort Worth area, according to the SPC. 
By Sunday evening, up to 5 inches of rain will have fallen across the Plains.
Severe Weather Forecast for Sunday.
(FOX Weather)
---
Busy severe weather week so far across the Plains
Saturday's severe weather threat is the third day in a row storms were rolling across the Plains.
Friday saw severe weather across the Northern Plains, where a Severe Thunderstorm Watch was issued some areas.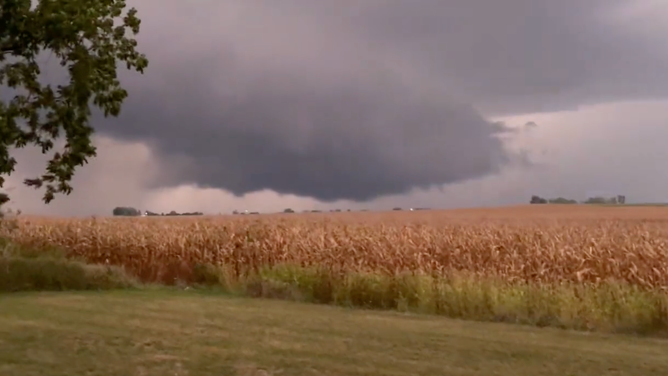 On Thursday, a wall cloud dropped from severe storms that moved through Nebraska. Severe Thunderstorm Warnings and a Tornado Watch were issued shortly after 4 p.m. local time. The storms produced large hail from tennis ball to baseball-size along Interstate 80. 
Various reports came in of cars damaged and tree limbs down from the hail. A high wind report came in of about 81 mph was reported 9.5 miles from McCook, Nebraska.
In Concordia, Kansas, winds also picked up with pea-size hail.
Storm chaser Isaac Schluesche was in Norton, Kansas, as he reported wind gusts of 60-70mph as they whipped through a gas station awning.