Multiday severe weather threat, including tornadoes, expected in South through New Year's weekend
The severe storm threat will materialize by New Year's Eve and continue through New Year's Day
A multiday threat of severe storms, including tornadoes, will target the South through New Year's weekend as a pair of disturbances track across the region.
The first round of thunderstorms fired up Wednesday afternoon and evening when a possible tornado caused significant damage in the town of Winfield, Alabama.
Wednesday's storms also produced an EF-0 tornado in southwestern Georgia, which was blamed for roof and tree damage in the town of Bainbridge.
DAMAGE REPORTED AFTER SEVERE WEATHER RIPS ACROSS THE SOUTHEAST
Early Thursday morning an EF-0 tornado touched down in Aqualand, Georgia and brought down trees.
In the afternoon, the NWS confirmed two tornados by radar in Massee, Georgia and at Spence Airport in Colquitt County, Georgia. Survey crews will inspect damage by another possible tornado in Hazelhurst and Snipesville, Georgia.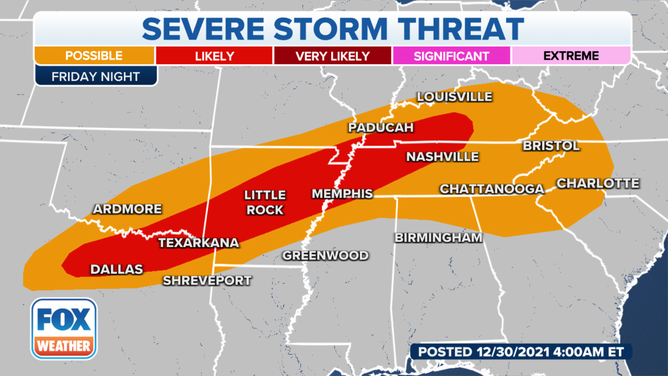 On Friday and Friday night (New Year's Eve), rain and thunderstorms will increase from parts of the South into the mid-Mississippi and Ohio valleys as the next disturbance arrives.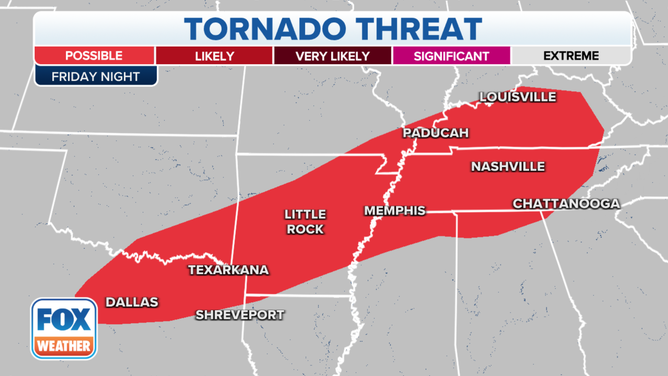 The severe storm threat will materialize late Friday into the overnight hours from North Texas to the Tennessee Valley. This includes the cities of Dallas/Fort Worth, Nashville and Memphis, Tennessee. The storms will be capable of all severe weather hazards, including large hail, damaging wind gusts and a few tornadoes.

These storms could potentially have an impact on "Nashville's Big Bash" on New Year's Eve when live performances are scheduled across multiple locations in Music City.
NIGHTTIME TORNADOES FAR MORE LIKELY TO TURN DEADLY THAN THOSE DURING THE DAY
On Saturday (New Year's Day), severe thunderstorms are expected from the Ark-La-Tex region to the western Appalachians. The storms might continue into Saturday night in some of these areas.
The region from northern Mississippi into northern Alabama and Tennessee likely has the greatest threat of severe weather, but there is still some uncertainty regarding the timing and intensity of the storms.
Much like Friday night, all severe weather hazards are possible on New Year's Day, including large hail, damaging wind gusts and a few tornadoes.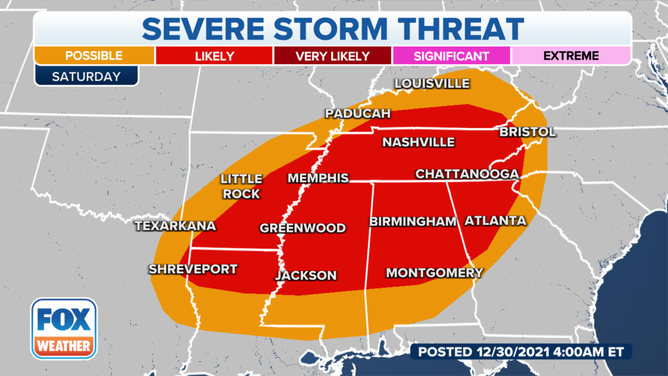 The severe weather threat should begin to diminish on Sunday, though some severe thunderstorms are still possible in parts of the Southeast.
If you are in any of these areas at risk for severe storms, make sure you have severe weather alerts turned on in your FOX Weather app so you can receive potentially life-saving warnings issued by the National Weather Service. Additionally, be sure to turn on government alerts in your smartphone settings and charge your battery before severe weather threatens.
If you have a NOAA weather radio, you'll want to ensure it has fresh batteries and keep it turned on, including by your bedside before you go to sleep Friday and Saturday nights.
WHAT YOU SHOULD DO TO PREPARE FOR TORNADOES
Flash flooding also a concern
As if the severe thunderstorms weren't enough, there's also a risk of heavy rain and flash flooding from the South to the Ohio Valley through New Year's weekend.
The highest flash flood threat on New Year's Eve will extend from southeastern Oklahoma and far northeastern Texas into lower Ohio and Tennessee valleys.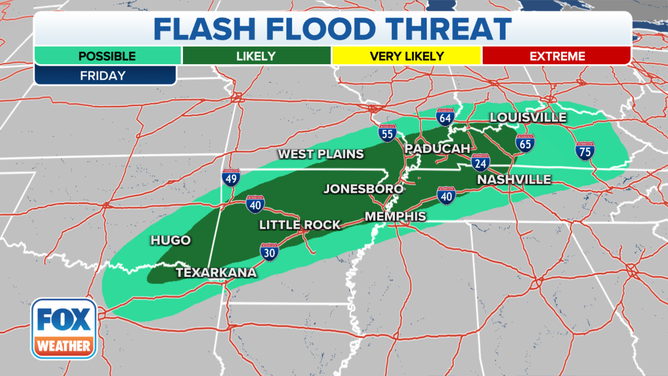 The flash flood threat will shift a bit eastward for New Year's Day, placing areas from northeastern Arkansas into Tennessee, Kentucky and the central Appalachians at the greatest risk.
EXPLAINING FLOOD ALERTS ISSUED BY THE NATIONAL WEATHER SERVICE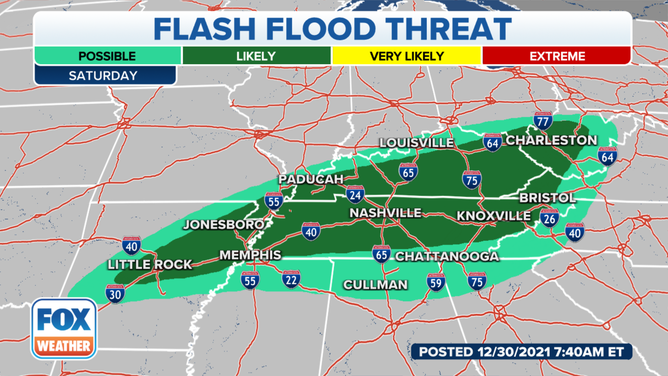 Between 2 and 5 inches of rain could fall through New Year's Day from parts of the Ozarks to the lower Ohio Valley and the central Appalachians.
At least an inch of rain might also soak a large area of the South through New Year's weekend, with locally higher amounts possible in any heavier downpours.