Damage reported after severe weather rips across the Southeast
So far, no injuries or deaths have been reported because of the storms
Severe thunderstorms, including tornadoes, were reported across the Southeast on Wednesday and Thursday, leaving a trail of destruction behind.
Georgia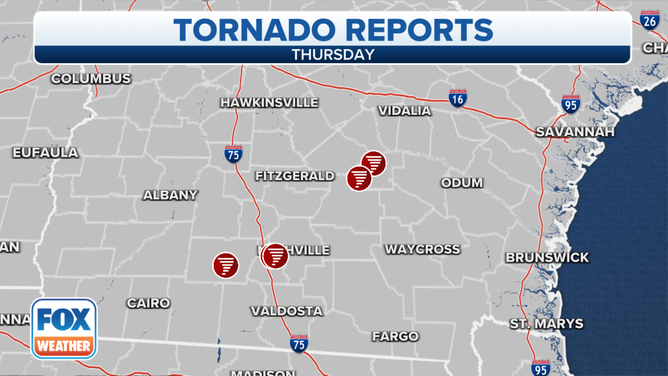 The National Weather Service confirmed by Doppler radar that a tornado touched down in Massee, in Cook County, just after 4 p.m. Eastern time on Thursday. Emergency managers reported several trees were down.
Emergency managers in nearby Adel reported trees down and debris across roadways due to high winds from thunderstorms.
Radar indicated a tornado on the ground at 3:19 p.m. Eastern south of the Spence Airport in Colquitt County. Officials reported damage to at least three homes.
NWS survey crews will inspect wind damage that was from a possible tornado in Hazlehurst and Snipesville. Emergency managers reported roof damage and power lines down.
An EF-0 tornado touched down early Thursday morning at 1:03 a.m. Eastern in Aqualand Park, in Hall County. The tornado traveled 2 miles to Flowery Branch behind a line of strong thunderstorms, said an NWS survey crew. They called it a narrow tornado, with a maximum width of 75 yards, and estimated peak winds of 75 mph.
The tornado uprooted and snapped several trees. One tree fell on and damaged a garage. 
On Wednesday afternoon, trees were uprooted and a roof was damaged after the storms rolled through southwestern Georgia.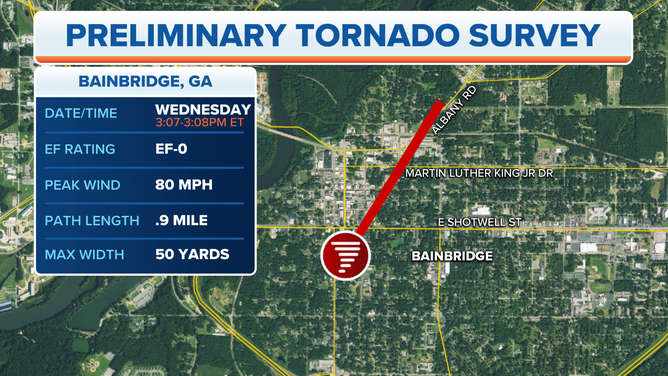 The NWS office in Tallahassee, Florida, said it received reports of a possible tornado in the area just after 3 p.m. Eastern.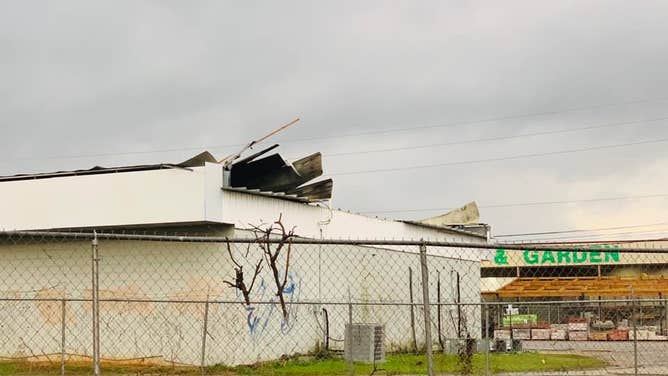 Other photos from Bainbridge Public Safety showed a large tree ripped from yards and residents surveying the damage.

In Stephensville, located in Dade County, numerous trees were blown over when strong winds moved through the area. Emergency workers said those trees blocked roads and took down power lines.
More trees were knocked over in Chattooga and Walker counties.
Alabama
Meteorologists from the NWS office in Huntsville, Alabama, confirmed an EF-1 tornado struck near the town of Powell, in Dekalb County, on Wednesday evening.
Tallassee and Smiths Station saw golf-ball-sized hail. Silver-dollar-sized hail hammered homes and cars in Beauregard.
Residents in Beauregard also reported roof damage on homes and barns by straight-line winds.
The town of Winfield, Alabama, took a direct hit from an EF-1 tornado on Wednesday evening.
Marion County Emergency Management reported significant damage to the downtown area, with power lines down, trees snapped and damage to multiple buildings.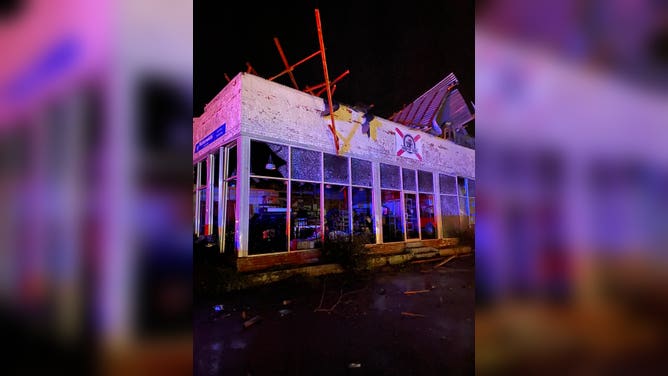 Alabama also saw numerous reports of wind damage from these storms.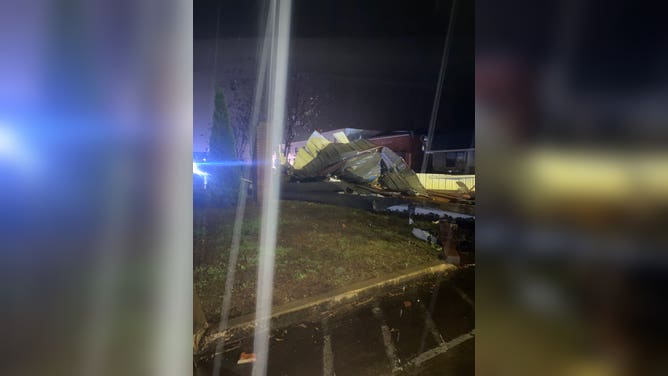 Numerous trees were blown over in Lamar County, but the extent of the damage is still under investigation.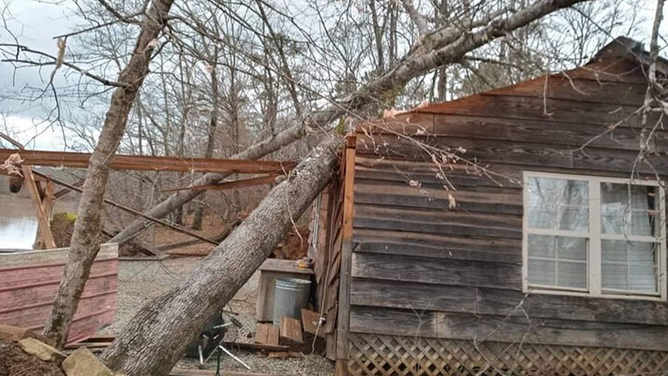 Trees and power lines were also brought down in Marion, Walker, Blount, Dekalb and Etowah counties.
Moderate damage was reported to at least one home in Glencoe, while minor damage was reported at another house. Several buildings were also damaged in Rainsville, Alabama.
Arkansas
NOAA's Storm Prediction Center reported hail damage in Arkansas during the severe weather.
Quarter-size hail was seen at the Dollar General in Hermitage, located in Bradley County. And a windshield was broken on a car traveling on Highway 425 south of Monticello, in Drew County.
Mississippi
A video taken in Richmond, Mississippi, showed a wall cloud and funnel clouds forming during the severe weather on Wednesday. It's not yet known if a tornado touched down in this area during the severe storms.