Monsoon season provides relief to birds after brutal wildfires across Southwest
Monsoon rains mean more insects and water for birds, but climate change is messing with the natural balance seasonal weather once offered to many species.

Rain from the Southwest monsoon season was a welcome sight for humans during a devastating wildfire season. It's also a benefit to the hundreds of bird species summering in the states like New Mexico that have experienced significant habitat loss by wildfire. 
Early in the monsoon season, unrelenting showers and thunderstorms have been frequent across parts of the Four Corners states. These daily rounds of thunderstorms bring threats of flooding, mudslides and debris flows, but for birds, the benefits of the monsoon season outweigh the potential dangers. 
HOW TO WATCH FOX WEATHER ON TV
Vice President and Executive Director of Audubon Southwest Jonathan Hayes explains it's all about the timing. 
"Much of our plant life in the desert is actually timed to these monsoons. And so when they do come and when it rains, we actually see blooming flowers and more abundance out there in our prairie, our desert plants," Hayes said. "And as a result, we see insect life."
And more bugs mean more food for birds. Flycatcher species like the Ash-throated Flycatcher and Say's Pheobe can be seen in New Mexico actively hunting insects as the monsoons provide an abundant food source. 
Hayes said some bird species arrive with the monsoon season, like the Rufous hummingbird.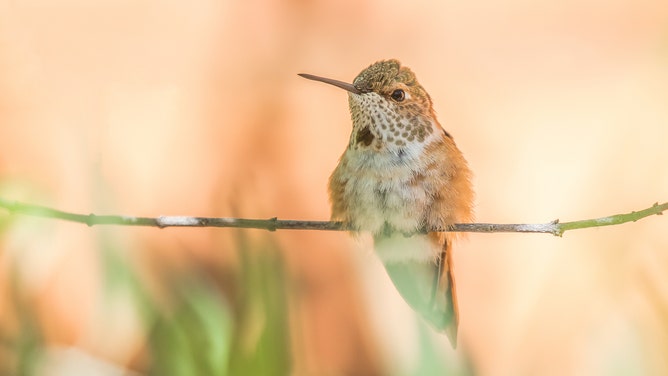 Many species overwinter in southern New Mexico or as far south as Colombia and Brazil. Their migratory path back north means the Southwest sees some of the most diverse bird migration in the U.S. Over 540 species have been observed in New Mexico.
The rain also relieves hot temperatures and provides more water sources for birds to drink.
Severe drought and extreme temperatures led to the spring's largest wildfire in New Mexico's history. The Calf Canyon and Hermits Peak fires have consumed more than 340,000 acres and are 72% contained. The burn scars of the fire are now a major risk for flash flooding, and the heavy rains have delayed some repairs after the wildfires. 
BABY BIRDS ARE JUMPING FROM THEIR NESTS TO ESCAPE SCORCHING HEAT IN ARIZONA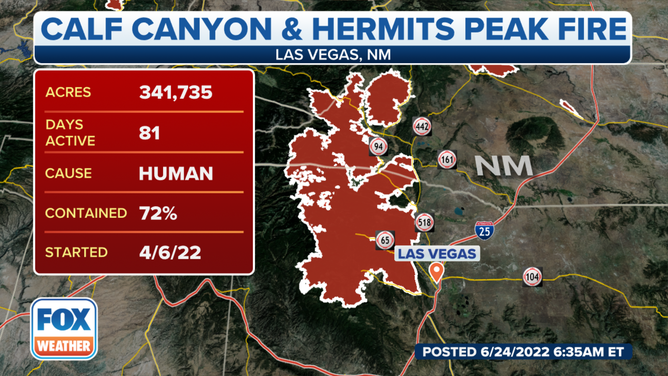 Hayes said the fires and drought are the most significant weather-related factors that can negatively impact birds. 
"That is 300,000 acres of habitat that won't be available to birds that breed in that tiny ecosystem this year," Hayes said. "Those populations absolutely will take a hit because that's such a big area."
During long-term drought conditions, insect productivity drops, meaning less food and, in turn, meaning birds are less healthy. 
"They might reproduce less. They might not survive the breeding season themselves," Hayes said. "When we see over a large area extended periods of drought and high temperatures, we'd also predict to see potentially lower survival rates and lower productivity from the birds that reside there."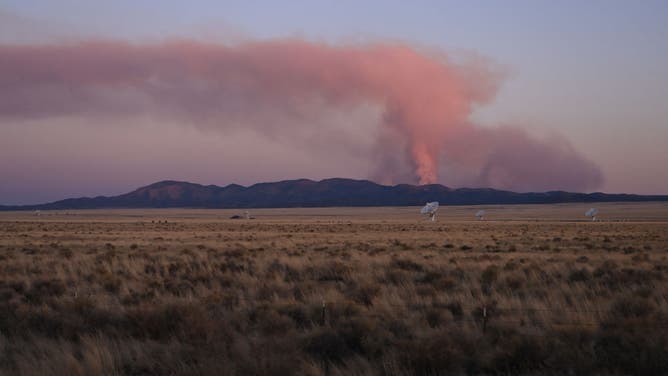 Over more extended drought periods and as wildfire seasons turn into wildfire years, bird populations can decline.
"Which is quite scary," Hayes said. 
Thankfully, this year the monsoon is providing needed relief to prevent those major losses.
Hayes said that even facing adverse weather, birds adapt their reproductive strategy and can often bounce back. 
"The concern is that if we have these bad conditions over and over again, as we see under a change in climate, and those impacts year after year will compound," Hayes said. 
It all goes back to timing and the habitats that depend on seasonal weather. 
"These processes are timed in conjunction with all these other things that happen in an ecosystem," Hayes said. "And so when you start happening in February, you know, that throws that system off. And that's absolutely what we're starting to see."
CLICK HERE TO GET THE FOX WEATHER UPDATE PODCAST
Experts at the National Center for Atmospheric Research predicted that the 2022 western wildfire season will burn more acres than average, around 3.8 million acres, well short of the 8.7 million-acre record year in 2020. 
Poor forest management and a lack of rain and snowfall have contributed to the West's multi-year drought and compounded wildfire risks. 
The Audubon Society is currently tracking 389 bird species at risk due to climate change.
People can do things at home to help save birds impacted by climate change, including planting native plants and putting out a bird bath and bird feeders. Search the Audubon native plant database to find native plants in your area.