Minimal travel issues expected between Cincinnati and Los Angeles ahead of Super Bowl LVI
Quiet weather is expected for much of the US, but there will be a weak system that could cause a minor hiccup toward the end of the week
CINCINNATI – The Cincinnati Bengals have already arrived in Los Angeles as they prepare to take on the Rams in Super Bowl LVI on Sunday, but many diehard fans from Cincinnati will still be flying out West in the coming days to support their team.
Fortunately, they won't run into many weather-related issues along their travels. Quiet weather is expected for much of the United States through the weekend, but there will be a weak system that could cause a minor hiccup toward the end of the week.
In the meantime, dry weather is expected in the Cincinnati area Thursday and Thursday night.
That means there should be minimal issues for travelers flying out of Cincinnati/Northern Kentucky International Airport over the next 24 hours or so.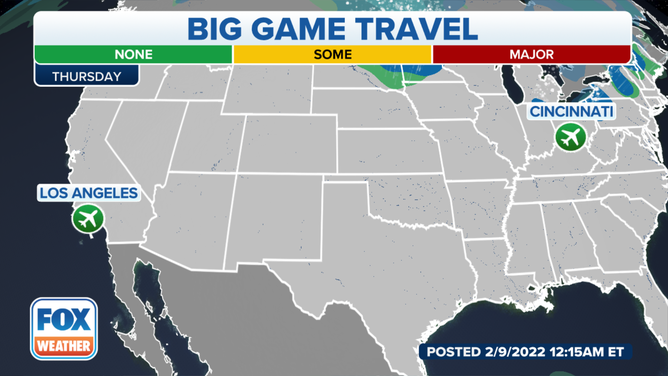 A clipper system will then zip across the Ohio Valley on Friday, and that could spread scattered rain showers across the region.
However, the rain is expected to remain light, so it should have very little impact on air travel out of Cincinnati.
NO SIGN OF SPRING IN MIDWEST AS NEW CLIPPER SYSTEM ARRIVES WITH RAIN, SNOW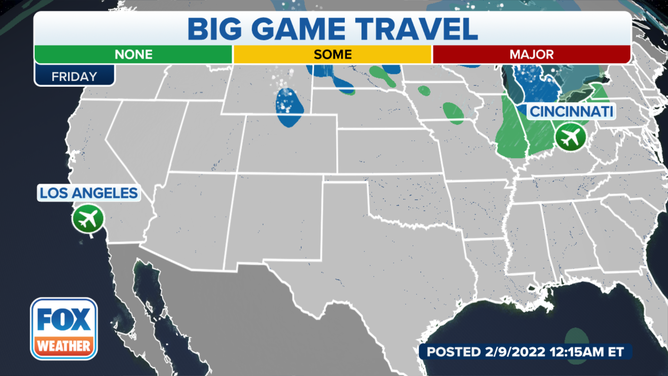 Dry weather returns to the region this weekend, so the last-minute flyers Saturday and Sunday shouldn't have to worry about any weather-related delays.
As for the weather upon arrival in Los Angeles: It's expected to be sunny, hot and dry for the next several days with temperatures between 85 and 90 degrees.
In fact, Super Bowl LVI has the potential to be the hottest Big Game on record. The record to beat is 84 degrees from another Los Angeles-hosted Super Bowl in 1973.