Super Bowl LVI in Los Angeles might be hottest Big Game on record
The record to beat is 84 degrees from another Los Angeles-hosted Super Bowl
INGLEWOOD, Calif. – Super Bowl LVI between the Cincinnati Bengals and the Los Angeles Rams at SoFi Stadium on Sunday has the potential to be the hottest Big Game on record.
The first-ever February Heat Advisory for the Los Angeles metro area is in effect until 6 p.m. Pacific time Sunday. High temperatures are expected to reach 85 to 90 degrees across much of Southern California each day through Super Bowl Sunday.
Kickoff is scheduled for 3:30 p.m. Pacific (6:30 p.m. Eastern) on Sunday, and the temperature outside SoFi Stadium in Inglewood, California, is predicted to be 83 degrees when the game gets underway.
HEAT ADVISORIES POSTED IN SOUTHERN CALIFORNIA, INCLUDING LOS ANGELES AND SAN DIEGO, THROUGH SUPER BOWL SUNDAY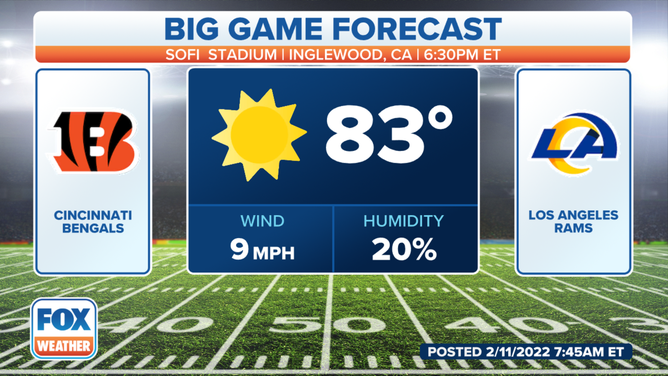 While 83 degrees would not be the hottest Super Bowl kickoff temperature, it's awfully close to the record of 84 degrees, which was also set in Los Angeles.
According to the Pro Football Hall of Fame, Super Bowl VII between the Miami Dolphins and the Washington Redskins had a game-time temperature of 84 degrees inside the L.A. Memorial Coliseum on Jan. 14, 1973.
Sunday's high is predicted to be in the mid-80s before falling to 83 degrees by kickoff. If the game-time temperature ends up being just 1 degree warmer than our current forecast, the 2022 Big Game would become tied for the hottest Super Bowl on record.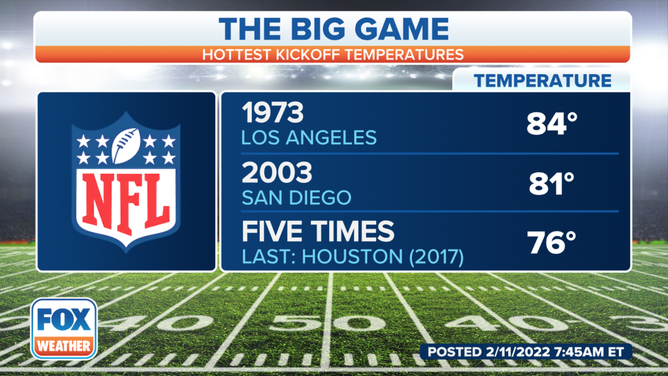 The record high at Los Angeles International Airport – only 4 miles from SoFi Stadium – on Feb. 13 is 85 degrees. That record could also be in jeopardy.
SOFI STADIUM'S DISTANCE TO LOS ANGELES AIRPORT PROVIDES ADVANTAGE FOR SUPER BOWL LVI
But at least it won't be as hot as Game 1 of the 2017 World Series at Dodger Stadium in Los Angeles. The first-pitch temperature was 103 degrees, marking the hottest World Series game on record.