Midweek Alberta Clipper to bring next round of snow to upper Midwest, Great Lakes
Many areas from the upper Midwest to the Great Lakes will pick up 3 to 6 inches of snow
An Alberta Clipper will sweep across the upper Midwest and Great Lakes Tuesday into Wednesday, dropping accumulating snow from the Dakotas to Michigan.
Snow will develop through the day Tuesday in North Dakota and northern South Dakota, eventually reaching northern Minnesota toward sunset.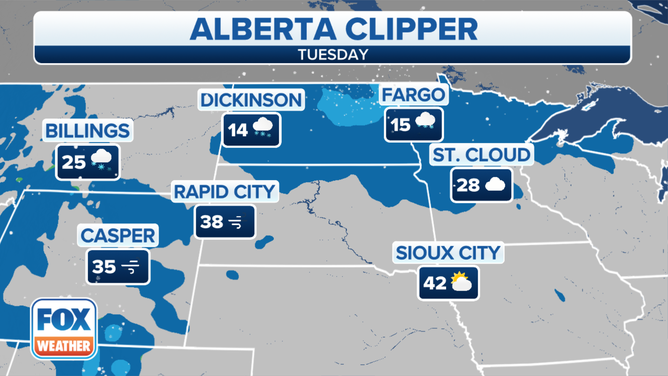 Tuesday night, the snow will spread eastward across Minnesota and into northern Wisconsin and the Upper Peninsula of Michigan.
Temperatures overnight will be bitterly cold, allowing for a fast accumulation of snowfall.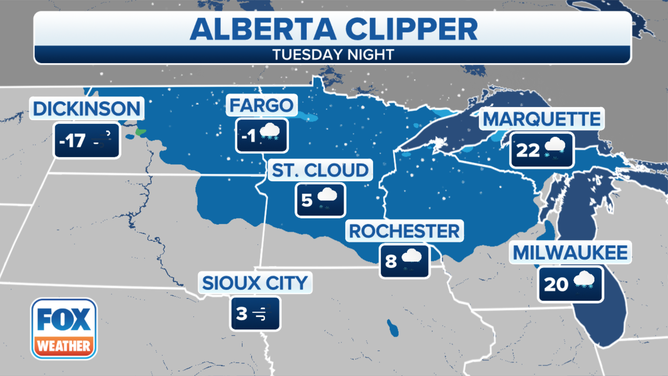 On Wednesday, the clipper system will continue sliding eastward, with snow expected from parts of Minnesota into Wisconsin and Michigan.
Some lake enhancement will result in locally heavier snow downwind of lakes Michigan and Superior in portions of Michigan.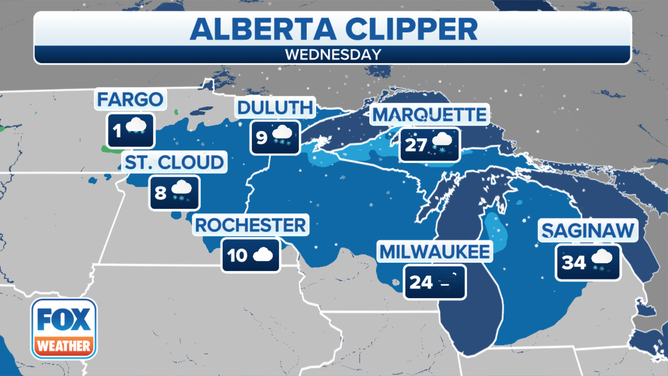 Many areas from the upper Midwest to the Great Lakes will pick up 3 to 6 inches of snow Tuesday into Wednesday.
More than 6 inches could pile up on the southern shores of Lake Superior in the Upper Peninsula of Michigan.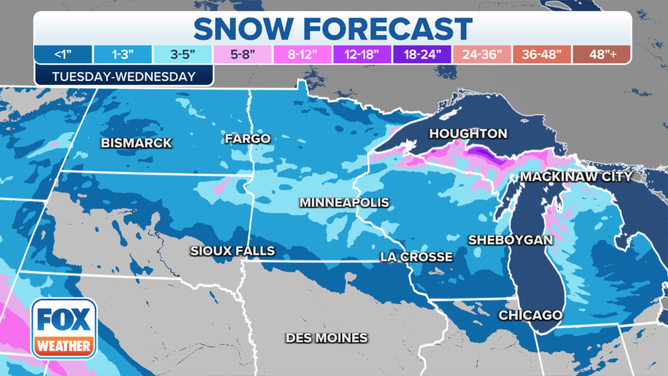 Additionally, gusty winds may result in areas of blowing and drifting snow, which means visibility could drop to near zero at times.
WHAT YOU SHOULD KNOW ABOUT BLOWING, DRIFTING SNOW
Wind gusts over 30 mph are forecast from the Northern Plains into the upper Midwest and Great Lakes Tuesday night into Wednesday.