Major coastal flooding expected in South Carolina, Georgia as coastal storm develops
Parts of the Charleston and Savannah areas could be inundated by major coastal flooding
Major coastal flooding is expected from South Carolina to Georgia as low pressure over Florida develops into a powerful coastal storm off the Southeast coast this weekend.
The first phase in this complicated setup involves a former Gulf of Mexico low moving across Florida on Friday. This will bring a soaking rain and a few strong thunderstorms to the Sunshine State to close out the workweek.
Meanwhile, high pressure will build into the Northeast as that low-pressure system emerges off the Southeast coast by Saturday. This second phase will result in a sharp pressure difference between the Northeast high and the Southeast coastal low, helping to drive strong northeasterly winds onshore along the Southeast coast.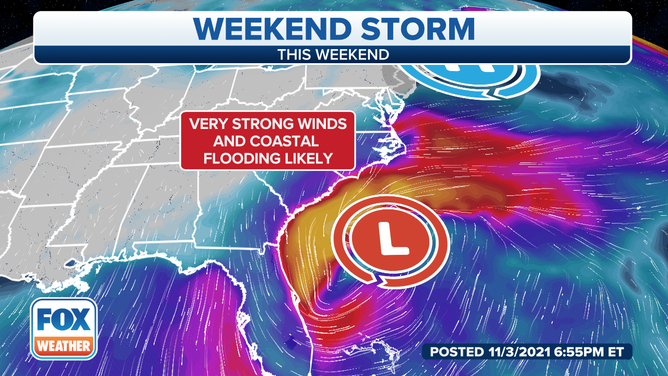 Tides are already higher than normal because of a new moon coinciding with the perigee of the moon, the point when the moon is closest to the Earth. According to NOAA, these are called "perigean spring tides" and typically occur six to eight times per year.
WHAT IS A KING TIDE OR PERIGEAN SPRING TIDE?
Combine these higher-than-normal tides with the developing Southeast coastal low, and the stage is set for major coastal flooding at high tide through this weekend.
The worst coastal flooding is expected along parts of the South Carolina and Georgia coasts, but flooding will still be significant as far south as eastern Florida and as far north as the Outer Banks.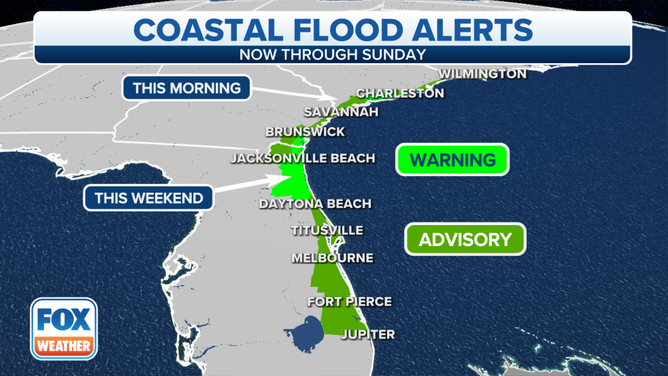 Coastal Flood Warnings and Advisories have been issued by the National Weather Service from southeastern North Carolina to Florida's east coast, including the cities of Wilmington, North Carolina; Charleston, South Carolina; and Jacksonville, Florida.
NATIONAL WEATHER SERVICE REVAMPS FLOOD ALERTS
Additionally, the Southeast coast will be battered by high surf, dangerous rip currents and beach erosion over the next few days.
Farther north, just some minor coastal flooding is expected in the mid-Atlantic between Delaware and New Jersey – nowhere near the extent of last week's flooding triggered by another coastal storm.
Charleston-area impacts
(NOAA)
The Charleston Harbor tide gauge topped out at 8 feet on Friday morning and is forecast to reach 8.6 feet on Saturday morning and 7.9 feet on Sunday morning.
PREPS UNDERWAY IN GEORGIA, SOUTH CAROLINA FOR TIDAL FLOODING
At these levels, widespread flooding develops in downtown Charleston, leaving several roadways impassable at the time of high tide.
Major coastal flooding was reported in downtown Charleston and other parts of the South Carolina coast with the Friday morning high tide, prompting various road closures. One NWS employee estimated that 10 to 12 inches of water was covering a road on the eastern side of Charleston.
At least minor flooding is also predicted in Charleston with each evening high tide through Saturday. 
Hurricane Hugo holds the record for creating the worst coastal-flood event in Charleston's history. On Sept. 22, 1989, the tide reached a historic 12.52 feet, flooding many areas of the city.
Savannah-area impacts
(NOAA)
The mouth of the Savannah River at Fort Pulaski, Georgia, is expected to peak at major flood stage on Saturday morning. If the levels reach the predicted 10.7 feet, major flooding could inundate parts of Tybee Island.
According to NWS data, tides could rival levels measured during a Category 2 hurricane in mid-October 1947. This would likely force the closure of Highway 80 between Tybee Island and Savannah, isolating residents on Tybee Island. Widespread significant flooding on Tybee Island would impact numerous properties as well.
HOW FLOODWATER CAN MAKE YOU VERY SICK
In October 2016, Hurricane Matthew caused the Savannah River to reach its historic crest of 12.56 feet near where the river empties into the Atlantic at Fort Pulaski.
Jacksonville-area impacts
Parts of Florida's east coast, including the Jacksonville area, will also have to contend with significant coastal flooding.
The NWS said major coastal flooding is expected with Saturday morning's high tide along the Atlantic coast of northeastern Florida, predicting an inundation of 3 to 4 feet above normally dry ground.
Significant beach erosion is also likely in this area, especially where dune structures are weak. There will be additional coastal flooding during times of high tide into at least Sunday within the St. Johns and lower Santilla River basins due to persistent northerly winds over northeastern Florida, according to the NWS.
North Carolina, Virginia impacts
Moderate to major flooding is predicted in parts of North Carolina's Outer Banks through this weekend. Duck, North Carolina, reached moderate flood stage during Friday morning's high tide. Major flood stage is expected to be reached with the Saturday and Sunday morning high tides.
In the Virginia Tidewater, the James River at Sewell's Point in Norfolk is expected to have moderate coastal flooding late Sunday morning at high tide. The NWS says this magnitude of flooding would extend inland from the waterfront along tidal rivers and bays, posing a threat of property damage to homes and businesses near the waterfront and shoreline. Numerous roads around the Norfolk and Newport News areas will likely be forced to close.
The risk of coastal flooding along the Southeast coast should gradually subside by Monday, though high surf and rip currents will persist into the middle of next week from the Atlantic coast of Florida to the Virginia Tidewater.
Rainfall threat
The coastal-flooding threat will likely be enhanced by heavy rainfall in some areas along the Southeast coast. Portions of northeastern Florida could receive more than 3 inches of rain from this storm system through Saturday.
EXCESSIVE RAINFALL CAUSES WATERLOGGED STREETS IN FLORIDA
Other parts of the Southeast coast are also forecast to receive 3 inches or more of rain through Sunday, especially along the immediate coastlines of the Carolinas and Georgia.
Rivers will already have a hard time draining water with the strong northeasterly winds blowing onshore, so heavy rain is just adding insult to injury for these coastal areas.